Business & Economy news archive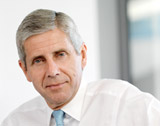 Marks & Spencer chairman, Sir Stuart Rose, will take centre stage at the University of Leeds on Wednesday 16th September (11.45am-1.00pm).
The use of temporary workers in the NHS and social care could be costing money and compromising quality and safety, according to a new report published by a team of researchers.
A young business which aims to help consumers find ethical products and connect small-scale suppliers with potential customers has won a prestigious Shell Livewire Grand Ideas award.
Students with big ideas are being invited to take part in this year's Entrepreneurs' Boot Camp, which the University of Leeds Careers Centre is involved in organising.
M&S and the University of Leeds announce today that British icon Twiggy will join M&S Chairman, Sir Stuart Rose and Vice-Chancellor Professor Michael Arthur to open M&S' 125th Birthday Exhibition.