Talking about

Clean Air Day 2023
Clean air is essential for the health of the world's population as well as the natural environment.
Air pollution is linked to poor respiration, heart health and mood. Highlighting these issues, this year's Clean Air Day theme is physical and mental health.
"Air pollution is the largest environmental health risk we face today."
Air pollution has a range of causes, from transport and industry emissions to volcanic activity and wildfires. Its origins and impacts vary widely in different regions of the world, and so must our approaches to improving the quality of our air.
This Clean Air Day, we're sharing work by University of Leeds researchers and staff into understanding and improving air quality.
Experts in air quality
The University of Leeds has experts in air quality, pollution and atmospheric science, and a range of ongoing projects monitoring air quality in different environments, using in-house developed equipment.
We're investigating:
The levels of particulate matter in different areas of Leeds,
The effectiveness of clean air zones around the UK,
The health impacts of indoor-outdoor airflow in urban areas of the UK,
The effects of peat fires in Borneo,
The impact of volcanic activity on air quality in Montserrat.
Our scholars' expertise goes beyond our planet - as Dr Alexander James wrote in the Conversation, research about the planet Venus is contributing to the development of new catalytic converters that reduce air pollution.
Our projects also involve and empower communities.
The Born in Bradford Breathes project collaborates with Bradford Metropolitan District Council to analyse and improve air quality and support the education of local primary school children. Pupils have been involved in collecting data for the study, giving them first-hand experience of science in action.
The Schools' Air Quality Monitoring for Health and Education (SAMHE) initiative is a collaboration between five universities and more than 1000 British schools. Students and researchers are collecting and analysing data to understand and improve the air quality in school buildings.
Discussing the importance of good ventilation in schools, Professor Cath Noakes said:
"Ventilation doesn't just reduce the risk of illness. Studies have shown that it can also improve pupils' concentration, cognitive performance, and productivity – in addition to reducing a range of respiratory symptoms."
Transport is also key to air quality. Alongside research conducted by the Institute for Transport Studies and the School of Civil Engineering, a project will study mobile energy buffer units (MEBUs) and how they can reduce carbon emissions in rural transport.
Collaborating with towns and cities and communities and institutions that share our values, our research aspires for global learning and cleaner air for everyone.
Living Labs at Leeds
The University of Leeds' Living Labs are one of the ways we put our expertise into action closer to home.
These collaborative, multidisciplinary research projects allow us to share our knowledge and learn while doing, as part of our University Climate Plan.
Each of the Living Labs has a specific focus area, including net zero, biodiversity, air quality and food waste, and collaborate to achieve positive outcomes for the climate.
Watch Thom Cooper and Dr Megan Klaar introduce our Living Labs in this Youtube video.
Sustainability programme officer Jane Dickinson says, "Living Labs provide the perfect opportunity for co-creation and innovation, bringing together multidisciplinary academics, students and partners to tackle real-world problems such as issues around air quality.
"The expansion of our Living Labs programme through the University's Climate Plan will see us exploring new innovative solutions to a range of environmental, social and economic challenges both on the University campus and across the city region, and we're excited to see new projects coming on board."
The Living Lab for Air Quality sees University faculties and institutes work together on projects including the analysis of air quality on campus – and their findings are available to all.
Dr Cat Scott, director of the Leeds Ecosystem, Atmosphere and Forest (LEAF) Centre explains: "From this data we saw that pollution levels were always higher along the main road (Woodhouse Lane) and that by taking a cross-campus route, students, staff and members of the public alike could make sure they were breathing cleaner air."
Its impact has included shaping the way the University manages its outdoor spaces.
A new Living Lab will be installed on campus in the next year: a sustainable sculpture. Local artist Katie Surridge has been commissioned to build a 'living wall'. The plants that grow within the sculpture will purify the air and benefit local biodiversity whilst researchers explore its impact on health, well-being and sense of belonging at Leeds.
This will also help explore how the campus can continue to become greener, evaluating challenges and positive outcomes so we can do more.
Everybody in our University Community can get involved in creating and supporting Living Labs, which promote collaboration between staff and students, partners and the local community, and offer practical education and confidence-building activities.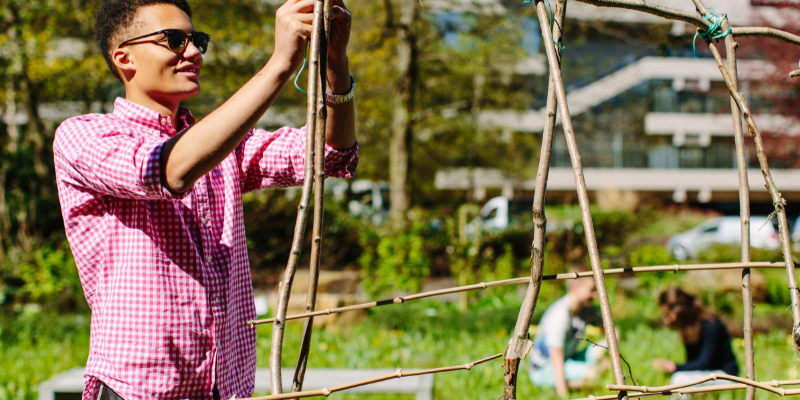 Research for all
The most impactful research is collaborative and considers those who it directly affects.
Researchers at the Institute for Transport are studying attitudes towards electric vehicles like ecargo bikes, working with participants in three rural UK locations.
Following the survey, participants will be asked to trial electric bikes and share their experiences, so they can help shape transport where they live.
The Gair Wood project has seen around 6,000 of its trees planted by local volunteers.
These projects not only help to improve our air, but also increase exercise and teamwork in communities, boosting health and well-being.
The Sustainable Garden on campus sees students planting edible species, investing in the environment as well their own student experience.
Be Curious Live, our research open day, shared our research with families and young people, offering a hands-on experience that helps them on their own journey to creating a fairer and healthier planet.
Children learned about how important trees are in storing carbon and how they live, and walked along our Campus Tree Trail.
Clean air is essential for health, mental well-being and the environment. The path to worldwide clean air is not straightforward – it will involve a lot of careful understanding, collaboration and innovation.
At the University of Leeds, we are committed to improving health inequalities, creating and implementing climate change solutions and collaboration. Our research shows that a holistic approach to cleaner air supports physical and mental health in many ways.
This is why we are supporting Action for Clean Air - this Clean Air Day and every day.