Talking about

The DARA project
Research capacity strengthening is an abstract concept. To understand its transformative power, you need to hear the human stories behind it – such as Saul Phiri's.
Born in Zambia in a village with no electricity, Saul is now a physics lecturer at the country's Copperbelt University, carrying out research into the formation of stars. He is one of nine young researchers who gained their PhDs thanks to the Development in Africa with Radio Astronomy (DARA) project, led by the University of Leeds.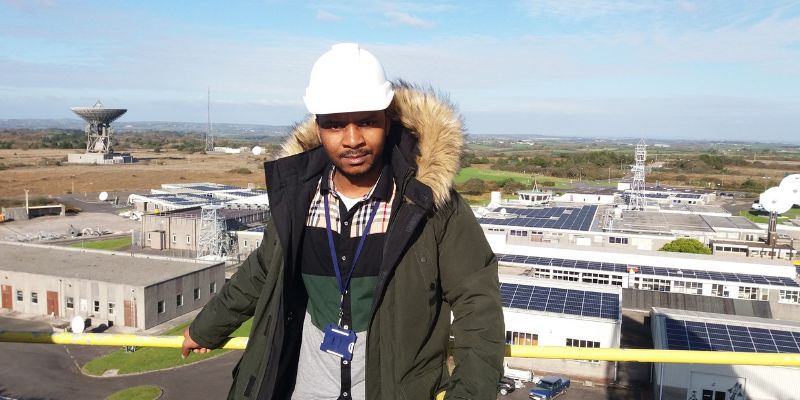 The project's aim was to build research capacity in radio astronomy in eight African countries that will be part of the Square Kilometre Array (SKA) – the world's largest radio telescope project. The SKA is installing hundreds of radio dishes in South Africa with the ultimate aim to have thousands of these across the whole continent to enable astronomers to study the sky in unprecedented detail.
However, the countries taking part – Kenya, Zambia, Namibia, Botswana, Ghana, Madagascar, Mozambique and Mauritius – were starting from an unequal basis. In most of these developing countries, radio astronomy as a discipline was virtually non-existent, the subject was not taught at university and there was no research taking place.
A fledgling research network
Without a research base, it was clear these countries would struggle to reap all the potential benefits of being part of SKA – not just in terms of research, but the technology and advanced skills involved. And so the DARA project was born. Saul is now part of a fledgling African radio astronomy research network that the project was set up to create – a position that was beyond his imagination when he was growing up.
"In my village, the only professionals you saw were teachers and nurses, so those were the only careers I knew about. But even those seemed out of reach."
Saul was the youngest of eight and his subsistence farmer parents had no formal education. A bright student, he did well in primary school, but when it came to secondary school his family couldn't afford the fees.
Determined to study, Saul started work on the family farm, and, aged 15, persuaded his mother to give him some land to work for himself. By selling the cotton he'd grown, he was able to raise enough to pay for his schooling and he joined a class of mature students finishing their education in the nearest town, leaving school with top marks.
When one of the teachers suggested he apply to Copperbelt University, Saul's life and expectations began to change.
A scholarship built from sand
To pay for the university application form, Saul gathered sand from the river bed to sell as a building material. The effort paid off: he was awarded a place to study natural sciences and a full scholarship covering accommodation and fees. Again, Saul graduated with top marks and became a teacher.
But after a few years, Saul was persuaded by one of his former lecturers at Copperbelt University to return to study. Funded by a scholarship from the African Institute for Mathematical Sciences, he gained a Masters in mathematical sciences in Senegal.
The next stop was logically a PhD, but a future as a researcher still seemed out of reach, dependent as it is on funding and opportunities that are scarce in Africa. Saul returned to Zambia and was employed at Copperbelt University to help with marking and lab work, while he looked for a route forward.
That route was provided by DARA. Saul had come across the SKA while in Senegal, but only heard of DARA after he returned to Zambia. The project was offering graduates from eight African countries with degrees in physics or another relevant discipline the opportunity to undergo a basic eight-week training in radio astronomy. Trainees could then apply to study for a Masters degree or in some cases, a PhD, usually in either South Africa or the UK.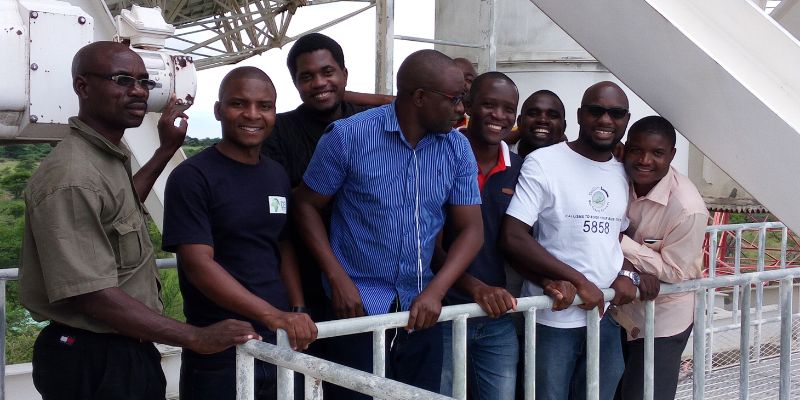 After his initial training, Saul was awarded a DARA scholarship to study for a PhD, at the University of Central Lancashire, one of the project's partners. "I can still remember the day I received the email to say I'd been successful – 25th of September, 2017," he says. "I was so happy; I couldn't believe this was really happening. It was wonderful as the DARA project took care of everything: tuition fees, travel costs, all my medical fees. I even saved enough from the stipend to help some of my siblings go through college and one has now qualified as a nurse."
Support that opens doors
A key part of the DARA PhD package was annual home visits to build links with relevant institutions. This helped Saul to keep in touch with Copperbelt University during his PhD and he was subsequently invited to apply for a permanent position as a lecturer in physics, which he now holds.
"DARA really opened doors for me and life will never be the same again."
"If I'd done my PhD locally, I wouldn't have been taken to conferences, met so many researchers and built the networks I have," Saul says.
"My PhD also gave me access to new techniques and advanced technologies and equipment that aren't yet available in Africa. DARA has allowed me to develop as a researcher and that's both a win for me and a win for my country."
The original project, first funded in 2014, is now complete, with over 300 students having received basic training, 27 funded through DARA for their Masters and nine to complete a PhD. Around 100 students have also received business advice, to help put their new skills to commercial use. The DARA team have secured some follow-on funding from the University of Leeds and will be applying for other grants to continue the project.
Professor Melvin Hoare, who heads the project, says: "Ghana, Zambia and Kenya were the first countries to join DARA and they now have radio astronomy research groups established. We see similar ambition in the other countries, Botswana, Namibia, Mozambique, Madagascar and Mauritius.
"There are also many other DARA students with potential, like Saul, who've had doors open for them, and we want these opportunities to continue. There's so much more we can do – we really don't want to stop now!"