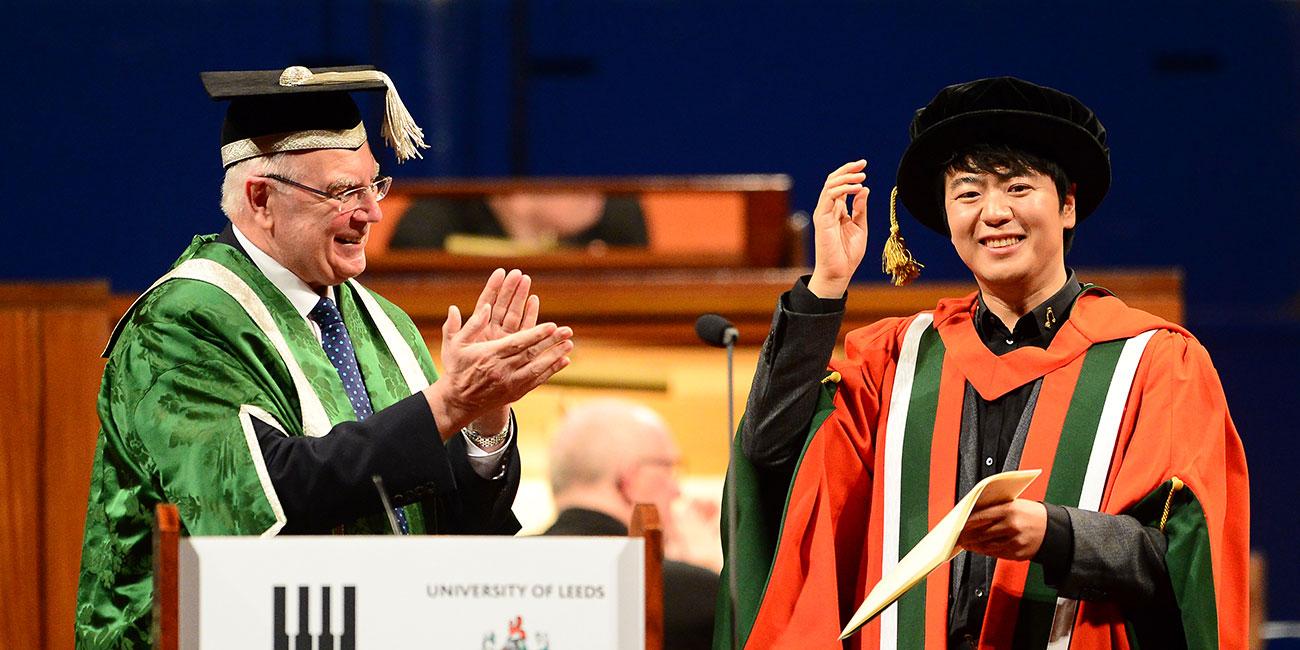 Presentation address by Professor Frank Finlay
Vice Chancellor:
Tom, a tuxedo-clad cat, plays Liszt's Hungarian Rhapsody No. 2 with hypnotic dexterity – to the annoyance of Jerry, a sleeping mouse.
For a three-year old Chinese boy, a famous cartoon is, reputedly, his first, captivating, encounter with Western classical music. It fires a desire and ambition which will see Lang Lang grace the world's greatest concert halls, perform with its foremost orchestras and conductors, and produce a string of signature recordings of many of the most excitingly challenging works in the pianoforte repertoire – all to widespread critical acclaim.
His fascinating autobiography A Journey of a Thousand Miles charts Lang Lang's road from infant prodigy to international stardom: he is spurred on and supported by his parents, inspired by his teacher at the world-renowned Curtis Institute of Music in Philadelphia, USA, and guided by esteemed mentors such as Daniel Barenboim. As the title suggests, it was a hothouse environment with effort, challenges and tribulations aplenty.
Unprecedentedly for a classical musician, Lang Lang won global recognition performing to a TV audience of billions at the opening ceremony of the 2008 Beijing Olympic Games. "I felt like I was playing to the Universe", he was to say later.
His international reputation extends to the world of education. A decade ago he founded the Lang Lang International Music Foundation in New York City, which now has programmes around the world. (Three of his scholars joined us earlier this year in Leeds.) He is a role model for young musicians everywhere; he is a United Nations Messenger of Peace, focusing on global education; and he was picked as one of the 250 Young Global Leaders by the World Economic Forum. In 2015 he became Global Ambassador for 'The Leeds'.
"I am, first and last, a classical musician", he has said. "But… what I'm concerned about is how music can touch us, what can I learn from the piano in life?"
Vice Chancellor, in recognition of his contributions to global culture and education, I am delighted to present Lang Lang to you for the degree of Doctor of Music, honoris causa.