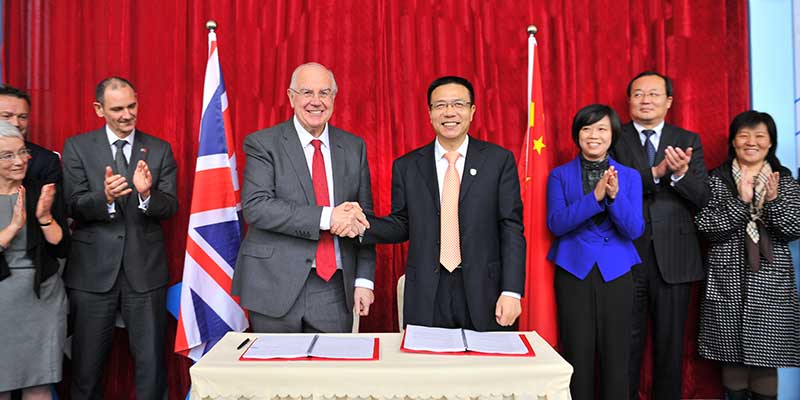 Creating global opportunities to enrich the student experience and enhance employability is one of our areas of strength.
We are always seeking out opportunities and partnerships to improve our students' educational experience and opportunities to enhance their time with us.
Our joint school with Southwest Jiaotong University is an example of our strong links overseas. It offers engineering programmes which combine the best aspects of the UK and the Chinese education systems, ensuring that when students graduate they will be ready to work effectively within industries around the world.
Study abroad and Leeds International Summer School
We provide an exceptional range of global opportunities for all students including one of the largest study abroad programmes in the UK. Each year around 1,000 students study abroad with our partners across the globe. Our large portfolio of exchange partners means there is a great variety of destinations. Students can also take part in a range of subsidised international summer schools with a variety of partners.
Students can take up work placements, volunteering projects, research exchanges, as well as bespoke programmes such as our Leeds to New York Leadership programme. They can also access funding from the Leeds for Life Foundation to take part in their own international project, or receive support to attend international conferences and events.
We also welcome incoming study abroad students, and our international summer school offers prospective international students the opportunity to study at the University of Leeds and immerse themselves in British culture.
Online courses
Learners can join worldwide discussions through our short online courses, or Massive Open Online Courses (MOOCs). We also offer a number of postgraduate courses by distance learning, allowing learners to study for a Leeds degree wherever they are in the world.
The Leeds Curriculum
Students are encouraged to broaden their horizons through their course and co-curricular activities. This helps them succeed in a competitive global employment market and to make a difference to the world around them. Global and cultural insight is part of each of our courses - this means students engage with other perspectives and acknowledge and appreciate diversity. Read more about the Leeds Curriculum on our Student Education Service website.