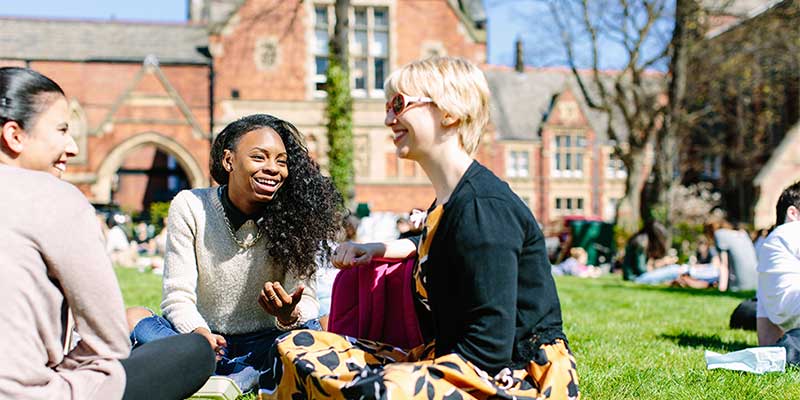 We have a diverse community and a global network of students, staff and alumni.
We are in regular contact with more than 250,000 alumni from more than 180 different countries. We have 8,000 international students from more than 140 countries, and nearly 1,000 staff from more than 90 different countries. We've been ranked in the top 40 most international universities in the world in 2019 by Times Higher Education.
Supporting our international community of talented students and staff is a top priority for us. We can provide specialist immigration advice and support when they arrive. We are committed to ensuring international staff and students feel welcomed into the University community and to enhancing the international student and staff experience. Whether they are from the UK or overseas, they are part of our global community.
We have ambitious plans to increase our expertise and capacity for Transnational Education and routes to studying at the University from overseas. We will also increase our presence internationally via our overseas offices and our international business and alumni engagement activity in collaboration with the City of Leeds. The University's International Office coordinates all of our internationally-facing professional services.
Investing in our staff
We are investing £520m in campus infrastructure and more than £100m in our academic community to further boost our research excellence. We are developing a vibrant PhD and postdoctoral community and attracting new senior and early-career researchers.
The University is home to a significant number of doctoral training centres, funded by research councils and others, with ambitions to grow the numbers of postgraduate researchers to more than 3,000 by 2020/2021.
Our Doctoral College creates a real sense of community and shared endeavour amongst our postgraduate community.
We have advice for staff who want to relocate to Leeds and support for current staff through HR.
We are international
We are proud to support the sector-wide #WeAreInternational campaign, which celebrates international university communities.
Leeds is a truly global city and we offer access to some of the best and brightest minds in the world.
Our diverse community is celebrated through initiatives including: