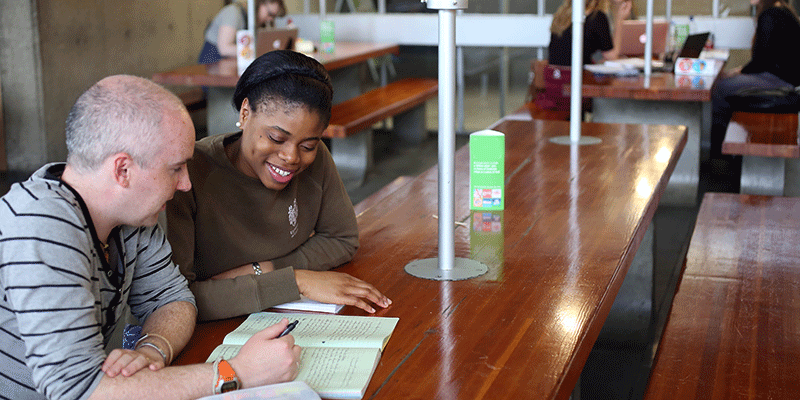 We work with major employers to develop higher and degree apprenticeships to improve the skills and knowledge of their workforce. You can work with us to shape a course for your employees.
Our apprenticeships combine our research strengths with our teaching excellence. We are one of the top 10 universities for research power in the UK with a broad range of specialisms and we will be able to use the latest research to educate apprentices. The University has also been awarded a gold rating in the government's Teaching Excellence Framework in recognition of our outstanding teaching.
Degree apprenticeships

Degree apprenticeships give organisations the opportunity to work with us to develop a degree programme for their employees. The scheme allows apprentices to gain an undergraduate or master's degree from the University of Leeds.
Degree apprenticeships allow businesses to improve the skills of their current staff and gives them the opportunity to hire highly skilled people who wish to gain a degree from one of the UK's top universities – offering them the opportunity to study while working full time.
Higher apprenticeships
Higher apprenticeships allow organisations to develop a course with us to improve the skills of their staff. Apprentices will gain a foundation degree from the University of Leeds - a combined academic and vocational qualification - while continuing to work.
Key facts
Degree apprenticeships were launched in 2015, giving apprentices the chance to gain an undergraduate or master's degree while working for their employer.
Higher apprenticeships give employees the opportunity to earn a foundation degree through their job.

Our apprenticeships are created in partnership with individual organisations to ensure the programme meets their needs and the needs of their employees.

Unlike traditional degrees, those studying on apprenticeship courses have to be nominated as apprentices by their employers, who will pay their salary and academic fees, rather than applying as individuals.
We currently have apprenticeship partnerships with PwC and several local NHS trusts.
Students must meet the same entry requirements as students coming through traditional routes.
Our apprenticeship partnerships

We have a partnership with PwC, one of the UK's largest graduate employers, to create an undergraduate degree apprenticeship in computer science. At the end of their studies, the apprentices will receive a University of Leeds degree in Computer Science and a job at PwC, if they meet performance criteria.

"By working together with PwC we can use the latest research to educate apprentices, who will benefit greatly from also having significant workplace training on top of their academic studies."
We are also a founder member of the Professional Skills Partnership and are developing a Masters level apprenticeship programme to deliver leadership and management training to staff in senior leadership roles at the Leeds Teaching Hospital Trust.
We have a partnership with a number of NHS trusts in Yorkshire to give their staff a higher apprenticeship and develop their clinical and professional skills. The Healthcare for Assistant Practitioners course was developed for staff already working within the NHS.
Setting up a degree apprenticeship
If you would be interested in working with us to set up a new apprenticeship scheme or would like more information, contact Isobel Whitehouse on 0113 343 4038 or i.j.whitehouse@leeds.ac.uk.