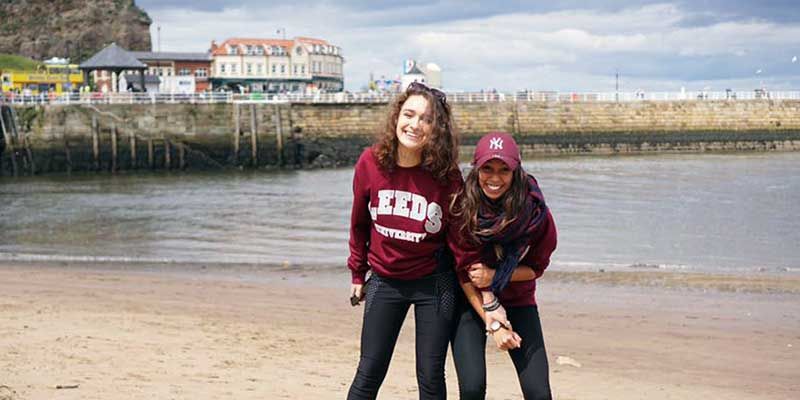 Applications for Leeds International Summer School (LISS) 2022 are now open.
We recommend that you apply as soon as possible as enrolment is limited and allocated on a first-come first-served basis. Applying early also means you're more likely to secure a place on your first choice of academic modules run especially for LISS as popular subjects are likely to fill up quickly.
How to apply
To apply for Leeds International Summer School 2022, please complete our online application form. Please ensure that you submit your form before the application deadline:
Early application deadline: 1 April 2022
Final application deadline: 1 May 2022
Completing the form
Please read the instructions on the first page of the application form carefully. You can't save your application and complete it later so please make sure you have the following information ready before you begin your application:
Personal details including your contact information
Academic details including your home university and current academic standing e.g. GPA
First and second choice modules for your chosen block(s)
You should also have the following supporting documents ready to upload as part of the online application:
Supporting statement (500-1000 word brief essay outlining your reasons for applying to LISS)
Official academic transcript from your home university (in English)
Copy of your English Language Certificate and scores (if required, please see our minimum language requirements under the Language Requirements section of this page)
Merit scholarship application (optional, please follow the instructions on the first page of the application form)
Once you have submitted your application form, the LISS admissions team will review it within three weeks and will contact you via email to inform you of the outcome of your application. If you have any questions about the application form or the supporting documents, please email your query to summer@leeds.ac.uk.
Eligibility
To be eligible to apply for our summer school, you must be enrolled at a university, or be a recent graduate. You must be in good academic standing at your home university, with a minimum grade average of 56 (UK system), GPA of 2.8 (US system), GPA of 5.0 (Australian system) or equivalent. You must also meet our English language requirements.
Language Requirements
If the country you study in isn't on the Student visa exceptions list, you'll need to submit evidence that you meet our language requirements.
If you're being taught in English at your home university, you don't need to provide a language certificate. Instead, we'll ask you to provide evidence that you are taught in English. This could be a link to your home university's website or a letter from your home university confirming the language of teaching for your degree programme.
Minimum qualifications include:
International English Language Testing System (IELTS): 5.5 (5.5 overall with no component lower than 5.0)
Test of English as a Foreign Language (TOEFL iBT): 80 (80 overall, listening and reading: 18, speaking and writing: 19)
Test of English for International Communication (TOEIC): listening: 400, reading: 385, speaking: 160, writing: 150 (all four components are required)
Password Skills: 5.5 (5.5 overall with no component lower than 5.0)
LanguageCert International ESOL (English for Speakers of Other Languages) B2 Communicator or LanguageCert International ESOL SELT (Secure English Language Test) B2 Communicator: 33 in speaking, listening, reading and writing
Duolingo English Test: 90
If you need to evidence the English language entry requirement but have not taken one of the above qualifications, you can refer to the accepted English Language qualifications for your country or region on the Admissions qualifications page and contact the LISS team for guidance.
Please note, we don't accept College English Tests CET-4 or CET-6.
Visas
If you need a visa to enter the UK, you'll need to apply for a Visitor Visa to attend the summer school. Check if you need a visa.
However, please note that you should always check the immigration requirements for your country and your passport before departing for the UK. Read our visa guidance for more details.
English language courses
If you don't meet the above English language requirement for the International Summer School, you may be eligible to study the undergraduate pre-sessional English course taught by the Language Centre.
This course will help to:
prepare you with the knowledge and skills necessary to successfully study with us
improve your academic English language skills
If you apply for the pre-sessional course, please tell us on your International Summer School application.
Admissions policies
The University of Leeds Taught Admissions Policy outlines the admissions principles of the University of Leeds and the Admissions Policy for Incoming Study Abroad programmes and Leeds International Summer School outlines the variations or additional information for these programmes.