Students from the University of Leeds engaged in a European event showcasing energy and sustainable development.
The ENGIE European Academic Challenge, which took place at the Taets Art and Event Park in Amsterdam saw 25 students represent the UK. They appeared alongside student teams from across Europe to answer questions on environmental issues.
The event was organised by ENGIE, a global energy player, with UK investments in renewable energy and storage.
Opportunities like these provide a real life and fun way of enhancing knowledge, becoming a global citizen and contributing to important topics.''
As a part of the day's activities ENGIE provided a comprehensive insight into the energy sector, the challenges the sector faces and the innovation the group is working on for the future. This helped to inspire students in the field of sustainability.
Jan Spalek, added: "University of Leeds students from all walks of life discussed energy and sustainability issues and challenges the world and humanity face."
The event was hosted by former professional footballer Djibril Cissé, who asked students questions on energy usage across the world, general knowledge and ENGIE-related topics.
Aimen Mahmood, Project Placements Officer at the University of Leeds, added: "The event was a huge success, leaving our attendees feeling motivated and inspired to pursue new opportunities with ENGIE. Bringing together students from diverse backgrounds and connecting them with ENGIE professionals and other EU university peers was a truly enriching experience. We are thrilled to see our future generation of leaders engaging with one another and leaving with an electrifying sense of purpose and direction."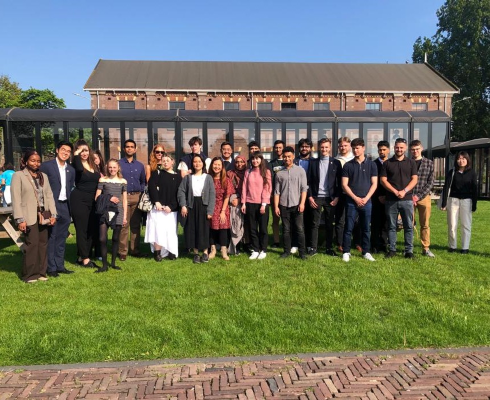 The event offered students the opportunity to network with ENGIE, develop new skills, interact with its community and connect with the business for future job opportunities. ENGIE is committed to hiring 10% of its workforce under work-study programmes, giving students an opportunity to engage with the network.
ENGIE is a global group that provides low-carbon energy and services. The group are dedicated to accelerating the transition towards a carbon-neutral world through reduced energy consumption and environmentally friendly solutions. ENGIE is committed to be net carbon zero in 2045 for the group and its customers, aiming to develop renewable energies, local energy infrastructures and to adapt its centralised infrastructure and thermal production activities including renewable gases.
Further information:
Picture Credit: Hamdaan Sheikh & Anita Wong
For more information, please contact Corporate Communications Officer, Rebecca Hurrey on r.hurrey@leeds.ac.uk