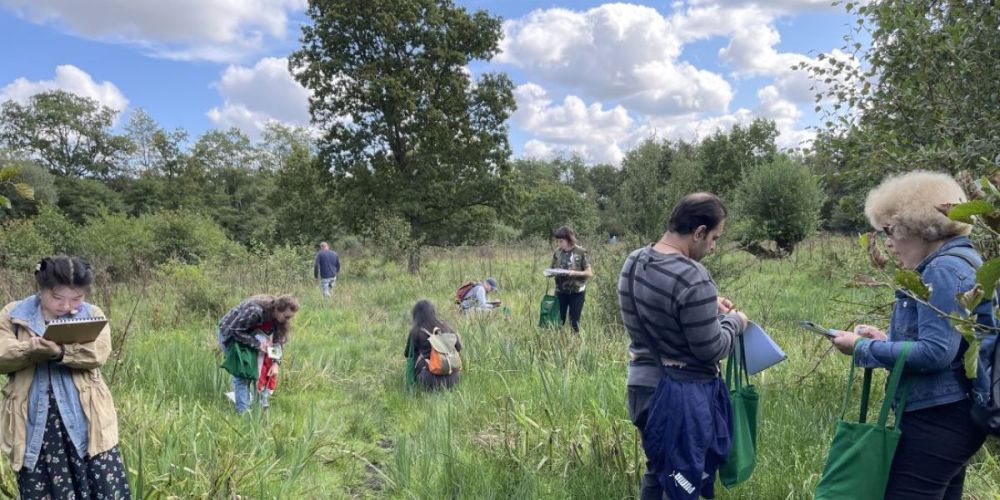 An artist is collaborating with a community arts group to create a living wall for the University of Leeds, inspired by carbon-storing peatlands.
Metalwork artist Katie Surridge is working on a sustainable sculpture for the University's theatre venue, stage@leeds, co-creating the artwork with members of Leeds' migrant community.
Surridge's living wall sculpture, which will join a growing collection of public artwork on the University's campus, is inspired by peatlands, also known as bogs, quags or mires. These ecosystems have a hidden superpower – they store a third of the world's soil carbon and, in their natural state, they remove carbon from the atmosphere, helping to mitigate climate change.
...it's just amazing for Mafwa participants to look forward to having a permanent piece of art on the University of Leeds campus that they can go and visit and be proud of.
As part of the project, Katie recently took a group of people from Mafwa Theatre, a community company working with refugees, asylum seekers and settled communities in Leeds, to Askham Bog to explore how it made them feel.
She said: "It was inspiring to get people out in nature and interacting with each other and new places, and noticing the little beautiful things in these environments, such as plants and wildlife, through the act of tracking."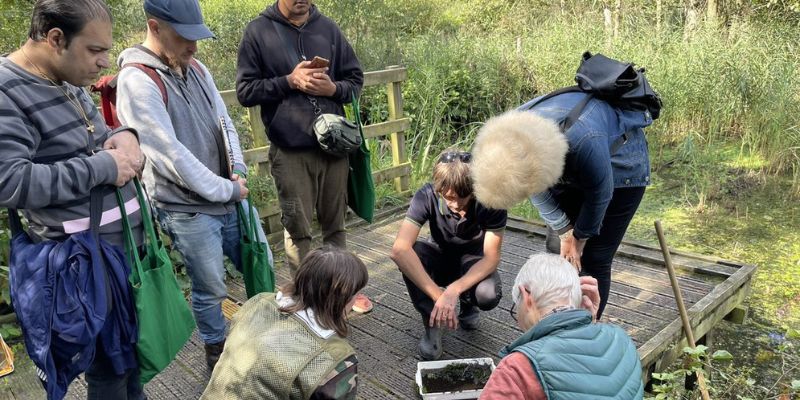 A pond dipping exercise at Askham Bog
Located near York, Askham Bog has been described by broadcaster and natural historian Sir David Attenborough as 'irreplaceable'. The nature reserve is a remnant of the region's ancient fenlands, and was the founding site of Yorkshire Wildlife Trust.
Katie took participants on a guided walk around the bog, tracking the vast diversity of wildlife and experiencing the many plants in the ecosystem. This included pond dipping guided by Professor Lee Brown of the University's School of Geography, where they found a newt, and speaking to a moth expert, who showed the group a moth camouflaging itself by turning yellow when placed on a leaf.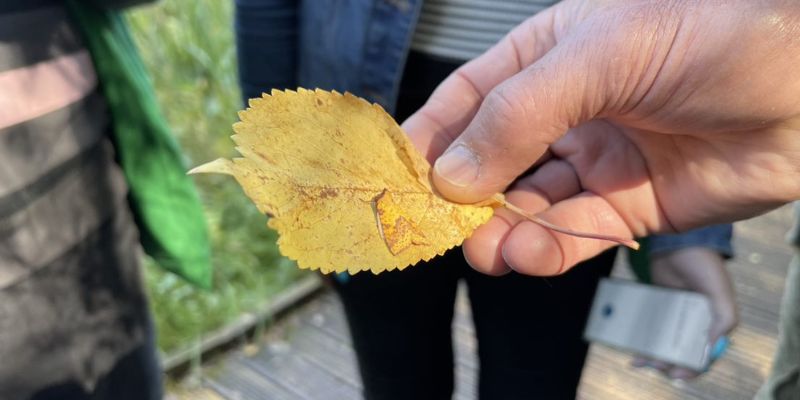 A yellow underwing moth turns yellow to camouflage itself against a leaf
The next day, the group painted delftware tiles with designs based on what they saw, from moths to mosses.
Tamsin Cook, Co-Artistic Director at Mafwa Theatre, said: "We're really excited about this collaboration between Mafwa and the University of Leeds. Here at Mafwa, we've just created a community garden and we've also created an eco art club, which is where we were for the tile-painting. So it brings in those two strands for us around the arts and preservation of nature, and that's what really struck a chord with us when Katie came up with the commission around peat and its importance.
"We've been really lucky to get inspired at the bog, seeing lots of amazing plant life and some plants that I've never encountered before. We also tracked a deer and made a deer print which will go into the final sculpture, and it's just amazing for Mafwa participants to look forward to having a permanent piece of art on the University of Leeds campus that they can go and visit and be proud of."
Mafwa participant, Zhonghui said: "Yesterday we went to the bog and we saw lots of the insects and beautiful views in the park, and today we drew some of the things we saw... It's a really nice project and I enjoyed and loved it!"
The tiles will become part of the sculpture, which will also highlight details of the Yorkshire landscape with features including sphagnum moss, recycled drystone wall and rock carvings, as well as providing a habitat for the wildlife and plants already living on campus.
Delftware tiles painted by Mafwa theatre participants
Peatlands in Yorkshire
Here in Yorkshire, we have 20% of England's peat bog (70,000 hectares), which stores an estimated 38 million tonnes of carbon. The new sculpture, funded by a donation from Leeds alum David Budworth, aims to raise awareness of the precious carbon stores on the University's doorstep.
Katie Surridge, who is the most recent winner of the DARE Art Prize in collaboration with Opera North, is also tapping into the University's expertise by consulting with peatland experts in the Faculty of Environment and the water@leeds research institute.
The living wall will highlight the University's commitment to decarbonising for a sustainable future. The theatre complex, which includes 'The Green', a licensed outdoor space, as well as two indoor theatres, is a University facility that provides a dynamic, creative and supportive environment for artists, researchers and practitioners.
Further information
Email University of Leeds Press Officer Mia Saunders at m.saunders@leeds.ac.uk with media enquiries.
About Mafwa
Mafwa Theatre is a community theatre company which brings refugees, asylum seekers and settled communities together in Leeds. We use drama and the arts to create work that celebrates our similarities and differences, brings people together and speaks truth to power.
We use our platform to highlight and enable development opportunities for artists and theatre makers from migrant backgrounds, advocate for migrant rights and celebrate diverse communities.
Flourish
These workshops were part of 'Flourish', Mafwa Theatre's programme of summer activities and events designed to bring the vibrant communities of Lincoln Green together and celebrate the official launch of the Roxby Community Garden. This is the culmination of 2 years of work to transform a disused playground into a space for residents to play, perform and grow in. The Roxby Community Garden has been created in partnership with Leeds City Council with support from Veolia Environmental Trust, Horticon, Leeds 2023 and Arts Council England.