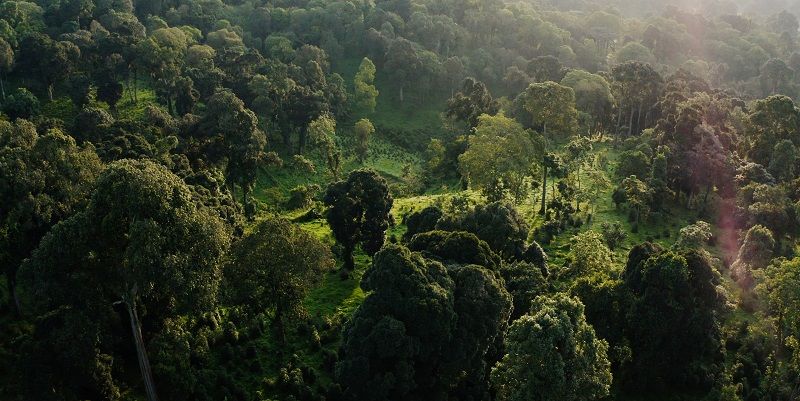 If the world's natural forests are allowed to grow and mature rather than being cut down, 226 billion tonnes of carbon could be taken out of the atmosphere, according to a major international study.  
That would remove around 30 percent of carbon emissions from the atmosphere.  
The scientists stress that allowing natural forest recovery would boost conservation, biodiversity and foster sustainable forestry management but to tackle climate change would still require countries to massively reduce emissions. 
Undertaken by hundreds of scientists from around the world, the study gives a major insight into how natural ecosystems - if given the chance - can reduce the impact of climate change.  
Professor Oliver Phillips, from the School of Geography at the University of Leeds and one of the scientists involved in the study, said teams of researchers from across the Amazon had been involved in "frontline assessments" of the health of the world's largest rainforest as part of the investigation.  
He said: "This new study tells us, more than anything, that we must keep forests standing. Tree-planting has a role to play including in the UK, but it is no substitute for safeguarding forests. To truly protect nature, secure peoples' livelihoods, and slow climate change it is more critical than ever to stop tropical deforestation."  
The study is published in the journal Nature. It looks at what is known as the "forest carbon potential" - how much carbon can be sequestered in forest biomass and soils. But it is a concept which has become controversial because of concerns around the adverse environmental impacts of mass tree plantations, carbon offsetting schemes, and greenwashing.   
As a result, critics have claimed the amount of carbon that could be removed from the environment by achieving the forest carbon potential has been overstated, by a multiple of four or five.  
To try and resolve the debate, the researchers in the study - led by the ETH Zurich University in Switzerland - assessed the health of global forest cover using a range of approaches, including tree-by-tree measurements on the ground and satellite data.  
Desta coffee jungle farm, Ethiopia Picture: Julian Culverhouse
Achieving forest carbon potential  
Due to ongoing deforestation, the total amount of carbon stored in forests is 328 billion tonnes below its natural state. Of course, much of this land is used for extensive human development including urban and agricultural land. 
However, outside of those areas, researchers found that forests could capture approximately 226 billion tonnes of carbon in regions with a low human footprint if they were allowed to recover. Approximately 61% of this potential can be achieved by protecting existing forests, so that they can recover to maturity. 
The remaining 39% can be achieved by reconnecting fragmented forest landscapes through sustainable ecosystem management and restoration.  
The authors stress that responsible restoration is a fundamentally social endeavour. It includes actions such as conservation, natural regeneration, rewilding, silviculture, agroforestry, and all other community-driven efforts to promote biodiversity. It requires equitable development, driven by policies that prioritize the rights of local communities and indigenous people.  
Redefining restoration  
Professor Thomas Crowther, from ETH Zurich and senior author in the paper, said: "We need to redefine what restoration means to many people.  
"Restoration is not about mass tree plantations to offset carbon emissions. Restoration means directing the flow of wealth towards local communities, indigenous populations, and farmers that promote biodiversity across the globe.  
"Only when healthy biodiversity is the preferred choice for local communities will we get long-term carbon capture as a byproduct."  
This study reveals the critical importance of natural, diverse forests in contributing to carbon drawdown. However, forests cannot be a substitute for cutting fossil fuel emissions. If emissions do not fall fast and soon, the study warns, then droughts, fires, and warming will further threaten forests and harm their ability to absorb carbon. 
The paper – Integrated global assessment of the natural forest carbon potential – can be downloaded from the Nature website.
In other recent research by ForestPlots.net, scientists found that warming of just 2 degrees above pre-industrial levels will cut carbon storage in tropical rainforests alone by up to 50 billion tonnes.
Further information
Please contact David Lewis in the press office by email – d.lewis@leeds.ac.uk
Pictures: courtesty of Julian Culverhouse.