We built it, they came and they're staying. Our campus is increasingly becoming home to wildlife – from bees, to hedgehogs, to falcons – as the University has ramped up our sustainable practices.
Look who's here
The University has become a 'living lab' where students and researchers monitor and test approaches to biodiversity. We aim to become exemplars of urban habitats by recognising and embracing the challenges faced in urban centres.
Parkinson peregrines
Up high on a window ledge in the Parkinson tower, a custom-made nesting area for peregrine falcons has attracted the birds since 2008. Seven chicks have successfully hatched and raised while people pass by below, unaware of the watchful eyes above.
After last year's eggs failed to hatch (likely due to juvenile parents), we wait with anticipation for this year's four eggs to hatch. You can watch the pair share incubation duties on the following livestream videos (please note only one camera can be viewed at a time). The abandoned bleached egg is a residual one from last year.
Keep an eye on this popular feed around 27 April, when the eggs are expected to hatch. If they do, you can then watch the chicks' fascinating development until they finally test their wings and take off from their ledge.
Who's who?
Both parents incubate the eggs and tend to the chicks. The female, called a falcon, is one third larger than the male, called a tiercel. The male is not ringed, but the female has an orange plastic ring on the right leg and a smaller metal ring on its left leg.
Ducks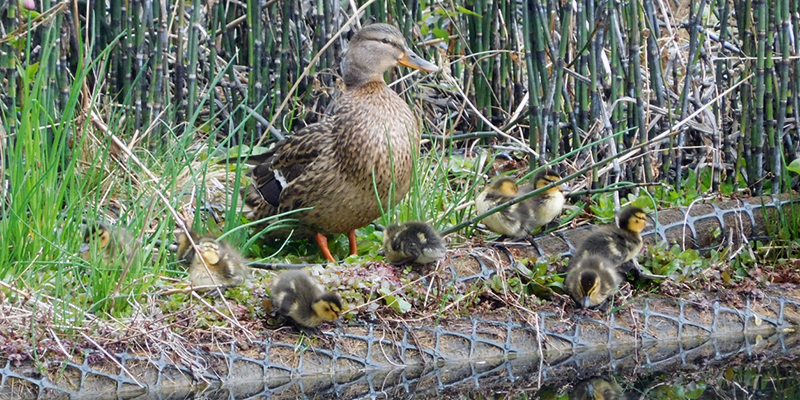 When first built, the Roger Stevens pond was designed to cool the heating systems and it quickly became a magnet for student hijinks. This pond, located on a rooftop, was ornamental and, in terms of biodiversity, sterile. The biggest challenge for the pond was water quality and it had to be treated chemically to prevent algal blooms.
Now, with floating islands, submerged planting, a duck house and ramp and a water monitoring system, the pond attracts regular visits from ducks and herons. Bats can be spotted on summer evenings and many invertebrates, including dragonflies and damselflies, benefit from the changes.
As well as being an urban oasis for wildlife, the pond is a space for interdisciplinary, research-led teaching. Sensors in the pool provide live data on water quality and a variety of environmental parameters for staff and students to access for teaching and research use.
Rabbits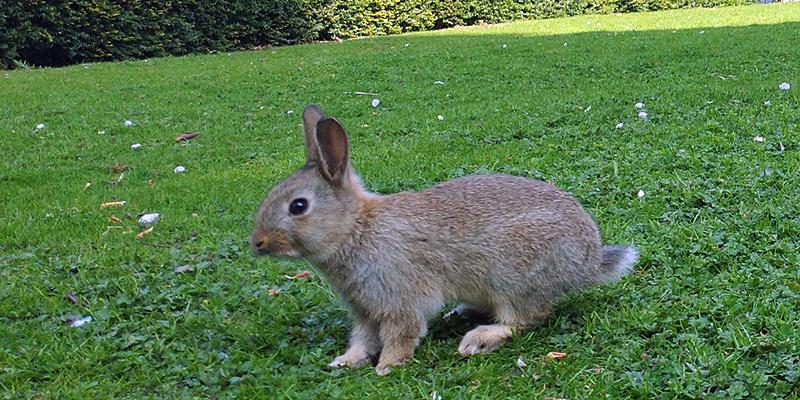 Everyone agrees – since lockdown, the rabbits on campus have become much bolder and more ubiquitous. The rabbits barely react as passing students stop on their way to classes to take countless photos. Living just down from the Schools of Music and English, near Charles Morris Hall, in St George's Field and other areas, the rabbits keep the grass short as they graze with their relatives through the day and evening.
Hedgehogs
The University is signed up to the Hedgehog Friendly Campus initiative, run nationally by the British Hedgehog Preservation Society and are currently at the silver level of the programme. Hedgehogs have been seen near Charles Morris Hall and St George's Field.
Bees
The University has a thriving beekeeper network with apiaries (collections of hives) located around campus. These hives, and the bees that call them home, are cared for throughout the year by a dedicated group of staff volunteers.
The aim has been to use the hives as a tool to raise awareness among the University community, and to help bee populations to grow. Students can take a break from their studies to watch one apiary which is located outside a window in the Laidlaw Library. The hives support biodiversity and are used to learn about beekeeping methods.
Monitor and learn
The Urban Biodiversity Monitoring Programme aims to understand how urban landscapes can be used innovatively to find solutions to problems and aid decision making for campus development. A team of student biodiversity ambassadors lead the programme, which focusses on pollinators and other species and has recently extended to the former Bodington Hall site.
Find out about sustainability at Leeds.