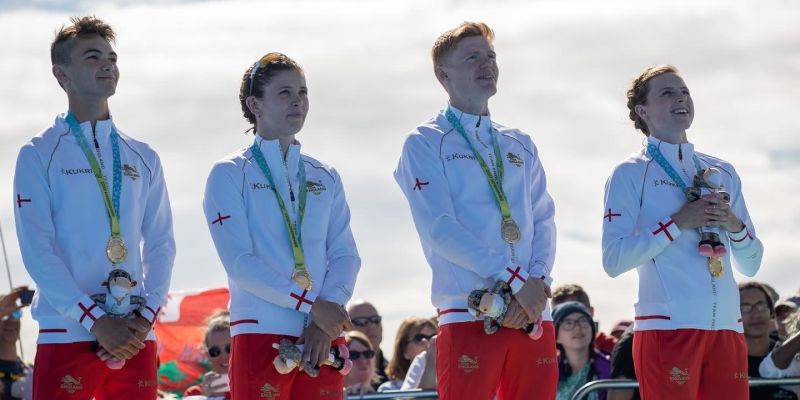 Sam Dickinson (Sports Science and Physiology 2019) returns from the Commonwealth Games 2022 with a gold medal from the triathlon mixed relay.
"If you can do it in Leeds, you can do it anywhere."
Proud Yorkshireman and Leeds graduate Sam Dickinson is one of many alumni to see success in this year's Commonwealth Games. And he puts part of that success down to the challenging conditions he faces while training in West Yorkshire.
"It's hard here," said Sam. "You've got the tough weather, the terrain, and then Alistair and Jonny [Brownlee] set up the Leeds Triathlon Centre so you have the facilities and the coaches in place."
Which adds up too, it seems, exceptional performances.
In his first appearance at a major games, Sam has returned with a gold medal in the mixed relay. He also played a key role in supporting former Leeds housemate and training partner Alex Yee to gold in the individual event. It cost Sam his own position, but it was something he would "do again in a heartbeat".
You can hear Sam's reaction in our latest episode of My Leeds Story, as he talks us through the race for gold.
The mixed relay event required each individual in a team of four to swim 300 meters, cycle 5km, and run 2km. "We got called into a room 10 minutes before our leg," Sam explained.
"You're waiting with the other competitors – the ones who will be chasing you – which is high pressure. You just have to believe in yourself that you can swim bike run faster than they can."
Sam took over for Team England on leg three ahead of the New Zealand and Australia teams. He handed a healthy lead to Leeds-based Georgia Taylor Brown, who brought home the gold on the final leg. "What an unbelievable experience," Sam said. "The atmosphere was magical, especially working on my own in the bike leg, riding through that wall of noise. My ears are still ringing. I'm not sure I'll get that in my career ever again."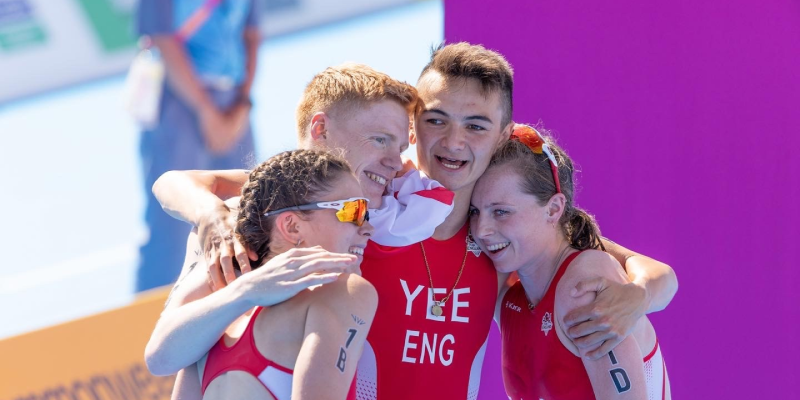 For those who follow the sport closely, Sam's rise will come as no surprise. A county level swimmer and top cross-country runner when he took up triathlon in his teens, success came with a world junior medal and a world championship silver at under 23 level. Ever-impressive performances on the senior circuit have followed.
"It's taken a long time to reach this level. That's working day in and day out for 10 years." Sam lived and breathed the sport whilst studying and training at Leeds – to the extent that his favourite lunch spot was poolside at The Edge so he could watch his fellow swimmers.
He is now an integral member of Leeds Triathlon Centre group – a partnership between British Triathlon, Leeds Beckett University, the University of Leeds and Leeds City Council. He trains alongside Bermudan triathlete Tyler Smith, Leeds-based Georgia Taylor-Brown – who also took silver in the individual women's event – and alum Jessica Fullagar (International Business 2022). Jessica guided Katie Crowhurst to gold in the Women's PTVI race.
Fittingly, it was the legendary performances of fellow alumni Alistair MBE (Sport Science and Physiology 2009, LLD 2013) and Jonny Brownlee MBE (History 2013, LLD 2013) at London 2012 which drew Sam to the sport in the first place. "10 years ago, I watched them win Olympic gold and bronze. It inspired me to take up the sport, and 10 years later, I've won a Commonwealth gold. It's pretty cool," he said.
His medal success was even more deserved, considering Sam's selfless support of Alex Yee in the individual event.
Following the swim leg, as the triathletes set to work on the bike, Sam realised that Hayden Wild of New Zealand – Alex's main rival for gold – had broken clear of the main group. "I'm not going to repeat what I said, but we had our work cut out," Sam jokingly said.
With a lap to go, Sam rode hard at the front of the group to bring Alex closer to Hayden for the final run leg – an effort that put paid to his own race result. Thankfully, Sam's friend ensured the effort was worthwhile by sealing the win. "That gold meant more to me than my actual gold in a way. I'd do it tomorrow for Alex. It's professional sport, and when I'm good enough to win the race I'll have people working for me."
For Sam, that may be sooner rather than later, as he sets his sights on qualifying for Paris 2024, and breaking into the top 30 in the world.
"I'm so happy with the team gold. But hopefully, come Paris, I'll be running for the individual win too."
Further information
For more information, contact Ed Newbould, Digital Communications Officer at the University of Leeds, by email on e.w.newbould@leeds.ac.uk.