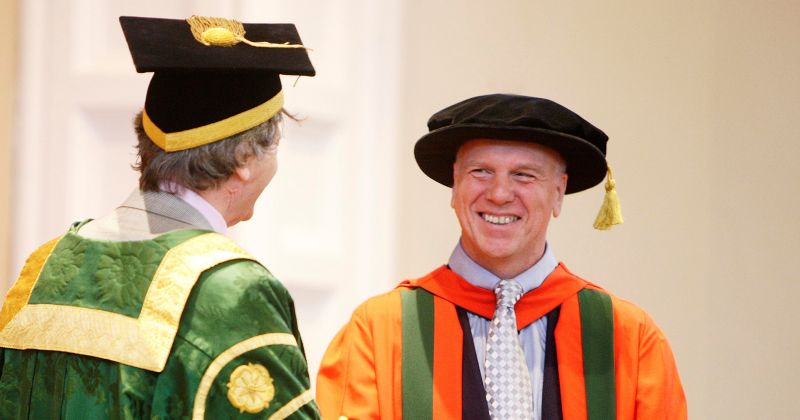 The DCI Banks author leaves a lasting legacy through his best-selling novels, and a scholarship for less advantaged students.
It is with great sadness that the University of Leeds learned of the death of author Peter Robinson (English 1974, DLitt 2009) at the age of 72.
Peter was a critically acclaimed writer, best known for producing the highly successful series of DCI Banks novels. Most recently, he received the Grand Master Award from the Crime Writers of Canada in 2020.
He was born in 1950 and grew up in the Armley area of Leeds. He began his lifelong pursuit of learning at the University in 1971. After graduating from Leeds in 1974, Peter emigrated to Canada where he continued to pursue academic studies. He received an MA in Creative Writing from the University of Windsor, and a PhD in English from York University in Toronto – the city which became his home.
Alongside his actual PhD, he received honorary doctorates from the University of Windsor, and the University of Leeds. Leading him to once quip his official title was "Dr Dr Dr Robinson".
Despite becoming a Torontonian, the indelible mark of Yorkshire remained. And it was in God's Own Country where he set his DCI Banks novels, in the fictional town of Eastvale.
The first Inspector Banks novel, Gallows View, was published in 1987. Since then, his work was turned into a television series starring Peter Tompkinson and more than 8.75 million books in the series have been sold. The final instalment, Standing In The Shadows, will be published next year.
Peter's publishers Hodder & Stoughton paid tribute to the "immensely talented writer".
His editor, Carolyn Mays, said: "He was a Yorkshireman to the core; much that he did was done without fanfare, like the scholarship he created at the University of Leeds."
Peter, along with his wife Sheila, established an endowment for the Peter Robinson Scholarship.
Since 2016, the scholarship has been awarded each year to an undergraduate studying English, where possible, with an interest in creative writing.
Peter would often comment that the scholarship was his attempt to give back to the University, after getting his place through the "back door".
He said his place at Leeds was secured after a visiting the then Dean of English, Professor Norman Jeffares, when he was 21 and unemployed.
The University's Director of Advancement Michelle Calvert said: "Peter himself came from a less advantaged background, and he wanted to pass on the gift of education that was given to him, to others who could follow in his footsteps.
"He took a lot of satisfaction from the scholarship, and it gave him a lot of pleasure to learn what the scholars were doing."
Peter's endowment to Leeds was not only monetary, but included the gift of his literary archive. Hundreds of boxes of novel drafts and notes are now housed in the University's Special Collections.
Michelle added: "It was wonderful when he decided his literary archive was to be gifted to Leeds.
"It was an incredible gift and something that can be poured over by scholars for years to come."
He was generous with his time and was a natural teacher, as well as a distinguished author. School of English Associate Professor Christiana Gregoriou co-hosted an event with Peter at the University in 2013. She said: "[We] welcomed him talking with our then students about his career in writing and beyond.
"We had the pleasure of his visits several times over the years, including one during which he talked to, and inspired, our English and creative writing students. He has always been incredibly generous and not just with his time."