A film created by a Leeds alum charts the rise of women's rugby league in Papua New Guinea, helping to tackle gender inequality in the country. They arrived in Leeds for the Rugby League World Cup.
"It is more than a film," says Joanna Lester (History, 2006). "Papua New Guinea (PNG) faces considerable challenges on the path towards gender equality. But sport creates opportunities for societal change."
PNG has been identified by human rights organisations as one of the toughest places in the world to be a woman, with high rates of sexual abuse and domestic violence. But in a divided country, rugby league – the national sport – is a uniting force.
Journalist and documentary filmmaker Joanna set out in 2017 to tell the historic story of the country's first national women's rugby league team, the PNG Orchids. The resulting film, Power Meri, has changed the conversation about the status and treatment of women.
Joanna returned to Leeds with the PNG Orchids for the Rugby League World Cup (RLWC2021) this autumn. "I was a rugby league fan growing up and I used to watch the games at Headingley. Bringing the team here, I've been acting as a tour guide. It's really nice to be back – it's where my journalism career began, too."
During her studies at Leeds, Joanna was sports editor at the Leeds Student newspaper and, at various times, Head of News and Head of Sport at Leeds Student Radio (LSR). "We had LSR come in to interview some of the PNG players last week which really brought things full circle."
After moving to Australia in 2008, Joanna went to PNG in a volunteer role in 2014. It suited her love of rugby league, given it was the national sport there. "But I didn't want to just report on games," Joanna says. "I was interested in the impact sport can have."
It is common for boys to be given priority access to education over girls in PNG, and, until the recent elections, it was one of a handful of countries in the world that had no female politicians. Learning from her PNG colleagues, Joanna could see there was an opportunity to leverage the popularity of rugby league in PNG to pass on key messages around gender equality and society. When the women's side formed in 2017, she started filming.
Power Meri documents the story of the women's team from inception to the world stage at the 2017 World Cup. It explores the individual challenges faced by the women in their own words and their journeys to acceptance within their communities, inspiring many of the team's current stars to try rugby league – the likes of team captain Elsie Albert, who took up the sport in 2018 and initially didn't dare tell her parents that she was playing. "The first they knew of Elsie playing was when she appeared on the front page of a national newspaper following a performance in a game over in Australia," Joanna says. "She has spoken about how she didn't answer her dad's phone calls for weeks because she was afraid of what he would say.
"Now she's the most successful player in the team as the first PNG woman to move to Australia to play professionally. Her parents are now supportive."
The film launched internationally in late 2018, featured in 12 premieres around the world and continues to be released and broadcast in new countries. It has been nominated for several awards, including the Sport Australia Media Awards, where it won best depiction of inclusive sport.
But for Joanna, it is the wider impact that truly matters. "Screenings of the film are often accompanied by discussions and other outreach activities to explore its meaning, and encourage community conversations about the themes raised. The players who starred in the film have been a key part of these events.
"We have anecdotal evidence and feedback that it has changed mindsets in PNG. The players have become ambassadors for the sport and there's been a huge increase in girls playing rugby league in the country. Some sponsors have said they will only sponsor the men's national team (the Kumuls) if they can also sponsor the Orchids. It's truly making a difference."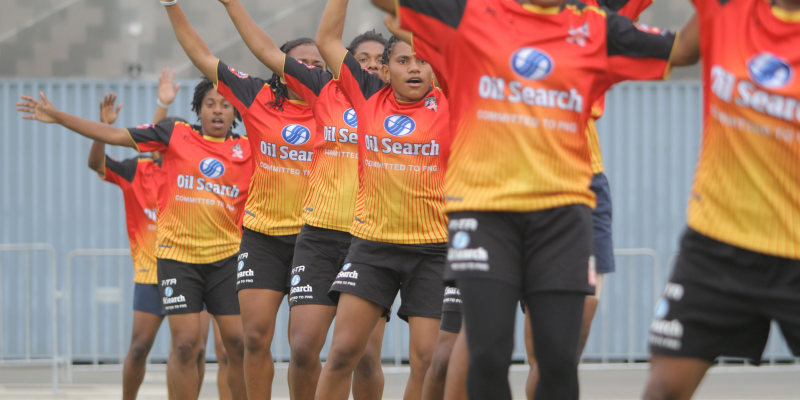 Despite a poor performance at their first World Cup in 2017 – and a wave of social media abuse which highlighted the work still to be done – their campaign in Leeds began on a much more positive note.
"We won our first game against Canada 34-12, a huge moment for the Orchids. The response was fantastic – particularly on social media – and that shows how far we've come."
The next Orchids game in Leeds was a loss to England, a game where we wonder which way Joanna's allegiances swung? She smiles. "I will always support PNG. I know the impact this sport has on the people and the unity it brings.
"Success at the World Cup means genuine changes in perception of women in the country, and that could change lives."
Further information
Find out more about Power Meri and how to watch the film on the Power Meri website.
Catch our interview with England Rugby League star and Leeds alum Jodie Cunningham on the Forever Leeds podcast
For further details, email University of Leeds Digital Communications Officer Ed Newbould at e.w.newbould@leeds.ac.uk.