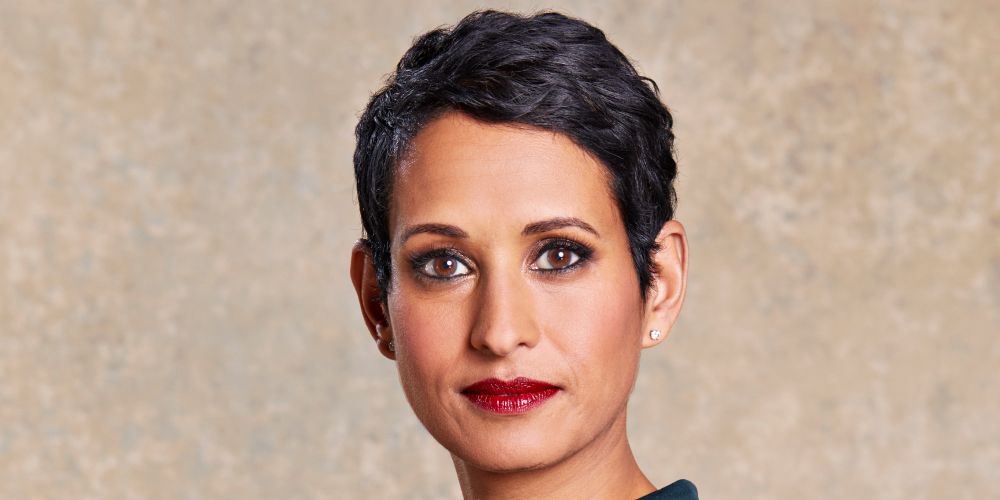 For Naga Munchetty, Leeds Student kickstarted a career to the top of her profession. After years of pain, she is using her platform to raise awareness of adenomyosis, a little-known womb condition.
Naga Munchetty (English Literature and Language 1997) is one of the most recognisable faces in the UK. Since 2014 she's been a regular presenter on BBC Breakfast, she's a presenter on 5 Live, but did you know that the spark to embarking on her career as a journalist involved a trumpet and the Leeds Student?
After being a musician in her teens, she had to give her trumpet back to the Inner London Education Authority before embarking on her English course at Leeds. With the loss of her first passion, music, she needed to "find a tribe" at university. As a strong writer, she thought she'd try her hand at writing for the Leeds Student, and soon her insatiable curiosity was fed by her extracurricular journalistic sleuthing.
"My job is to hold those in power to account," Naga says. "That started at the Leeds Student. I started thinking about how I could write a story that mattered to students – how do we make them care?
"A viewer recently gave me the best compliment of 'you always ask the questions we want to ask'. You serve your audience – you find a story, and infect others with your curiosity. That's what I learnt at Leeds."
Listen to the full podcast episode on the Leeds Voices podcast.
When Naga graduated from Leeds, the occasion was tinged with sadness as the "best time of your life" came to a close. "I remember throwing my hat in the air and making sure I didn't fall over," she says. "It sounds shallow, but I don't mind being shallow at that age. There's plenty of time for not being shallow when you're older.
"I was very pleased for my parents, because I remember how scared they were and what they went through trying to support me as much as they could."
For graduates following in Naga's footsteps, she offers three pearls of wisdom: "Trust your gut, because it will serve you well; don't do things half-heartedly – if you don't want to do it, don't do it; and when you're at work, speak up.
"Be present, partake in life – because it's short."
And the willingness to speak up and ask questions has been a hallmark of Naga's career – be it while questioning politicians on BBC Breakfast, or when it came to her own health.
After suffering excruciating pain from a little-known womb condition called adenomyosis, Naga set out to raise awareness of the condition, thought to affect up to one in 10 women. "We'd already done some work on BBC Radio 5 Live around the coil, and we managed to get the guidelines changed about people being offered pain relief when it was being fitted.
"But with adenomyosis, I was putting myself out there and was very nervous. As journalists, we want to tell the story, we don't want to be the story."
Naga revealed on air that she had been struggling to obtain a diagnosis and treatment after decades of painful, heavy 10-day periods that sometimes made her pass out. "The day before we did the piece I had a wobble about whether to share. That weekend we had had to call an ambulance because I was in too much pain.
"But the fact is, I have a platform. It wasn't about me. If I'm not getting answers, as someone who pushes and questions everything my gynaecologist says – and doesn't take 'no' for an answer – then what about everybody else?"
Naga aims to empower others to speak up about their health. She has interviewed Dame Lesley Regan, the Government's first ever Women's Health Ambassador for England, about her vision for women's health hubs.
"The problem with women's health advice is it's so bitty," Naga says. "You see a different GP each time, then you're referred for a scan, then you're sent somewhere else. There's no continuous treatment.
"Women's health has been neglected. We want to be heard and treated as soon as possible – and we want women to be confident that they will be believed.
"It's not just for adenomyosis, but it's about us being treated with respect and not just accepting the nonsense we are given."
Further information
For further details, email Ed Newbould, Digital Communications Officer, University of Leeds at e.w.newbould@leeds.ac.uk.