For the Walsh family, Leeds will forever hold a place in their hearts. This summer they celebrated four generations of the family graduating from the University.
When Thomas Walsh (International History and Politics 2023) walked across the stage to graduate from Leeds, it was 94 years since his great grandfather Percy Walsh (Law 1929) did the same.
In the intervening years, Grandfather David (Law 1958) and Father Matthew (International History and Politics 1992) gained degrees from Leeds. Thomas's mother, Nicole (French and Spanish 1992), also graduated from the University.
All three were able to attend Thomas' graduation in the Great Hall.
"I'm very proud," Grandfather David said. "The night my grandson left for Leeds, I said 'I would like to come to your graduation'. But I didn't truly believe I would still be around to make it.
"I am here, and he's done extremely well. So for a whole number of reasons, I am really pleased."
The family celebrated the day with a private reception alongside staff from the University Advancement team prior to the ceremony, which recognised their connection to Leeds.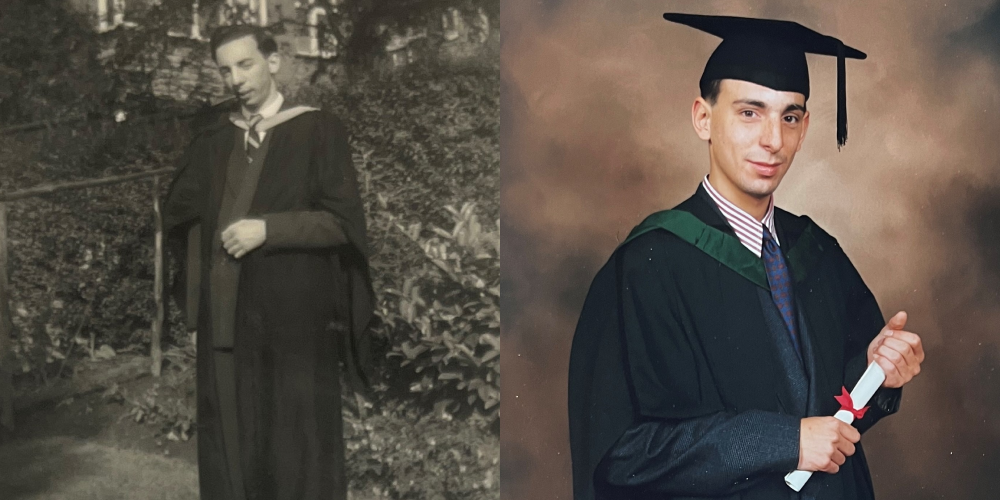 David (left) on his graduation day in 1958, and Matthew (right) in 1992
David was born and raised in Alwoodley, and followed in his father's footsteps to study law at Leeds. "I'm not sure who's changed more since, me or the University," he said.
"I had a wonderful time here and I made a lot of friends. I can boast perhaps the shortest rugby career of anyone who's ever played at the University – the ball came to me straight from kick-off in my first game, I was tackled and tore a ligament in my leg. So after that, I spent a lot of time playing tennis."
On graduating, David practiced law in London. He returned for Matthew's graduation in 1992. Matthew said: "I chose Leeds because of the course. It was perfect for me. I loved my time in Leeds – not least of all because I met my wife here.
"When our son Thomas told us he was considering Leeds as well, I told him to enjoy it but make sure he came away with a degree. I knew he would have a brilliant time."
Matthew recalled lectures from Dr Geoff Waddington in the School of History made a particular impression. "I was taught by him as well," Thomas interjected.
There are other parallels. Thomas' accommodation is just a few roads away from Matthew and Nicole's old haunts – which they visited on recent trips to Leeds.
For Thomas, the attraction to the University wasn't entirely driven by the family connection, but by the course, and the opportunity to move away from London. "I liked Leeds as a city," he said. "It felt like a smaller version of London with a big city centre but everything was walkable.
"It's very special to be graduating. I'm going to miss Leeds, the people, the campus – I'll miss all of it."
Further information
For further details, email Ed Newbould, Digital Communications Officer, University of Leeds at e.w.newbould@leeds.ac.uk.