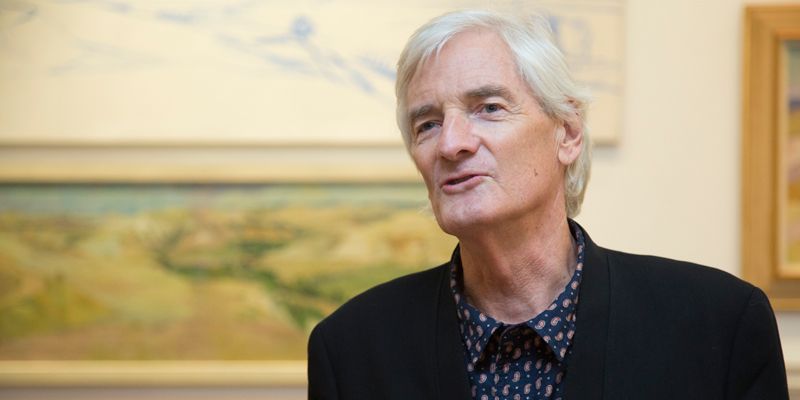 Art student turned inventor and engineer Sir James Dyson has opened a new art exhibition at the University.
Maurice de Sausmarez, who helped establish the Department of Fine Art at Leeds – forerunner of today's School of Fine Art, History of Art and Culture Studies – was a key influence on Sir James, whose bagless vacuum cleaner design has led him to develop a global technology company.
Speaking at the opening of Maurice de Sausmarez 1915-1969: A Centenary Exhibition, at the University's Stanley & Audrey Burton Gallery, Sir James reflected on the artist's influence on both himself and his wife, renowned carpet and rug designer Deirdre Dyson.
"It was Maurice who sat me down and forced me to think about the future," he recalled.
"At that time, I wanted to be a painter. It had never occurred to me that there were other options open to me – but suddenly, there was Maurice telling me that I should be a designer. Luckily, Maurice had a good deal more insight into my passions than I did. Almost 50 years later I have built a global technology company on Maurice's instinct that I would make a good designer."
The free exhibition, which is open until 20 February 2016, is the first major retrospective of de Sausmarez's work and is a collaboration between the Gallery team, guest curator Dr Hilary Diaper and the artist's widow, Jane de Sausmarez.
Maurice de Sausmarez had an impact on many lives through his work as both an artist and teacher. He trained at the Royal College of Art just before the outbreak of the Second World War. Following the war, de Sausmarez moved to Leeds in 1947 where he helped to establish the Department of Fine Art, which he led from 1951-1959. As a passionate arts educator, de Sausmarez inspired many artists and designers whose names are well-known today and his book Basic Design: the Dynamics of Visual Form (1964) is considered a seminal text for design students.
The exhibition brings together items from the University's own art collection, loans from other institutions and archival material including notes and manuscripts which cover all stages of de Sausmarez's career, sadly cut short by his relatively early death.
The exhibition opened on Tuesday, on what would have been his 100th birthday. Three generations of the de Sausmarez family were able to attend, as well as former colleagues and students – among them Sir James Dyson.
On Artists and their Making: Selected Writings of Maurice de Sausmarez, edited by Dr Hilary Diaper, who was Keeper of the Art Collection and Gallery at the University of Leeds from 1987 until 2010, was also launched at the event, by Lord Strathcarron, Chairman of Unicorn Publishing Group.