Music students at the University of Leeds will become part of a select band later this year when it gains coveted All-Steinway School status.
Leeds will join prestigious international institutions such as New York's Juilliard School and become the first member of the UK's Russell Group of universities to use the instruments – favoured by the world's top pianists – throughout its practice rooms and concert halls.
The University is investing just over £742,000 in 27 pianos designed by Steinway & Sons – a combination of uprights, baby grands and a concert grand, which will arrive at its School of Music in time for Christmas.
The upgraded facilities will enable students across a wide range of courses in the school to practise, perform, compose and record with top quality instruments. Members of the hugely successful Leeds University Union Music Society from across all faculties will also benefit from using the new pianos.
The School of Music has secured a top ten place in the Complete University Guide and is part of the Faculty of Arts, Humanities and Cultures – itself a significant global player with a top 100 position in the respected QS World University subject rankings.
Dr Karen Burland, Head of the School of Music, said: "We are very excited about the opportunities this investment affords the School, its students and staff. We know it will help us continue to attract world-class performers and colleagues. It will also help strengthen our place in the cultural life of the city."
"It will help us continue to attract world-class performers and colleagues and also help strengthen our place in the cultural life of the city."
University Vice-Chancellor Sir Alan Langlands added: "This investment comes at an exciting time for culture on campus and across the city and will help fulfil two of the three key aims of our new Cultural Institute: the widening of cultural engagement and participation, and the enhancement of the skills of our students. It also responds directly to the demand from students for improved practise facilities in the University.
"World-class facilities and artistic endeavour across the University are more important than ever," Sir Alan added.
The University backed the city's bid to become European Capital of Culture in 2023, as part of a contest that was curtailed last month by the European Commission.
Guido Zimmermann, Vice-President and Managing Director for Steinway & Sons Europe, said: "There are few places in the world for students to apply where the majority of the school of music's pianos are new Steinways. It is highly befitting that the University of Leeds is now amongst the elite few, not only enabling musicians to reach their full potential, but also enriching the student experience of every student with a passion for music.
"We are honoured to be accrediting University of Leeds' School of Music as an All-Steinway School."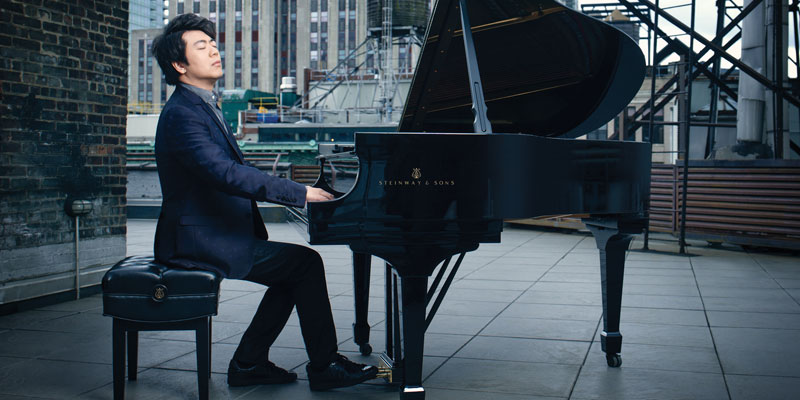 Recognition by Steinway is also expected to enhance the University's International Concert Series, as well as its long-running relationship with the Leeds International Piano Competition. Steinway & Sons, like the University, is a principal partner of the globally-famous competition, first held in 1963 and hosted and supported by the University from the start.
Twelve previous winners of the triennial piano competition are now Steinway Artists, as are the contest's Global Ambassador Lang Lang, Joint Artistic Director Paul Lewis and the three pianists featuring in next May's Leeds Piano Festival.
Mr Lewis said: "We commend the University's commitment to ensuring its students have the best instruments on which to practise.
"We are now just a year away from the 2018 competition, which will have a stronger than ever international focus with live free-to-view international streaming and first rounds taking place in New York, Berlin and Singapore.
"This will place a spotlight on Leeds – and the University – as never before," added Liverpool-born Mr Lewis, who is internationally regarded as one of the leading musicians of his generation and was made a CBE for services to music in the Queen's 90th birthday honours.
Other recent investments at the School of Music include the installation of cinema facilities in its 250-seat Clothworkers' Centenary Concert Hall, the creation of a Livestream video performance space at the heart of the school's newly-refurbished Concert Hall Foyer, and investment in a new Apple Mac computer cluster to link composition technology with recently re-developed recording studios.
Staff from the University will travel to Steinway's factory in Hamburg next month for a factory tour and to select the new pianos.
Further information
Top image: Masaru Yoshitake performs on a Steinway in the University of Leeds' Great Hall during the last Leeds International Piano Competition in 2015. Picture courtesy LIPC.
Second image: Leeds International Piano Competition Global Ambassador Lang Lang. Picture courtesy Steinway & Sons.
For interviews or more information, contact the University of Leeds Media Relations Manager Gareth Dant on 0113 343 3996 or g.j.dant@leeds.ac.uk.
Steinway & Sons
Steinway & Sons pianos are the choice of nine out of ten concert pianists as well as countless professionals and amateurs. Since 1853 the company's pianos, each of which takes around a year to make, have set an uncompromising standard for sound, craftsmanship, design and investment. The company only has two factories world-wide, based in Hamburg and New York. http://eu.steinway.com/en.