University colleagues are taking part in a number of exciting events as part of this year's Ilkley Literature Festival's programme, which runs from tomorrow until Sunday 17 October.
As the festival's higher education partner, the University is sponsoring the headline appearance of Booker Prize winner Bernardine Evaristo, author of best-selling Girl, Woman, Other, who will discuss her latest book Manifesto – an inspirational account of her creative rebellion as a writer, teacher and activist.
The 14 October event will also feature Malika Booker, an award-winning poet and former Douglas Caster Cultural Fellow in the School of English.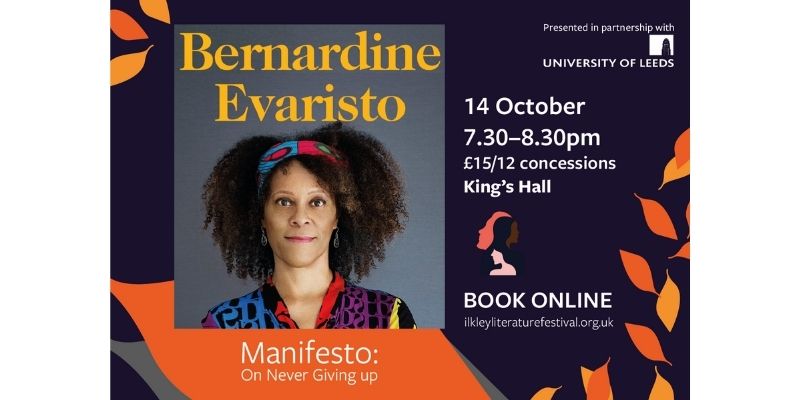 Professor Frank Finlay, Dean for Cultural Engagement and Director of the Cultural Institute, said: "I am particularly excited that the University is sponsoring the headline event with Bernardine Evaristo, the joint-winner of the 2019 Booker Prize.
"Literature can express what it means to be human, it offers us insights into our experiences and life stories, and we share Evaristo's passion for broadening and deepening the narrative of who we are in Britain."
On Friday 8 October, an in-person and livestreamed showcase will bring together readings from several exceptional poets associated with the University of Leeds Poetry Centre. Poet in Residence Ian Duhig and Apprentice Poet in Residence Rheima Robinson will feature alongside Poetry Centre Director Professor John Whale, Jeffrey Wainwright, Dr Kimberly Campanello, Lydia Kennaway, Charlotte Eichler and Zaffar Kunial.
Professor Finlay added: "We greatly value our cultural partnership with Ilkley Literature festival. In addition to showcasing the University's research and enhancing student opportunity via internships, it is an exciting way to connect our students and staff with some of the biggest names in creative writing, and well-respected experts in the world of ideas."
Other Festival events featuring Leeds academics as chairs/interviewers include:
Founded in 1973, Ilkley Literature Festival is the North's longest-running literary event.
This year, there are three strands of thought and discussion running throughout the events, workshops and micro-commissions: Unreliable Narratives, Belonging, and Pioneering Women.