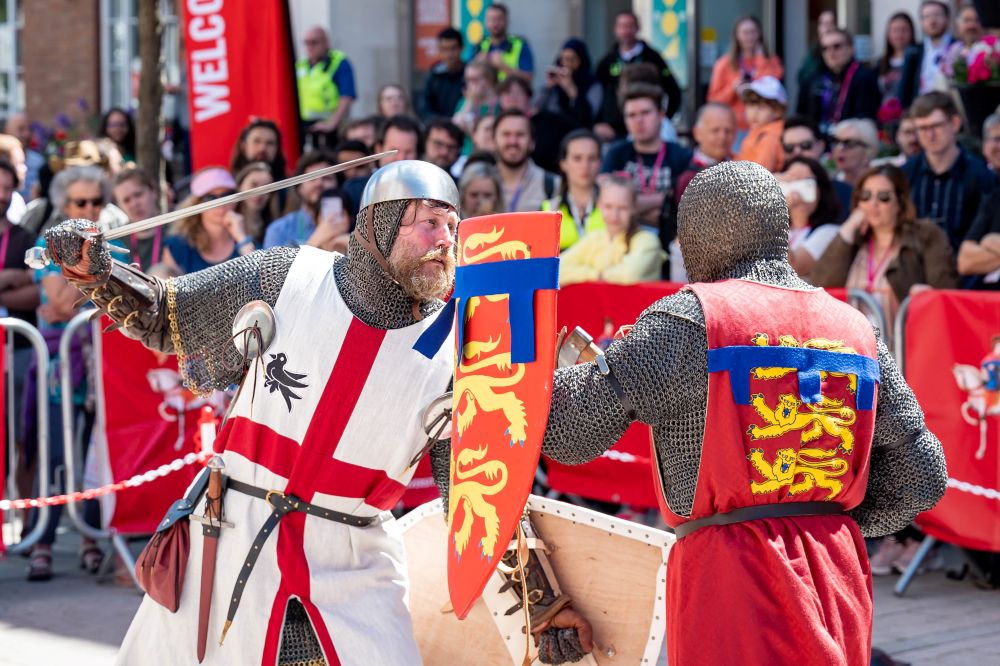 Europe's largest Medieval celebration is taking place in Leeds with over 2,500 enthusiasts from 60 countries coming together both in person and virtually to immerse themselves in the Middle Ages.
The International Medieval Congress (IMC) will take place at the University of Leeds from Monday 3 July to Thursday 6 July, giving people the chance to relive medieval life whether it is wielding an axe in combat or trying out something more harmonious such as playing a medieval musical instrument.

Visitors can also take part in exciting workshops exploring medieval crafts and learn centuries-old techniques to fashion beautiful artefacts.

The IMC is Europe's largest forum for sharing ideas in medieval studies and this year the theme will be 'Networks and Entanglements' which examines interactions between various groups and sectors within society and investigates the complexity of life at that time.

The Institute of Medieval Studies is one of the major centres for Medieval Studies in the UK.

It is home to a thriving community of more than 50 medievalists and the academic staff come from a range of subject areas across the Faculty of Arts, Humanities and Cultures including anthropology, archaeology, architecture, art history and politics.

As in previous years, the new virtual platform will enable speakers and audience members from all around the world to participate live on laptops or phones if they cannot travel to Leeds.

This year's concert and performance programme features theatrical readings, storytelling events and live music sessions starting with a show-and-tell session on Musical Instruments of the Middle Ages on 2 July.

The IMC 2023 Bookfair will be launched with a drinks reception on Monday 3 July at 6pm. The Bookfair will remain open later during the reception, providing an extra opportunity to talk to publishers' representatives.
Visitors can expect an amazing spectacle, full of colour and sound, that brings life to how people lived in the Middle Ages.


IMC Director, Dr Axel Muller, said: "Our packed Congress programme showcases many aspects of medieval studies through hands-on workshops, displays and live entertainment.

"Visitors can expect an amazing spectacle, full of colour and sound, that brings to life how people lived in the Middle Ages. Everyone is welcome."

Other highlights include:
• The Medieval Craft Fair which will take place in the University Square and in the foyer of the Leeds University Union building on Wednesday 5 July, 10.30am to 7pm and Thursday 6 July, 10.30am to 6pm. The craft fair showcases handmade items using medieval craft techniques.
• Excursions to two secret Yorkshire castles at Tickhill and Conisbrough; Bolton Abbey, Royal Armouries and Byland Battlefield.
• Workshops including A Draw Thy Sword in Right combat workshop on Sunday, 2 July, from 1.30pm to 4pm.
• Ongoing displays throughout the day including wandering minstrels providing musical accompaniment and displays of arms and armour from the Viking Age.
For more information, contact Jane Lewis in the University of Leeds press office.