Visitors can experience the magic of the UK's largest annual arts and lights festival, Light Night, on the University of Leeds campus on 12 and 13 October.
Just a short walk away from the bustling city centre, the University Zone will light up campus with exhibits that provide playful and moving sensory experiences for visitors of all ages.
Campus plays host to several installations, including a map charting refugee and migrant journeys, a performance inspired by retro gaming, musical delights from Ambisonic Sound to self-playing pianos, and stunning light artworks created by staff and students.
Wieke Eringa, Director of the Cultural Institute, said: "We're excited to showcase the artworks and performances that have come out of our collaborations with local artists, organisations and communities at Light Night 2023. It's great to be supporting the University Zone, which allows us to invite people of all ages onto campus to enjoy an alternative, calming space away from the larger crowds of the city centre."
Now in its 19th year, Light Night attracts huge audiences across the two nights to enjoy a plethora of light-based artworks and performances.
Events on campus
No One Is An Island
Treasures of the Brotherton Gallery, Parkinson Building
Local refugees, asylum seekers and migrants have created a collective interactive map, inspired by the University exhibition, 'Shifting Borders: A Journey to the Centre of our World(s)' after six weeks of workshops, facilitated by the Highrise Project.
Layla Bloom, Curator, Leeds University Library Galleries, said: "We're delighted to be sharing the amazing hard work of our refugee and migrant participants in the form of this interactive map, 'No One Is An Island' - inspired by our current exhibition 'Shifting Borders'.
"The stories they share are poignant, individual - and bring to life for others the challenges of fleeing one's homeland."
Light Can Also Rhyme
The William Henry Bragg Building
Creeping vines and crystal mountains animate the stonework opposite the Bragg Building, just off Headingley Lane, accompanied by atmospheric music. The installation was created by Fine Art undergraduate Hannah Guy and Music undergraduate Ashruta Manu, and technician Katherine Lacey.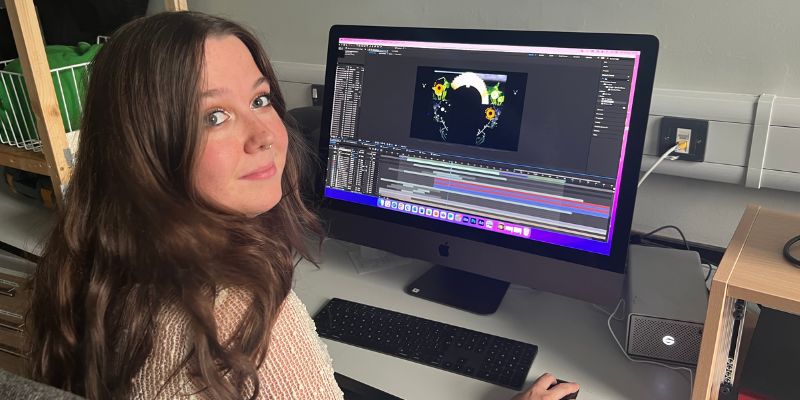 Hannah Guy works on 'Light can also Rhyme' at the School of Fine Art, History of Art and Cultural Studies
stage@leeds
stage@leeds presents an eclectic series of works for Light Night 2023, with Ambisonic Sound, slime mold, light sculpture, and retro gaming. Fun for the whole family, the accessible space offers flat floor access and refreshments from the stage@leeds bar, offering tea, coffee, and a selection of cold drinks.
Pixelate
Stage One, Stage@Leeds
Grab a controller and take a step back in time as stage@leeds reimagines 16Bit console gaming as an immersive theatrical experience. Lights, sound and a giant screen… are you ready, Player One?
It Ends with You by George Moody
Alec Clegg Studio, Stage@Leeds
A performance by artist George Moody, inspired by creative workshops with natural elements such as slime, grass, flowers, water, decaying leaves, and moss. Through the lens of Queer Ecology, George's performance explores the wonder-like world of organic matter and its expressive nature.
Luminosity
The Green & the Dalwood Space, stage@leeds
Inspired by the astronomical term 'Luminosity,' which reveals an object's inherent brightness beyond its apparent glow, this event will illuminate the walls of stage@leeds in a fresh and playful new light.
Ambisonic by Jess Rowland
The Dance Studio, stage@leeds
A sound experience to transport visitors into a realm of deep listening, by sound artist Jess Rowland. Put on your headphones and allow the magic of Ambisonic to envelop your senses.
The Piano is a nocturnal animal
Clothworkers Centenary Concert Hall, Friday only
A captivating music and light installation, inspired by the piano, presented in collaboration with the Leeds International Piano Competition. Enjoy the soothing melodies of lullabies, take the opportunity to play the piano and witness the wonder of self-playing instruments at the Clothworkers Centenary Hall.
Further information
The University Zone on campus is open 6-9pm on Thursday 12 and Friday 13 October.
Read the full programme for Light Night 2023 on their website.
Find directions to buildings on campus with our campus map.