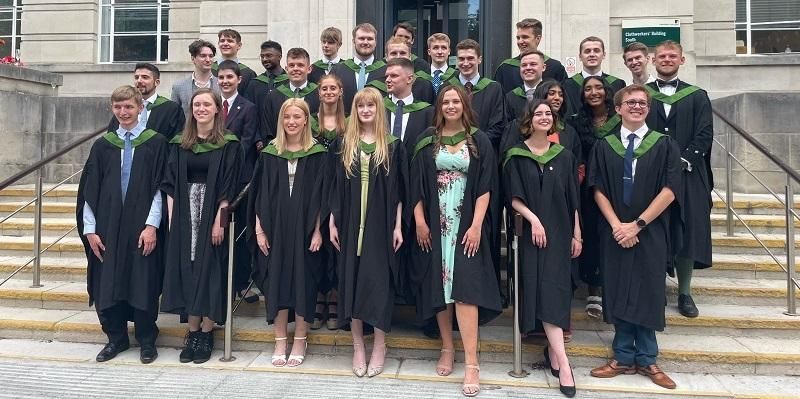 The first PwC apprentices to complete a technology degree apprenticeship at the University have graduated, with 31 out of the 34-strong class being awarded a first-class honours degree.
Developed by the professional services firm PwC in partnership with Leeds, the four-year BSc Computer Science: Digital and Technology Solutions blends vocational and business skills with an academically rigorous technical degree.
It is a fantastic privilege for PwC to work alongside the University to develop the talent and skills that are so acutely needed.
Throughout the programme, the Leeds apprentices worked on real business projects with PwC clients, and received a salary as well as full funding for their tuition fees, paid for by PwC.
Professor Andy Bulpitt, Head of the School of Computing at Leeds, said: "It has been a privilege to see the first cohort of apprentices through the programme, from being involved in their initial selection process right through to their graduation ceremony.
"They have achieved so much despite the huge challenges they have faced due to COVID-19, but they are already well on their way up the computer science career ladder."
All the apprentices have been made offers of employment with PwC, one of the UK's largest employers of graduates, to jobs involving data analysis, cyber security, technology consulting, artificial intelligence and robotics.
'A head start to my career'
Lauren Cooper, who graduated from the course and is from Leeds, said: "The technology degree apprenticeship has provided me with a head start in my professional life. I have enjoyed university life without having to worry about student debt, thanks to PwC funding my tuition fees and a salary.
"I've enjoyed some excellent technology-focused work experience at PwC throughout my apprenticeship, and I am looking forward to continuing my career with PwC. Throughout the four years, I have built great friendships and a professional network at work and at university."
On average, around 40 apprentices a year are recruited onto the degree apprenticeship course – one of several degree apprenticeship schemes that PwC offer.
Working on real business problems
Katherine Bond, Technology Degree Apprenticeships Lead at PwC, said: "I'm thrilled that the first apprentices on the course have graduated and will be continuing their careers with PwC. They are the technology leaders of tomorrow. Their individual and collective achievements in the context of the challenges of the pandemic is to be celebrated as an even bigger achievement.
"It is a fantastic privilege for PwC to work alongside the University of Leeds to develop the talent and skills that are so acutely needed. Supporting young people and developing skills in the region is one of our top priorities. We will continue to drive change in the tech sector, and support people from under-represented backgrounds to access the very best career opportunities."
The degree apprenticeship improves access to careers in technology. On conventional computer science programmes, the proportion of female students averages around 16%, but on the degree apprenticeship, it is 32%. The scheme also attracts older applicants, including people changing career.
Recruitment for 2023
Places on the degree apprenticeship that starts this September have already been filled. To read more about the programme starting in 2023, please look at PwC's Flying Start web pages.
The University of Leeds delivers a number of higher and degree apprenticeships including a foundation degree in healthcare for assistant practitioners, nursing associate foundation degree and BSc chartered manager degree apprenticeship – which are administered by the Lifelong Learning Centre; MSc advanced clinical practice – run by the School of Healthcare; and a Level 7 executive leadership apprenticeship – run by Leeds University Business School.
Further information
For further details, contact David Lewis in the University of Leeds press office via d.lewis@leeds.ac.uk.