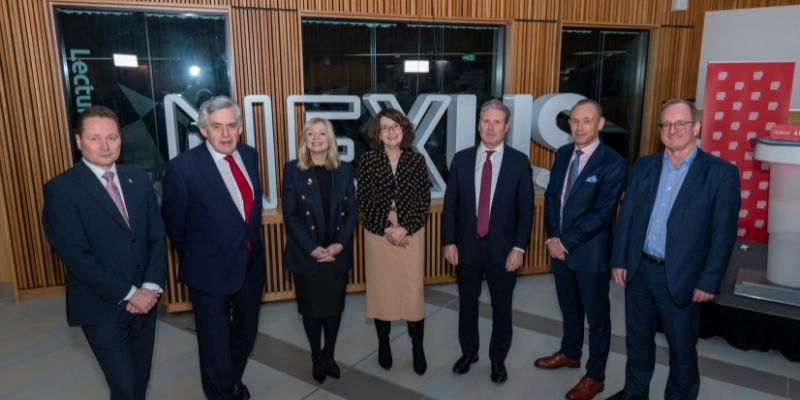 The knowledge, expertise and research innovation offered by universities such as Leeds will be vital in devolving more economic power to the regions, according to the Mayor of West Yorkshire.
Tracy Brabin made the claims as Labour leader Sir Keir Starmer revealed the party's commission into the future of the UK, which recommends giving local communities new powers over skills, transport and planning.
The report, led by former Prime Minister Gordon Brown, was launched at the Nexus business innovation community at the University of Leeds, and recommends the creation of hundreds of 'clusters' of economic activity in cities and towns across all regions and nations of the United Kingdom.
Universities have a key role to play in driving innovation and local economic growth, including here in Leeds.
Launching the report, Sir Keir said it was good to be back on campus where he spent three happy years as a student.
The Leader of the Opposition graduated in 1985 with a first class law degree. He was joined at Nexus by the Shadow Chancellor of the Exchequer and Leeds West MP, Rachel Reeves.
Professor Simone Buitendijk, Vice-Chancellor of the University of Leeds, said: "It has been great to welcome Sir Keir back to campus today, alongside Gordon Brown, Tracey Brabin, Rachel Reeves and other attendees.
"It is clear that universities have a key role to play in driving innovation and local economic growth, including here in Leeds.
"We stand ready to continue to work with all partners, including central and local Government, to achieve that objective, and drive down inequalities through boosting economic growth."
Supporting local economies
After the launch Tracy Brabin met some of the members of the Nexus business community and said: "Nexus, and the University of Leeds, was the ideal place to launch the Labour Party's blueprint for a New Britain.
"The innovation, knowledge and support for start-up businesses in emerging industries like fintech, renewables and AI, are a prime example of how universities can help grow and support local economies.
"It was a pleasure to learn more about the work that businesses like Vet-AI, Slingshot Simulations and SeeAI do for communities across West Yorkshire.
"As Mayor, I want to see more local control over skills, employment, and job centres, as well as local transport like trains and buses, so I can connect people across West Yorkshire with good jobs and allow our region to flourish."
Enormous opportunity
Dr Martin Stow, the Director of Nexus, said he believed that hosting the event was exciting as it brought Nexus and the University to the heart of the region.
"For me, this is all about the University's role as an anchor institute to drive economic and societal growth for the city, the region and further beyond.
"The Nexus model is quite a unique model in the way we are doing that. This is not just about our spinout companies, it's broader than that. This is about working with entrepreneurs that are operating within the region but also attracting companies into the region.
"If we can be better from a city and regional perspective, I think the opportunity is enormous in terms of us creating value and impact."
Nexus was also the venue in March 2020 for the signing of a historic devolution deal, which saw West Yorkshire have its first directly elected Mayor and which also provided £1.1 billion of investment over 30 years.
Further information
Main photograph: (left to right) Professor Nick Plant, Deputy Vice-Chancellor (Research and Innovation); Gordon Brown; Tracy Brabin; Vice-Chancellor, Professor Simone Buitendijk; Sir Keir Starmer; Dr Martin Stow, Director of Nexus; Professor Andrew Thorpe, Executive Dean of the Faculty of Arts, Humanities and Cultures.
For more information, please contact Kersti Mitchell in the Press Office at the University of Leeds by email on k.mitchell@leeds.ac.uk.