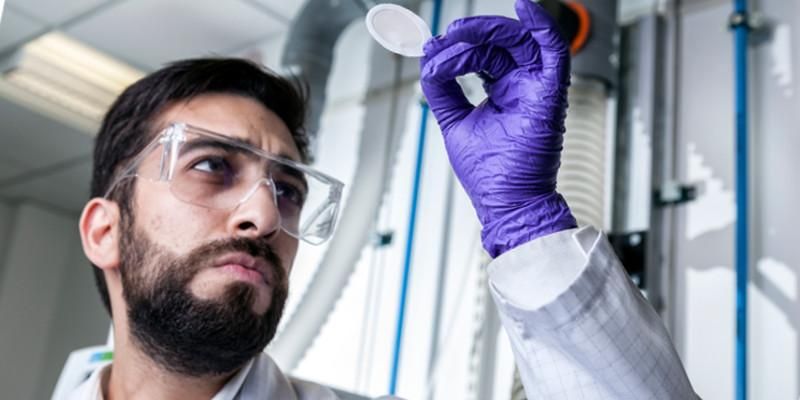 Leeds researchers are supporting a business' £1m project to develop new graphene-based water filters, to bring the technology closer to addressing world-wide water scarcity.
G2O Water Technologies has brought its innovative, patented graphene oxide technology for comprehensive testing and evaluation by the interdisciplinary team at water@leeds.
This collaboration adds further weight to the company's two Innovate UK-supported projects focused initially on oil/water separation and domestic water filters, totalling almost £2m in research and development expenditure. The ultimate aim is to develop the capability to treat water at a much lower cost and make it more affordable worldwide.
Professor Martin Tillotson from the University of Leeds said: "Water@leeds is one of the world's leading interdisciplinary centres looking at various aspects of water treatment and we are happy to share our expertise with G2O. The University is committed to making a real and telling difference to the world around us by supporting industry in developing innovative products, tackling the challenges which society faces."
Tim Harper, CEO and founder of Manchester-based G2O Water Technologies, said: "We believe we are currently the only company transferring its graphene water filter technology from an R&D laboratory to an industrial setting to prove how it could help solve real-world water problems.
"This will involve working directly with water industry experts to understand their challenges in detail and evaluate how our graphene oxide membranes would complement their operations and help deliver what consumers need from their water supply.
"Our work with water@leeds, along with having highly-experienced water industry professionals on our advisory board, means we are using the latest science and knowledge to address the right applications for the industry –helping treat water at a much lower cost and making it more affordable worldwide."
"Our work with water@leeds means we are using the latest science and knowledge to address the right applications for the industry – helping treat water at a much lower cost."
Professor Tillotson said the joint project would involve developing commercially-viable water filtration membranes derived from G2O's graphene technology that can be scaled-up for industrial application.
G2O will be working with the Public Health Laboratories within the School of Civil Engineering at the University to address real issues relating to water treatment in the water industry, including sieving of molecules or ions and the removal of salts, oil, nuclear waste, dyes and other chemicals. A pilot water treatment plant designed to test and develop the graphene water filters is scheduled for operation during the first half of 2018.
The company is also exploring a number of partnerships with major consumer product manufacturers and energy companies in order to accelerate the process of bringing a graphene water filter product to market.
G2O's technology works by creating low-cost printed graphene filters or by applying a graphene coating to existing membranes used in water filtration processes. This technique reduces the amount of energy needed to filter the water passing through the membrane by up to 50 per cent, increasing throughput of purified water while combating contamination and lowering the overall cost involved.
This new technology allows more water to pass through a membrane, therefore removing the need for – and expense of – electricity needed to run pumps and controls in existing water treatment plants. The technology also offers the possibility of reducing the size and complexity of these plants, thereby potentially opening up the technology to less developed areas of the world.
Independent market research suggests that the global market for membranes used in water filtration and purification is estimated to be worth more than US$25bn.
Further information
Professor Tillotson is available for interview, contact Peter Le Riche in the University of Leeds press office on 0113 343 2049 or email p.leriche@leeds.ac.uk