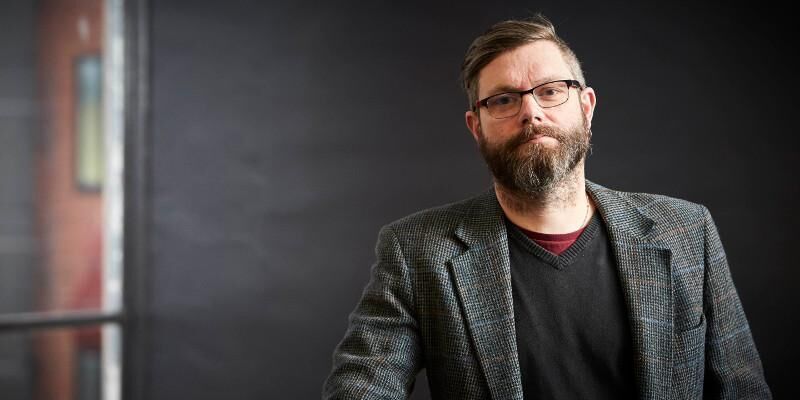 Government is missing a 'huge opportunity' to reduce the UK's carbon footprint by focusing spending on wind farms instead of materials recycling, according to a leading natural resources researcher.
Professor Phil Purnell, pictured above, is the leader of the Resource Recovery from Waste research group, which draws international membership from universities, public bodies, the private sector and governments.
He is due to explain at a conference how the UK's currently poorly-developed recycling activities save around 60 million tonnes of CO2 per year, by displacing the need to mine and process virgin materials. The country's entire wind farm portfolio, by contrast, saves only six million tonnes of CO2 per year by displacing fossil fuel use.
Yet Government investment in recycling is measured in tens of millions of pounds per year, whereas its investment in wind power is over half a billion pounds.
Speaking before the conference, Professor Purnell said: "Clearly we are missing the huge opportunity to reduce our carbon footprint by encouraging resource recovery from waste including re-use, and recycling. In addition, waste recovery also offers large economic opportunities, the potential for resource security for critical materials needed for future clean growth and for reducing our impact on the environment."
Professor Purnell says Government should focus more on renewables, recycling, instead of wind farms.
"Wind energy is an important part of a low carbon future, but our focus right now should be on investing much more heavily in re-use, repair, refurbishment and recycling, where there is potential for huge carbon savings."
Professor Purnell's comments are due to come during the Resource Recovery from Waste conference in London, which will review the findings of the five year research programme and will also discuss Defra's recently released Resources and Waste Strategy.
The research programme has also published two policy briefings covering how recovering and re-using industrial wastes from mining and manufacturing which contain rare metals, and biowaste, could both contribute to the UK's strategic goals of clean growth, resource security and reducing use of fossil fuels and carbon emissions.
Low-carbon economy
During the conference, leading researchers will debate how natural resources recovery and recycling can play a larger role in delivering a clean, low-carbon and resource efficient economy for the UK.
The conference will showcase advances in resource recovery technology and novel assessment tools, and will present a shared vision for the transition to a circular economy, developed together with industry, government and academia.
Discussions will focus on where changes in policy will be needed to realise the full benefits of resource recovery envisaged for the economy, society and environment – including whether the new Defra Resource and Waste Strategy goes as far as it could or as it needs to.
A panel session will also look to identify the remaining barriers to adoption of resource recovery technology and identify the future challenges in moving towards a truly waste-free circular economy.
Further information
For media enquiries email the University of Leeds Press Office at pressoffice@leeds.ac.uk.
Further details about the conference are available on the webpage.
External speakers include:
Laura Sandys, Deputy Chair of the Food Standards Agency

Tom Murray, Deputy Head of Resources and Waste Policy, Evidence and Analysis, Defra

Peter Quinn, Head of Climate Change, Environmental Policy and Strategy, Tata Steel Europe Mark Sommerfeld, Policy Manager, Renewable Energy Association

Ned Garnett, Associate Director of Research, Natural Environment Research Council
Speakers from the Resource Recovery from Waste research programme:
Prof Phil Purnell, University of Leeds: Resource recovery from waste: the transition towards a circular economy.

Prof Ian Head, Newcastle University: Bioelectrochemical systems for resource recovery and integrated waste management systems.

Prof Lynne Macaskie, University of Birmingham: Microbial synthesis of metallic nanoparticles: multiple opportunities and selected case histories for valorization of wastes into value products.

Dr Will Mayes, University of Hull: Resource Recovery and Remediation of Alkaline Wastes

Dr Devin Sapsford, University of Cardiff: In situ recovery of resources from waste repositories.

Dr Alfonso Lag Brotons, Lancaster University. From waste to fertilisers/soil conditioners – Cycling the value of anaerobic digestate and biomass ash.