A mobile phone app – launched today by an international team of scientists – will support farmers across Africa to adopt environmentally friendly ways of protecting their crops from pests.
African smallholder farmers face major challenges from weeds such as striga and insect pests such as fall armyworm. Fall armyworm is a serious threat to food security and livelihoods and already affects at least 400,000 hectares, causing crop losses worth an estimated $3 billion a year.
But a solution exists – 'push-pull technology' – and it avoids the need to use harmful and expensive chemical pesticides.
Push-pull technology is a scientific method of planting crops such as maize and sorghum alongside particular species of forage grasses and legumes, which repel pests and supress weeds.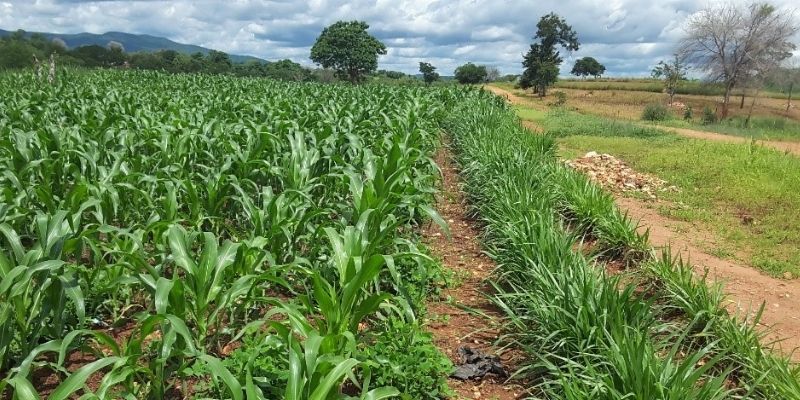 The method was developed by scientists at the International Centre of Insect Physiology and Ecology (icipe) in Kenya with partners and is designed to protect the plants against devastating pests like the fall armyworm and the striga weed, with the companion plants also improving soil fertility.
But a major challenge is how to communicate advice and information about this crop management technique to millions of smallholder farmers in sub-Saharan Africa. To help address this challenge, a new mobile phone app – called Push-Pull – has been launched by Agape Innovations Ltd, in collaboration with a team of scientists from the University of Leeds, Keele University and icipe.
The app is part of a larger project called 'Scaling up Biocontrol Innovations in Africa' funded by the Global Challenges Research Fund (GCRF), which seeks to understand how biocontrol methods have been used across Africa and to encourage their uptake. The project involves a cluster of previous GCRF-funded research programmes, including the Leeds-led AFRICAP project.
Principal Investigator Dr Steve Sait, from Leeds' School of Biology, said: "The push-pull method of pest control is decades old and is used successfully by thousands of smallholder farmers across Africa.
"We hope that this collaboration, and this new app, can help us extend knowledge of this technique to potentially millions of other farmers who could be benefitting from it. Compared to chemical pesticides, push-pull costs less money to the farmer, results in less damage to their crops, and it avoids harming other insect species that play valuable roles in the ecosystem.
"We consulted widely with farmers in Kenya and I'm excited to see how their contribution has made the app user friendly and could lead to more uptake of push-pull farming."
Research by the scientists behind the push-pull technique has proven that odours released by the companion plants can effectively repel fall armyworm and protect crops against the pest.
Early adopter farmers have had great success with the technique, reporting five times less fall armyworm damage and a doubling or even tripling of crop yield, showing the huge potential this has for farmers and crop-producing smallholders. It also reduces the environmental impact of farming by protecting against pests without using pesticides, as well as improving soil quality without inorganic fertilisers.
Improving food security
The Push-Pull app, which has launched today, has been developed by Agape Innovations and is available on Android phones. It has been designed to work on the basic smartphones that are being increasingly used by smallholder farmers in Africa. It gives farmers information they need to get started with push-pull farming, and is not only free but will work offline, meaning a lack of internet connection in rural regions will not affect its function.
The ultimate goal is to provide a resource for farmers that is informed by science, protects their crops and improves their harvest, which they can access any time of day from anywhere in the world.
Paul Mugisha, CEO of Agape Innovations Ltd, said: "With the world going digital and uncertainties like Covid-19 amplifying the challenges of physical interactions, ICT is so vital in today and tomorrow's agriculture.
"At Agape, we built the Push-Pull app as a global tool to equip a farmer with all that is needed for a successful push-pull garden. Embedded with audio, visual and graphical expressions we are certain that the Push-Pull app will be relevant to maize and sorghum farmers worldwide for both today and tomorrow in controlling fall armyworm, striga and maize stalk borer."
Professor Toby Bruce, from Keele University's School of Life Sciences, said: "We are excited to see if this app can serve as a vehicle for taking practical information to the farmer. It is designed to share key details about how to get started with push-pull. We hope this will increase the number of farmers taking up this innovative approach that provides real benefits by improving crop protection and food security."
Further information
Image credit: Agape Innovations Ltd
For more information or to request an interview, contact Simon Moore in the Press Office at the University of Leeds by email on s.i.moore@leeds.ac.uk.
The Push-Pull app can be downloaded on the Google Play website