Young volunteers are giving away an abundance of fresh vegetables they have grown themselves at an urban farm in Harehills. 
The young people, aged nine to 17, have built the farm from scratch at Harehills charity Community Action to Create Hope (CATCH), under the supervision of Dr Ian Shaw, an Associate Professor of Global Security Challenges in Leeds' School of Politics and International Studies (POLIS).
As well as teaching the volunteers lifelong farming skills, the aim of the Grow Together project is to provide fresh produce for the Harehills community, including potatoes, peas, carrots, onions, beetroot, and a range of salads, alongside recipes for healthy meals.
"The educational farm provided a lifeline during the pandemic and working with plants outdoors helped them connect to nature. Seeing their faces light up when they ate fresh produce they'd grown themselves was wonderful."
Dr Shaw has been holding twice-weekly sessions with the young people about plant ecology, food growing, and soil health. Using their new skills, the volunteers have built dozens of raised beds and have planted, cared for, and harvested the produce to hand out to the community at CATCH in Hovingham Avenue.
He said: "Almost all of the volunteers are from BAME communities and some have not been in this country for very long. Many of the young people don't have access to green space of any kind at their homes, which are often overcrowded.
"The educational farm provided a lifeline during the pandemic and working with plants outdoors helped them connect to nature. Many had no experience of gardening but they threw themselves into it. They were amazed at the taste of freshly picked peas. There is a lot of fast food in Harehills, so seeing their faces light up when they ate fresh produce they'd grown themselves was wonderful."
Grow Together received support from NHS West Yorkshire and Harrogate Health Partnership's green social prescribing fund to help construct two 36ft polytunnels and a wellbeing space. The fund invests in nature-based interventions and activities to help support vulnerable people with mental health difficulties in recognition of the positive benefits of access to green spaces.
From seed to plate
CATCH centre manager Nicola Gomersall said: "Grow Together is important because it helps children grow things from scratch. And they can understand the importance of healthy eating because it gives them insight into food from seed to plate. So they are not just being told why something is healthy – they are actually learning and doing it. I like the fact that it gets them outdoors and tuned into nature – and away from the captivity of social media.
"I think what the young people have enjoyed is working together for a common goal that they are all a part of. I feel that they have felt a togetherness and that it's something that they wouldn't always get in their everyday lives, as well as getting to be outdoors.
"It is important because it develops skills in young people that they wouldn't normally get through formal education at school. And again, that feeling of togetherness you are creating that everyone can benefit from.
"Working with the University of Leeds has opened up bigger and better networks for the young people. Ian brought a completely different dynamic to the project, and the energy and the enthusiasm he brings to drive the project forward at CATCH is amazing."
The young volunteers at CATCH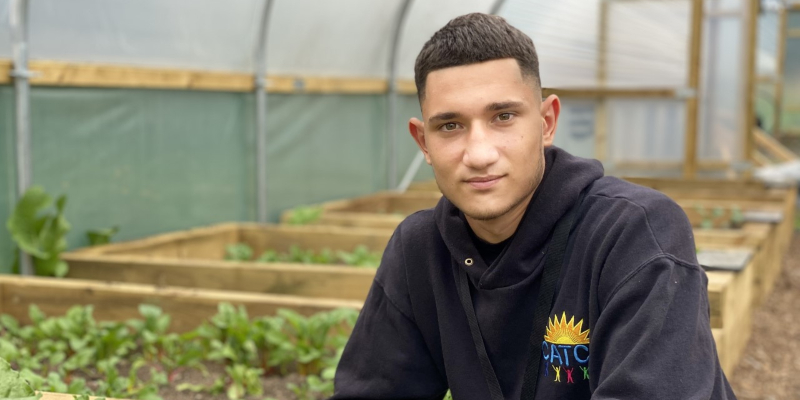 Solomon Balica, 17, said: "Grow Together keeps young people busy and off the streets. Also it teaches volunteers new skills, such as growing their own food. We know the value of the food and can appreciate it more.
"I love gardening, looking after the food, looking after the vegetables. It makes me happy. Also, building new friendships with people I never knew before. I would recommend other communities do it. And maybe, in a few years, young people can grow their own food at home."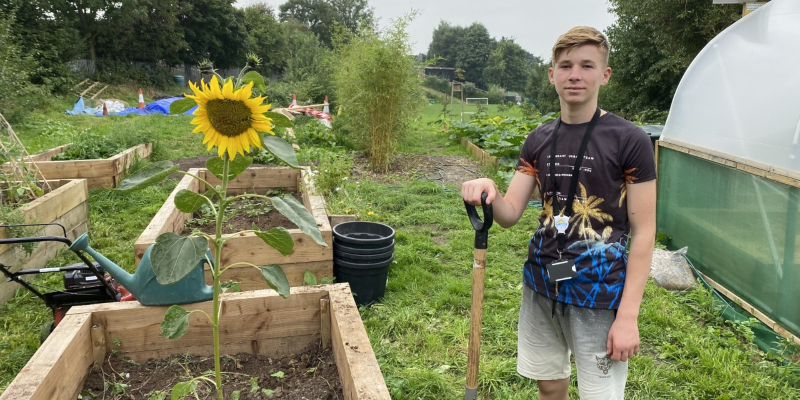 Moise Condurache, 15, said: "At Grow Together you learn new skills, you help others, and make new friends. And it helps you with teamwork skills. And by growing food for the community, we can take it home for our family.
"I think Grow Together is important for the community because not everyone has enough money and it's good for people to learn how to grow their own food. Some people can't buy food all the time.
"I have most enjoyed making new friends, and learning how to plant vegetables, and build in the garden. I know how much water the plants need too."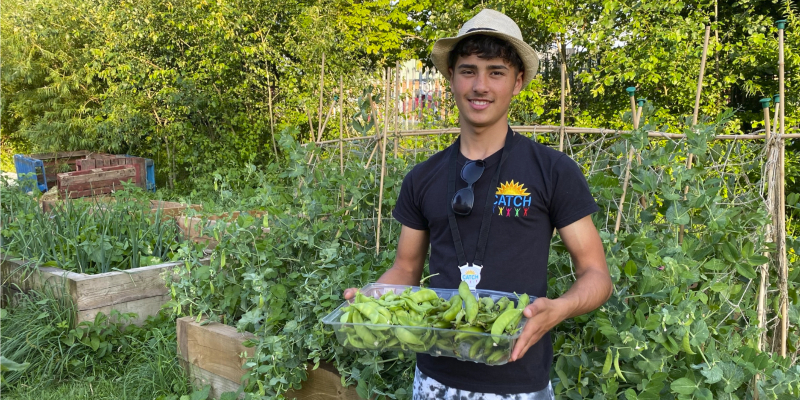 Iosif Bejinaru, 15, said: "Grow Together is important for young people to learn how to grow plants. You learn new skills. For example, I didn't know how to build raised beds, or that compost is good for plants. Also, it's good for people that didn't have vegetables because we can give food to the community.
"I most enjoyed digging and filling the soil. I also enjoyed planting the food – such as the beans. Also, I enjoyed the building side of things.
"I think I have learned a lot – for example, I didn't realise pumpkins grew above ground. I thought they were going to grow under the ground – so this was a fun surprise! And I didn't realise they grew so fast and big!
"I think other communities should grow their own food because it helps people. Also, it makes the community more important and together.
"I enjoyed working as a team - before at the site there was nothing there. And look now – there are polytunnels, raised beds, and pumpkins. By working as a team, we did it."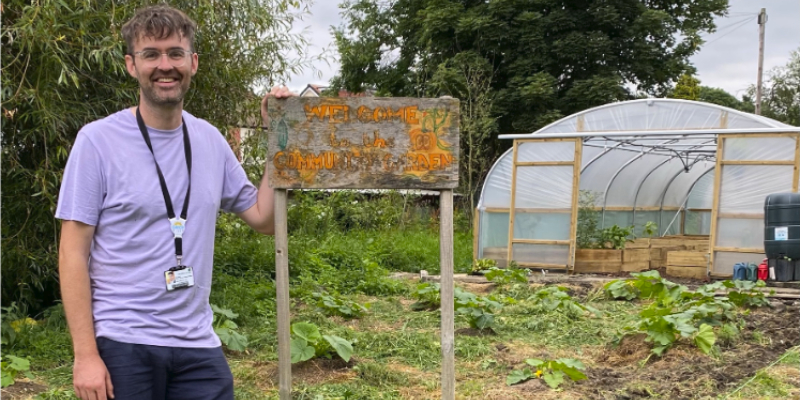 Dr Shaw said: "Next year the project will be youth-led, with some of the more senior volunteers taking charge, teaching the younger ones the growing skills and knowledge, and developing their own leadership skills.
"This is a successful model for communities to tackle big problems locally, like climate change, food insecurity, and the impact of industrial-scale farming. This model can be replicated across the country.
"Young people have the energy and desire to do something about big ecological challenges, but they don't always have the space to make a difference. Empowering them with their own educational farm to grow their own food means they can translate their anxieties about the future of the planet into positive action."
Further information
Main image caption: Some of the young volunteers at CATCH with the produce they grew themselves
Pictures: Credit Dr Ian Shaw
For media enquiries email University of Leeds Press Officer Lauren Ballinger at l.ballinger@leeds.ac.uk.