The UK's flying laboratory will remain at the forefront of environmental research following a significant investment by the UK Government.
The Facility for Airborne Atmospheric Measurements Airborne (FAAM) Laboratory, which operates a specially adapted BAE-146 aircraft fitted with scientific instruments, will undergo transformative change so it can continue making world-class measurements of the atmosphere. 
With more than 20 years supporting science in the skies, the FAAM Airborne Laboratory will now significantly enhance the services it provides, maximise performance as a research facility, and extend its operation to 2040. 
The research aircraft is owned by UK Research and Innovation (UKRI) and the Natural Environmental Research Council, managed through the National Centre for Atmospheric Science, and leased through the University of Leeds.
The latest investment by UKRI is part of its £481m injection of funding for research and innovation infrastructure announced today. The Airborne Laboratory will receive £37 million over the next three years with £49 million from the Infrastructure Fund in total including future funding years.
The facility enables scientists, including Leeds researchers, to make in situ and remote sensing measurements of the atmosphere, spanning scales from detecting the smallest cloud droplets and quantifying chemical reactions, to monitoring weather systems and tracking pollution sources.
The data collected builds understanding that informs clean air strategies, resilience to climate change, and early-warning systems for severe weather. 
The FAAM Airborne Laboratory provides UK research scientists with the means to observe our atmosphere at unprecedented levels of detail. As we face increasing challenges from climate change and hazardous weather this has never been more important.
Alan Woolley, Head of the FAAM Airborne Laboratory, said: "We operate the largest flying laboratory in Europe and, through our experience and expertise, offer a complete package of support for atmospheric measurements. 
"From measuring cloud droplets to detecting complex chemicals, the aircraft is a highly capable flying laboratory that supports environmental monitoring and emergency response. 
"It is capable of operating nearly everywhere in the world and supports global research initiatives - helping scientists, governments and industry partners to tackle environmental challenges, including climate change, air pollution and severe weather. 
"This major investment will allow us to safeguard the capability of the facility and make significant steps to addressing national and international science needs that benefit society."
In recent years, the facility has tracked ship exhaust plumes in busy Atlantic shipping lanes to detect the impacts of international regulations on sulphur emissions; made methane measurements in the Arctic Circle to monitor the release of this powerful greenhouse gas from melting permafrosts; and looked for chemical signals that may warn of eruptions from Iceland's active volcanoes. 
Professor Stephen Mobbs, Executive Director of the National Centre for Atmospheric Science and part of the School of Earth and Environment at Leeds, said: "The FAAM Airborne Laboratory provides UK research scientists with the means to observe our atmosphere at unprecedented levels of detail. As we face increasing challenges from climate change and hazardous weather this has never been more important.
"This £49 million funding boost by UK Research and Innovation will secure the future of this unique research facility up to 2040. It will give our researchers access to the very latest measurement technology with which to tackle some of the most difficult problems in atmospheric science.
"The new capabilities arising from this investment will be used around the world by our research teams to make new advances in weather, air pollution and climate science."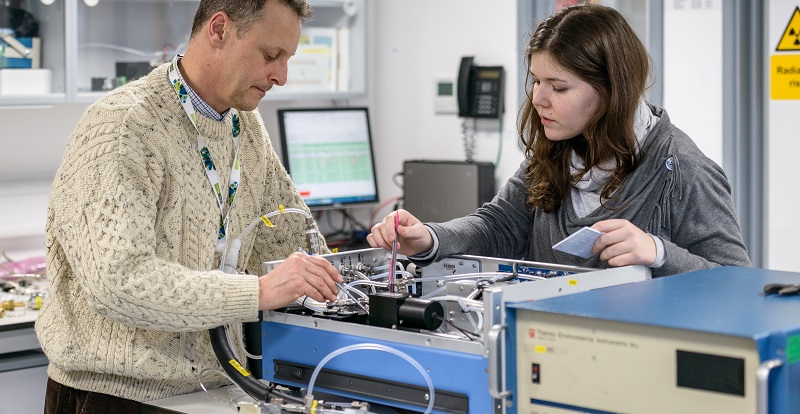 As well as developing state-of-the-art technologies, the funding will enable the research facility to integrate and test improved aircraft systems, adopt sustainable practices, and assess the impact of new environmental and operational regulations. 
Installation of new instruments on board the aircraft will enable scientists to undertake a greater breadth of research, including remote and in situ measurements of clouds, aerosols, trace gases, electromagnetic radiation and meteorological parameters like wind and temperature.
Introducing instrument miniaturisation and autonomous operation to the aircraft will also revolutionise data collection moving forward. These advancements will enable the aircraft to carry more sensors and analysers, increase the range of operation and optimise each hour of flying.
Fostering innovation and skills development through this investment will not only reinforce research that detects new sources of air pollutants, improves weather forecasts, and tracks global temperature rise, but will help businesses working towards clean-growth and young people entering careers in science, technology, engineering and mathematics. 
Nigel Bird, Director of Major Programmes for the Natural Environment Research Council at UK Research and Innovation, said: "This investment of £49 million shows our commitment to environmental research and innovation, enabling this state-of-the-art airborne laboratory to operate in new ways, and into the future.
"UK Research and Innovation are confident that this provides a foundation from which the UK will continue to play an important role in research around the world."
The aircraft is supported, modified and upgraded by BAE Systems, operated by Airtask Group, maintained by Avalon Aero, and hangared in Bedfordshire, with Cranfield Airport at Cranfield University.
Further information
Top image: FAAM Airborne Laboratory, credit National Centre for Atmospheric Science
For more information regarding FAAM contact Harriett Richardson by email on harriett.richardson@ncas.ac.uk.
For more information regarding the University of Leeds, contact Anna Harrison by email on a.harrison@leeds.ac.uk.