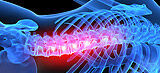 Researchers and clinicians in Yorkshire have teamed up to improve rehabilitation programmes for people who have suffered severe spinal injuries.
Bringing together researchers from the University of Leeds and clinicians at Pinderfields Hospital in Wakefield, the research project is focusing on how patients regain their arm movements following spinal cord injuries - something which can dramatically improve a patient's independence.
Until now, much of the research undertaken into the rehabilitation of spinal injury patients has focused on the lower limbs and helping people to regain mobility in their lower body. Drs Ronaldo Ichiyama and Sarah Astill of the University's Centre for Sport and Exercise Sciences are leading the project.
Dr Ichiyama says: "Despite tetraplegic patients seeing the restoration of their upper limb function as a priority, there's limited research in this area in terms of measuring and assessing their function and recovery." The team are working with patients to gather information at a range of intervals following their injuries to examine the different factors affecting upper limb function recovery and the physiological mechanisms at work during the recovery process.
Mr Firas Jamil, Director of the Spinal Injuries Centre at Pinderfields says: "The project is great news for spinal injuries patients who have almost no movement in their arms, or very weak upper body movement. This research will hopefully lead to new and focussed rehabilitation programmes to help with patients' recovery, which where successful, will have a huge impact on their dignity and self-esteem." Says Dr Ichiyama: "You need your upper limbs to do even really basic things such as brushing your teeth or feeding yourself.
Additionally, the loss of upper limb function means that people who have suffered spinal injuries are unable to return to work. If we can inform better rehabilitation assessments and treatments, then this will really help patients both in regaining their independence and enabling them to return to the workforce in the future." The project team is aiming to develop standard criteria which will, in the longer term, be used when clinical decisions are made about rehabilitation for patients. This should lead to improved outcomes for many spinal injuries patients.
Dr Ichiyama is available for interview
For further information:
Please contact the University of Leeds Press Office on +44 (0)113 343 4031 or email pressoffice@leeds.ac.uk
Notes to editors:
The Faculty of Biological Sciences at the University of Leeds is one of the largest in the UK, with over 150 academic staff and over 400 postdoctoral fellows and postgraduate students. The Faculty is ranked 4th in the UK (Nature Journal, 457 (2009) doi :10.1038/457013a) based on results of the 2008 Research Assessment Exercise (RAE). The RAE feedback noted that "virtually all outputs were assessed as being recognized internationally, with many (60%) being internationally excellent or world-leading" in quality. The Faculty's research grant portfolio totals some £60M and funders include charities, research councils, the European Union and industry. http://www.fbs.leeds.ac.uk/
The 2008 Research Assessment Exercise showed the University of Leeds to be the UK's eighth biggest research powerhouse. The University is one of the largest higher education institutions in the UK and a member of the Russell Group of research-intensive universities. The University's vision is to secure a place among the world's top 50 by 2015. http://www.leeds.ac.uk/
The Yorkshire Regional Spinal Injuries Centre is one of 12 Regional Spinal Injuries Centres in Great Britain dedicated to the management and rehabilitation of spinally-injured patients. It treats patients of all age groups from across Yorkshire, Humberside and beyond. Over 1,200 day patients attend the Centre every year for rehab and up to 30 patients are cared for on the ward at any one time. In 2010, the Centre moved into its new location at the new Pinderfields Hospital. The new facilities are providing a purpose-built and accessible environment with greater privacy and dignity for patients. It also has modern, new facilities for rehabilitation with the latest kit and technology.