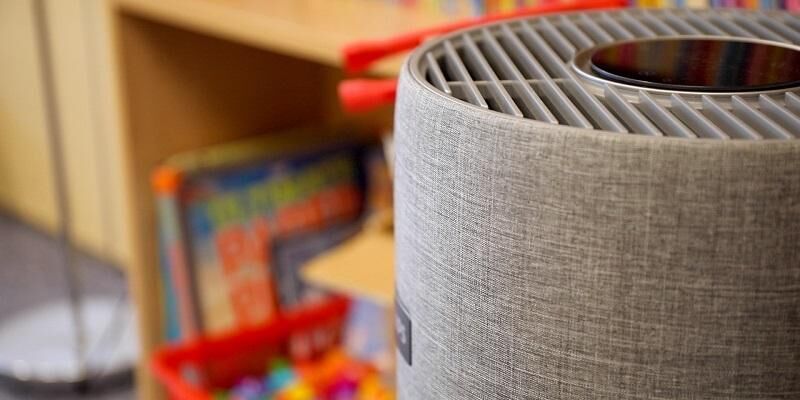 A study has been launched into the feasibility of using air cleaners to reduce the spread of COVID-19 in 30 primary schools in Bradford.
It is a major investigation into how environmental technology could be harnessed to provide safer, healthier spaces.
The study is investigating two different approaches to cleaning the air with the use of portable or wall-mounted devices. One is based on filtering the air by passing it through what is known as a HEPA (High Efficiency Particulate Air) filter, which captures most airborne viruses. The second approach involves cycling the air through an enclosed unit where it is exposed to an ultraviolet germicidal light, which inactivates microorganisms including viruses.
"We are delighted to oversee the funding of this important trial, run by the University of Leeds
The two technologies have been widely used in other settings and are regarded as safe.
Based on the outcome of modelling and experimental analysis, the scientists involved in the study are confident that the technologies will reduce the risk of COVID-19 being spread by microscopic respiratory particles carried in the air, also known as aerosol transmission.
Dr Jenny Harries, Chief Executive of the UK Health Security Agency, said: "We are delighted to oversee the funding of this important trial, run by the University of Leeds.
"The newly-formed UKHSA has a vital part to play in the application of science and evidence in protecting the public's health. This study will help us to better understand if different environmental interventions like air purifiers can help minimise the risks posed by COVID-19, and other respiratory viruses, without disruption to our everyday lives.
"The study reflects our commitment to keeping students in the classroom, in a way that is as safe as possible. Studies like this one will also improve our long-term preparedness to protect children from future diseases."
The £1.85 million investigation is being funded by the Department for Health and Social Care and led by Professor Mark Mon-Williams from the School of Psychology, at the University of Leeds. He said: "Research has suggested that children have lost as much as half a year of schooling because of the disruption caused by the pandemic.
"There is an urgent need to identify technologies that could be adopted by schools to try and stop the spread of COVID-19. We know that good ventilation can help disperse the aerosols that can cause infection, but in a busy classroom ventilation alone will not be enough.
"Environmental technology offers a potential solution - it will enable schools to operate as normal as possible and hopefully reduce the risk of coronavirus spreading among pupils."
The trial is focusing on primary schools because most children spend a large part of the day in the same room. Also, many children in year 1 - those aged five and six - have fallen behind in reading, maths and writing because of the disruption to schools.
Good room ventilation helps to keep the air clean, but ventilation alone is not enough when children are talking loudly, singing or walking around the room. The respiratory aerosol that is created can hang in the air for extended periods and the use of air purification technology could provide a solution.
Design of the trial
Each of the 30 primary schools taking part in the study will have devices that track the quality of the air inside the building. The schools have been randomly allocated to one of three experimental groups. Twelve schools are acting as a control, which means they will carry on as usual and will not have any air purification technology installed.
Of the remaining 20 schools, 10 have had portable air filtration devices fitted in classrooms and these have already been switched on.
The final eight schools are in the process of having ultraviolet light (UV-C) technology fitted on classroom walls. These are sealed units which take in air and expose it to ultraviolet light. No ultraviolet light is emitted from the unit and if a device is tampered with, it deactivates. By the end of this month (November), UV-C units will be operating in four schools, and in all eight by Christmas.
Over the coming weeks, scientists will collect data on the number of children in the schools who develop a COVID-19 infection or become ill with flu or asthma, and whether there is any difference in the levels of illness seen in those schools with the air purification devices.
It is possible that air purification devices will reduce other respiratory conditions.
'Step forward for schools'
One of the schools taking part in the study is Bowling Park Primary School in Bradford.
Headteacher Matthew Langley said: "Good attendance is key to children being successful at school. As for many schools, COVID-19 caused huge disruption to Bowling Park Primary School. Repeated lockdowns created very real challenges for our children, families and staff as we all worked together to continue learning from home, but the greatest problems were caused by individual cases of COVID-19 that led to bubbles, classes or groups of classes, being closed for up to 10 days at a time.
"Despite our very best efforts, our school had over 30 bubble closures last year.
"We are delighted to be part of this pilot study. All our classrooms are now fitted with air filters designed to remove airborne viruses and improve air quality for children and staff. It feels like a real step forward for us as we return to normal and try to make school as safe, consistent and positive for all our children, families and staff."
Councillor Imran Khan, deputy leader of Bradford Council and portfolio holder for education, employment and skills, said: "We are proud that Bradford is taking a lead in finding a solution to fighting COVID in schools.
"Schools are the best place for children to learn and develop. One of the worst impacts of the pandemic has been on the disruption to children's education.
"The findings of this study could help keep pupils safer in schools by reducing the risk of the virus spreading in classrooms and so reducing the number of days of lost learning.
"We are grateful to our schools who are involved in the pilot scheme and look forward to hearing the results."
Bradford was chosen as the location for the trial because of the hugely successful Born in Bradford study where schools, Bradford Council, health professionals and academic researchers work together to investigate ways of promoting the health and wellbeing of children in the city.
Professor John Wright, Director of Research at Bradford Institute for Health Research, part of Bradford Teaching Hospitals NHS Foundation Trust, said: "One of the early findings from Born in Bradford during the pandemic was how the disruption to school was affecting families' mental and physical health.
"This is a great example of how scientists are working with our schools to help develop solutions to put an end to this disruption and protect children and teachers."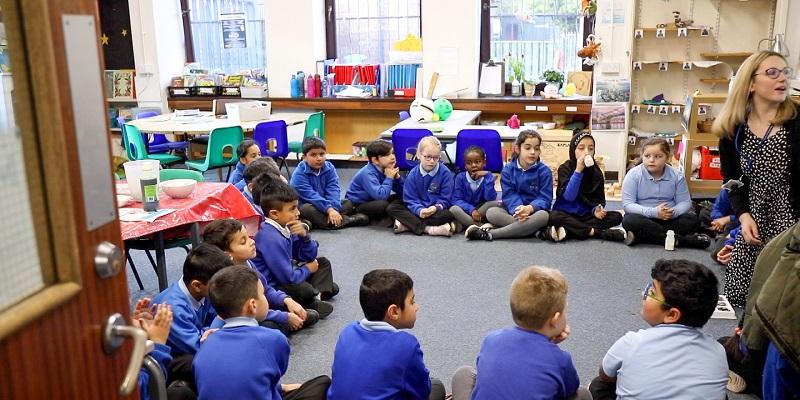 The environmental technology
HEPA air filtration. The devices are being supplied by Philips. HEPA (High Efficiency Particulate Air) filters trap unwanted particles such as dust, pollen, bacteria, viruses and hair from the air while allowing clean air to be pushed back out into the environment.
Philips Air Purifiers employ NanoProtect HEPA filters. NanoProtect HEPA uses a combination of mechanical and electrostatic action over three layers. The mechanical action inner layer catches the bigger particles, such as dust and hair. The active carbon layer neutralizes harmful gases and odours, and finally electrostatic action is used to capture the smaller particles such as bacteria and viruses down to 0.03 microns. This triple later filter design enables optimum size, better air circulation, increased speed of air cleaning and lower energy consumption.
Ritchie McFee, Commercial Director for Philips Domestic Appliances said: "It is vital that we all work together to understand how to make spaces like schools as safe as possible for children, teachers and the wider community. Philips has a long heritage in the air purification field, and we were honoured our technology was selected as part of this important study.
"It has been a privilege to work with such dedicated teams of professors and researchers to launch such a meaningful project."
Ultraviolet light (UV-C). The devices are supplied by Signify. UV-C is a well-established method of disinfection that has been used for decades (1) to prevent the spread of viruses and bacteria. It can clean air, surfaces, objects and water by breaking down the DNA or RNA (ribonucleic acid) of micro-organisms, rendering them harmless. All bacteria and viruses tested to date (many hundreds over the years, including various coronaviruses) respond to UV-C cleaning (2).
The UV-C Active air device is designed to clean the air during day-to-day activities while people are present. It can be installed on a wall or on a ceiling across many applications, for example, within restaurants and bars, stores, offices and schools. Ventilators pull the air from the room inside the device which then filters and cleans it. The clean air comes out of the UV-C Active air device back into the room.
The UV-C devices will provide an extra layer of protection for the students, staff and visitors, providing the highest quality air, helping to reduce sickness and absenteeism.
Stephen Rouatt, Chief Executive Officer of Signify UK&I, said: "We are thrilled to be part of the pilot and provide UV-C technology solutions within schools as an added layer of protection. The effectiveness of UV-C on the inactivation of SARS-CoV-2, the virus that causes COVID-19 and other bacteria, has been validated through multiple studies.
"With growing insights that the amount of virus in the air can build up in poorly ventilated rooms, the need for a safe, healthy and ventilated environment becomes even more crucial. Our UV-C Active air disinfection devices will not only help the schools to support a back-to-school plan but more importantly, will help keep the children and staff safe and healthy, ensuring no more disruptions are caused to children's education.''
1. EPA Report, "Building Retrofits for Increased Protection Against Airborne Chemical and Biological Releases" Pg. 56
2. Fluence (UV Dose) Required to Achieve Incremental Log Inactivation of Bacteria, Protozoa, Viruses and Algae Revised, updated and expanded by Adel Haji Malayeri, Madjid Mohseni, Bill Cairns and James R. Bolton. With earlier contributions by Gabriel Chevrefils (2006) and Eric Caron (2006) With peer review by Benoit Barbeau, Harold Wright (1999) and Karl G. Linden
Air Monitoring devices. The schools will be using a digital device to capture a range of data about air quality, as part of the air quality monitoring system developed by property technology company arbnco. This data includes temperature, humidity, carbon dioxide, volatile organic compounds and particulate matter. The air quality data from the classrooms will help analyse how the HEPA filters and UV-C cleaners may help minimise the risk of Covid-19 transmission, as well as reducing absences due to cold and flu infections and improve the air quality – particularly for pupils with asthma and hay fever.
Simon West, Chief Operating Officer and co-founder of arbnco, said: "We're proud to be using our technology and expertise in what is one of most nationally significant projects in the fightback against COVID-19.
"Children are also particularly vulnerable to the effects of air pollution and this project has the potential to make our classrooms both safer and healthier. It's not an overstatement to say that getting the air quality and ventilation right in our schools could be the key to improving the health and wellbeing of the nation as a whole."
Further information
For more information, contact David Lewis in the Press Office at the University of Leeds by email on d.lewis@leeds.ac.uk.