Research over the past two decades has culminated in a "new and promising" approach to developing drugs to treat cardio-metabolic diseases.
Diabetes, high blood pressure, stroke and heart disease are examples of cardio-metabolic diseases, which are on the rise around the world.
For more than 20 years, scientists in Leeds and Germany have been trying to understand the role that calcium ions - chemical messengers between cells - could play in triggering ill-health.
Calcium ions pass into cells via what are known as TRPC channels. The channels are active during embryonic development but may "switch off" in adulthood unless there is an injury to the body that needs repair.
During some diseases, such as high blood pressure or an enlarged heart, the TRPC channels are active, allowing calcium ions to enter the cells. Scientists believe this influx of calcium ions may be a factor in the patient becoming ill.
The researchers want to see if shutting down or blocking the TRPC channels would stop or control the disease process. The scientists at Leeds have identified several novel groups of molecules that could block the transfer of calcium ions into cells. The next phase of the research is to see if they could be turned into medicines that are safe and effective.
CalTIC launch
A spin out company called CalTIC has been launched by the University of Leeds and its research partners in Germany - the Lead Discovery Centre, a specialist drug discovery laboratory in Dortmund; the Max Planck Society; and Heidelberg University - to commercially exploit the research.
CalTIC has secured Euro 3 million in investment from the Khan Technology Transfer Fund (KHAN-I) to further the drug discovery work. The University of Leeds has also contributed an additional €630k in funding for the project.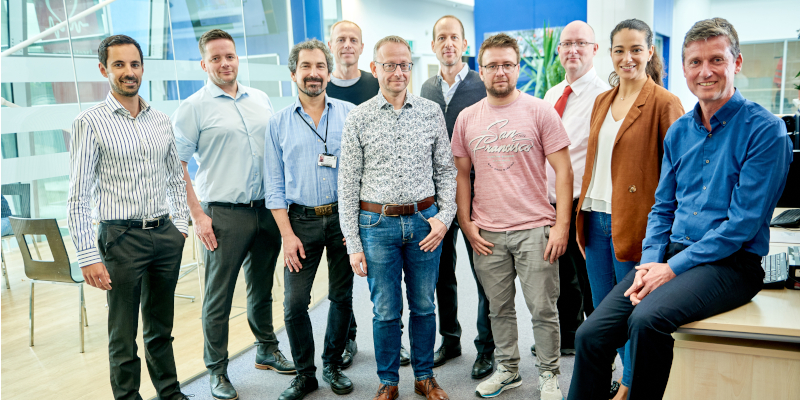 Professor Beech, who has led the research at Leeds, said: "This is a hugely exciting project. It has been a hard slog to study the TRPC channels but in recent years we have made great strides and we have now identified molecules that have the potential to block the movement of calcium ions into cells, but we need to see if those molecules could be the developed into drugs that could be safe for people to take.
"Cardiovascular diseases are often exacerbated by metabolic disturbances such as diabetes and together are a major health challenge that cause chronic ill health and early death throughout the world. There is a pressing need to develop therapies to tackle these diseases."
Professor Nick Plant, Deputy Vice-Chancellor: Research and Innovation at Leeds, said the spin out will enable some of the best scientists in the world to focus on finding a solution to one of the biggest challenges in medicine.
He added: "It also demonstrates the critical role universities play in bridging fundamental research through to practical application. In this case, persistent scientific curiosity over the last two decades has resulted in a new and promising approach to developing drugs that will help tackle a group of major diseases."
Molecular imaging by cryo-electron microscopes at Leeds has helped researchers understand the way potential drugs and proteins come together to affect the way calcium ions move through the cells, and how that process can be thwarted.
Klaus Dinkel, CEO of CalTIC, said: "With investment from the Khan Technology Transfer Fund and our partners' continued commitment, we are perfectly positioned to exploit this exciting project."
Research at Leeds was led by Professor Beech but involved input from other research teams across the School of Medicine, particularly teams led by Dr Richard Foster and Dr Robin Bon. The team have been supported in the funding of the project and the creation CalTIC by the commercialisation team (Tech Transfer Office) at University of Leeds, over several years
Further information
Lead Discovery Center
Lead Discovery Center GmbH (LDC) was established in 2008 by the technology transfer organization Max Planck Innovation, to capitalize on the potential of excellent basic research for the discovery of new therapies for diseases with high medical need. The LDC takes on promising early-stage projects from academia and transforms them into innovative pharmaceutical leads and antibodies that reach initial proof-of-concept in animals as well as candidate nomination. In close collaboration with high-profile partners from research and industry, the LDC is building a strong and growing portfolio of small molecule and antibody leads with exceptional medical and commercial potential. LDC sustains a long-term partnership with the Max Planck Society, KHAN-I GmbH & Co.KG and has formed alliances with AstraZeneca, Bayer, Boehringer Ingelheim, Merck KGaA, Daiichi Sankyo, Qurient, Roche, Apeiron, e.g. In addition, LDC also works with leading translational drug discovery centres and with various investors to provide its assets for company creation.
Khan Technology Transfer Fund
The purpose of KHAN-I is to invest in innovative drug discovery projects and spin-out companies, primarily originating from academic sources, at the discovery, pre-clinical and clinical development stage for human healthcare and, opportunistically, veterinary care as well as to commercialise the results and products of the investments and, thus, to participate, directly or indirectly, in future proceeds.
For more information contact the Press Office at the University of Leeds by email on pressoffice@leeds.ac.uk.