A major UK clinical trial using cannabis-derived drugs to treat the most aggressive brain tumour has opened in Leeds and Manchester.
The trial, funded by The Brain Tumour Charity, will investigate whether combining nabiximols and chemotherapy can help extend the lives of people diagnosed with recurrent glioblastoma.
The three-year phase II trial known as ARISTOCRAT, is led by Professor Susan Short at the University of Leeds School of Medicine, and coordinated by the Cancer Research UK Clinical Trials Unit at the University of Birmingham.
It will recruit more than 230 glioblastoma patients at 14 NHS hospitals across England, Scotland and Wales in 2023. Glioblastoma is the most aggressive form of brain cancer with an average survival of less than 10 months after recurrence.
In 2021, the phase I clinical trial in 27 patients found that nabiximols could be tolerated by patients in combination with chemotherapy, and has the potential to extend the lives of those with recurrent glioblastoma.
Even with surgery, radiotherapy and chemotherapy, nearly all of these tumours re-grow within a year, and there are very few options once this occurs.
Should the trial prove successful, experts hope nabiximols could represent a new, promising addition to NHS treatment for glioblastoma patients since temozolomide chemotherapy in 2007.
The trial's Principal Investigator, Professor Susan Short, Professor of Clinical Oncology and Neuro-Oncology at the University of Leeds, said: "The treatment of glioblastomas is extremely challenging. Even with surgery, radiotherapy and chemotherapy, nearly all of these brain tumours re-grow within a year, and unfortunately there are very few options for patients once this occurs.
"Cannabinoid-based drugs have well-described effects in the brain and there has been a lot of interest in their use across different cancers for a long time now. Glioblastomas have receptors to cannabinoids on their cell surface, and laboratory studies on glioblastoma cells have shown these drugs may slow tumour growth and work particularly well when used with temozolomide.
"We now have the opportunity to take these laboratory results, and those from the phase I trial and investigate whether this drug could help glioblastoma patients live longer in this first-of-a-kind randomised clinical trial."
When there are no treatment options left
The ARISTOCRAT trial aims to fulfil an unmet need for those with recurrent glioblastoma as, after recurrence, there are very few treatment options available. Laura Smallbone's husband, Peter, died on 8 July 2022 after his glioblastoma recurred and there were no remaining treatment options available.
Peter was just 47 and had been diagnosed with a glioblastoma only 15 months previously, leaving behind his two young children, now 9 and 11.
Laura said: "When Pete was diagnosed with a glioblastoma in April 2021, the prognosis was poor, we knew it couldn't be cured, but we knew we could fight it. When it recurred, Pete had surgery, but there were no other treatment options for us – there needs to be a better roadmap for recurrence".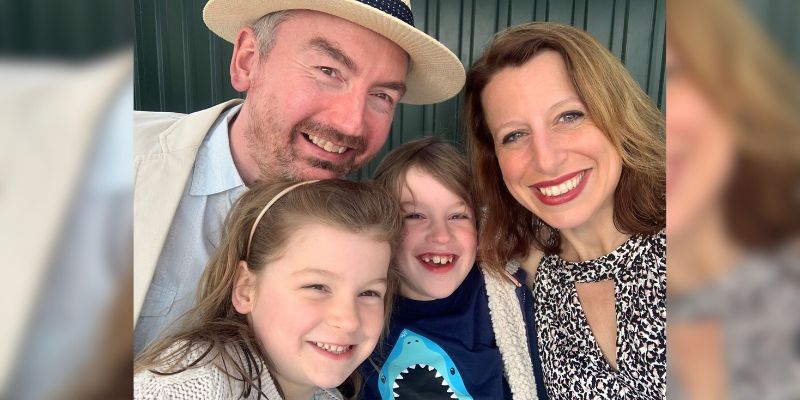 Peter was an active father of two and had very few symptoms in the lead up to his brain tumour diagnosis.
Laura said: "Pete suffered from the odd headache, but he just took paracetamol and he was fine. Just the day before being admitted into hospital over the Easter weekend, he had taken our children to football practice."
"There were other signs that, in hindsight, were linked to Pete's brain tumour. His personality changed, which we now know was due to the tumour being in the right frontal lobe. He began to obsessively buy lots of tickets for things, such as gigs, sometimes two on the same night. He also began to question how happy he was with his life and could say mean things to me and the children which was very unlike him. He was a very loving husband and dad."
On Saturday Peter had severe fatigue, but as the day went on, he rapidly went downhill and started vomiting and swaying when he was walking. Laura spoke to the NHS 111 service who recommended he come into A&E, but by the time Laura was getting ready to leave, Peter couldn't remember how to dress himself, so she called an ambulance.
There need to be more treatment options for people diagnosed with a glioblastoma
Peter was immediately taken to the Queen Elizabeth Hospital in Birmingham where he had a CT scan.
Laura said: "The doctors said that they had found a mass and that it was likely to be cancer. It was a very difficult time as I couldn't be at the hospital with him due to all of the COVID restrictions."
Peter had surgery the next day, which was Easter Sunday. The debulking surgery was successful and surgeons were able to remove the 8cm tumour in Peter's brain. The tumour was confirmed to be a glioblastoma and a gruelling regiment of radio- and chemotherapy followed.
Laura said: "It was hard not seeing my husband for a week following his diagnosis and surgery. It was also difficult having to have many of our consultations over the phone because of the pandemic.
"There was a sense of frustration because we had to fight so hard to get Pete the care he needed. Communicating with different sectors of the NHS was difficult, and I would like to see that improved in the future. Having to explain our situation over and over to different people was very hard. We also had a fight for end-of-life care for Pete."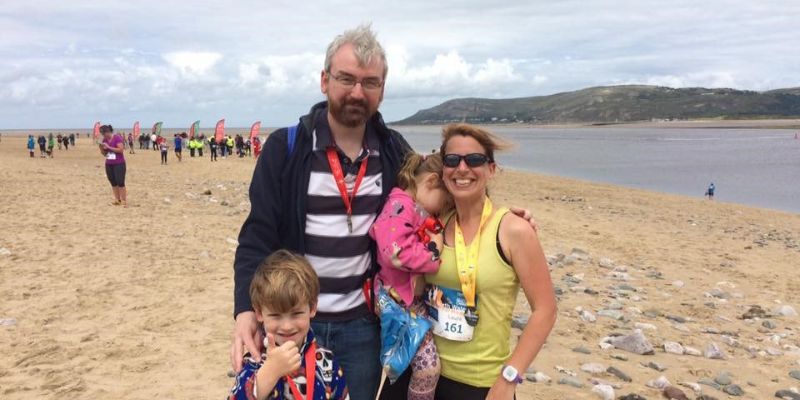 Peter underwent several rounds of treatment, which initially worked and the family were able to enjoy the summer of 2021 and make lots of memories together. However, later that year routine scans showed that the tumour was back and Peter had surgery just before Christmas 2021. But, just eight weeks later, the tumour had grown again and there were no other treatment options available.
Laura said: "We sought second opinions, we tried all the options given to us, but after Pete's tumour grew back, we were told there was nothing else that could be done. I was caring for him at home with the support of carers and after several falls he went into a hospice. The hospice was peaceful, and the whole family were able to visit him – even the dog. A few weeks after going into the hospice, Pete died, aged just 47.
"This has been really hard for the family, especially our two young children. Pete was absolutely determined to make the most of what he had, and do all the fun things for as long as he could. Losing him bit-by-bit to this cruel disease was difficult, and I'd really like to see more options for families like ours. For 15 months we were asking ourselves 'OK, so now what do we do?' – there needs to be more treatment options for people diagnosed with a glioblastoma. There also needs to be more awareness of the disease so that there is a greater understanding of what families like ours had to face."
Olympic champion backs fundraising appeal
In August 2021, a fundraising appeal by The Brain Tumour Charity, backed by Olympic champion Tom Daley, raised the £450,000 needed for this phase II trial in just three months.
Leeds Hospitals Charity, the charity partner of Leeds Teaching Hospitals NHS Trust also donated £48,000 to the appeal, which will fund access to the trial in Leeds for 25 patients.
Jazz Pharmaceuticals has generously agreed to provide nabiximols and matched placebo free-of-charge to patients on the ARISTOCRAT trial.
Participants will self-administer nabiximols or a placebo spray and will undergo regular follow-ups with the clinical trial team, including blood tests and MRI scans. This will also be one of the first trials to integrate with The Brain Tumour Charity's app BRIAN.
First new drug for 15 years
Dr David Jenkinson, Chief Scientific Officer at The Brain Tumour Charity, which is funding the trial, said: "We are delighted to announce that, thanks to the support and generosity of so many in the brain tumour community, the ARISTOCRAT trial has recruited its first patients.
We are really excited that this world-first trial, being run here in the UK, could help accelerate a cure for this devastating disease
"The early-stage findings were really promising and we now look forward to understanding whether adding nabiximols to chemotherapy could help improve quality of life and extend life for those affected by a glioblastoma diagnosis. We hope that this will offer the first new drug to treat glioblastoma in over 15 years.
"In the meantime, while other cannabinoid-based products may help alleviate symptoms, there is insufficient evidence to recommend their use to help treat brain tumours. For anyone considering using cannabinoid-based products or other complementary therapies, it's vital that you discuss these with your medical team first, as they could interact with other treatments such as anti-epileptic medicines or steroids.
"Anyone affected by a glioblastoma can speak to us for support and information on phone 0808 800 0004 or by emailing support@thebraintumourcharity.org. If you need someone to talk to, we're here for you."
Esther Wakeman, Chief Executive of Leeds Hospitals Charity added: "I am incredibly excited that Leeds is one of the first hospitals in the country to pilot this world-leading research. We are proud to support our fantastic researchers in Leeds, giving patients in our region the opportunity to take part in this pioneering trial.
"Leeds Hospitals Charity is able to support ground-breaking research like this thanks to the generosity of our supporters, who are enabling patients in Leeds to be among the first to benefit from clinical breakthroughs."
How can I take part in the trial?
Your treating oncologist will be aware of the study if it is open in your hospital or can refer you to a treating centre if necessary. Please speak to your treatment team about eligibility for the trial.
For more information visit the University of Birmingham trail webpage.
Further information