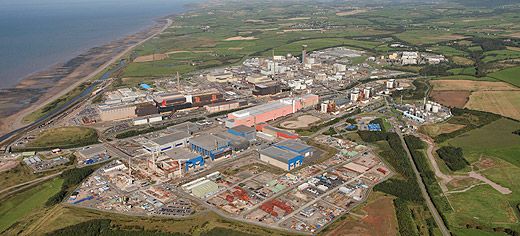 It's a dirty job, but someone has to do it. Researchers from the University of Leeds have teamed up with Sellafield Ltd to clean up radioactive sludge produced by the UK nuclear industry.
The newly formed 'Sludge Centre of Expertise' draws on specialist knowledge from the University's engineers and environmental specialists, who are working closely with Sellafield Ltd's sludge team. The Centre will play a key role in describing the behaviour of the sludge wastes that have arisen after years of operation at Sellafield and other nuclear sites across the UK. This information will help nuclear engineers work out how to dispose of the sludge safely and efficiently.
Radioactive sludge is typically found at the bottom of water-filled waste storage tanks and cooling ponds at nuclear facilities. The particles that make up the sludges can come from corroded fuel rod casings and waste from reprocessed fuel. Older, open-air facilities can also have dust, dirt and debris mixed in amongst the sludge.
As with all radioactive waste, unwanted sludge has to be handled with care to ensure the safety of workers involved in the clean-up process. To address this, University of Leeds engineers are developing techniques to sample and test radioactive sludges from a distance, using remote monitoring equipment. They will be investigating the best ways to mobilise and transport the waste sludge to specialist treatment plants, where it can be made safe for long-term storage.
Dr Jim Young, Technology Manager at the University of Leeds' School of Process, Environmental and Materials Engineering, said: "In a non-radioactive environment, cleaning up waste sludge is relatively straightforward but in the nuclear industry, we are faced with a very different scenario. It can be a complicated, time-consuming and costly process to take a physical sample to find out what the sludge contains and how it may behave during processing. You can't just send someone in to start taking samples without considering the risks involved."
Professor Simon Biggs, Director of the School of Process, Environmental and Materials Engineering, said: "Liquid and semi-solid radioactive waste is a major headache. Having worked closely with the nuclear industry for over a decade, we have built up considerable knowledge of these sludges and how they behave. We are optimistic that we can help Sellafield Ltd clean up this waste from legacy facilities."
"Some of the equipment we develop may also have applications in other industries, such as mining. The instrumentation for remote characterisation, for example, could also be of interest to the oil and gas industries, where workers can be faced with cleaning up waste in hostile environments that are difficult to access," Professor Biggs added.
Dr Jeff Peakall, Director of the Sorby Laboratory at the University's School of Earth and Environment, said: "We have a range of state-of-the-art facilities at our disposal for investigating the behaviour of solid-liquid flows. Much of our work here is associated with the natural environment, however the facilities can readily be used for the investigation of wastes arising from, for example, nuclear fuel reprocessing."
For further information:
Please contact the University of Leeds Press Office on +44 (0)113 343 4031 or email pressoffice@leeds.ac.uk