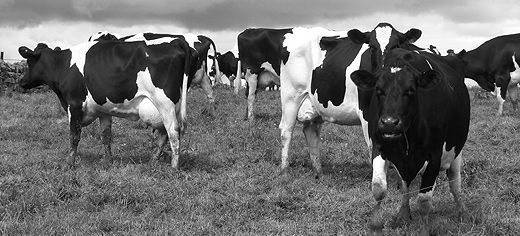 University of Leeds scientists will take part in a £5.6 million project to develop new methods for controlling foot-and-mouth disease.
The disease is caused by one of the most contagious viruses in mammals, affecting cattle, sheep, goats and pigs, and inflicted severe damage on the UK livestock industries during outbreaks in 2001 and 2007.
The five-year Biotechnology and Biological Sciences Research Council (BBSRC) funded project will bring together researchers from the Universities of St Andrews, Leeds, Edinburgh, Dundee and the Pirbright Institute to improve diagnosis and develop a new generation of vaccines.
Dr Nicola Stonehouse, from the University of Leeds' School of Molecular and Cellular Biology, said: "Foot-and-mouth disease is still, especially in this part of the country, a very emotive thing to talk about. However, it is an accident waiting to happen because you have so much of this disease elsewhere in the world. Animals are trafficked across borders and viruses can blow across the Channel."
Professor David Rowlands, Emeritus Professor of Molecular Virology at Leeds, said:"What we are trying to do is understand the basic biology of the virus so we can use that in order to underpin a new approach to a vaccine. This project is a strategic effort getting together leading UK researchers to address this threat."
Existing foot-and-mouth vaccines must be kept refrigerated and require multiple boosters, which makes them very difficult to administer effectively in parts of the world where foot and mouth is endemic, such as Africa. The virus also has a large array of different strains, which makes concocting a suitable vaccine cocktail even more challenging.
Dr Stonehouse said: "The different teams involved in this project will be approaching this big problem from various angles. In Leeds, we are particularly interested in the regulatory regions at both ends of the virus genome. They make up about a seventh of the genome and we do not know what they do. The objective is to tamper with these areas and make a very sick version of the virus that will be able to challenge the animal's immune response but not produce the disease."
Professor Martin Ryan of the University of St Andrews, who is leading the project, said the researchers will also attempt to use knowledge of how the virus grows in cells to make a new type of virus that could only grow in specially designed "helper" cells, meaning the virus could not then grow in animals. This would make the use of existing conventional vaccines a much safer process.
"Success would stimulate the routine use of vaccine to control foot-and-mouth disease virus around the globe. This would reduce the global incidence of foot-and-mouth disease with enormous economic and social value worldwide," he said.
Professor Terry Jackson of the Pirbright institute, a BBSRC facility that is the only research centre in the UK allowed to handle the virus in its complete form, said: "One of humanity's biggest challenges in coming years will be to meet a growing demand for food. Animal diseases have a major impact on the productivity of the livestock industry and safeguarding animal welfare will be a major component of maximising food production."
Further information
Dr Nicola Stonehouse is available for interview.
Contact: University of Leeds Communications & Press Office: Tel +44 (0)113 343 4031, email pressoffice@leeds.ac.uk