Improving ventilation in workplaces and on public transport and fears of NHS overload during the COVID-19 pandemic have been highlighted in two new research reports.
Both reports, commissioned by the Government's Chief Scientific Adviser, Sir Patrick Vallance, are co-authored by Professor Catherine Noakes, of the School of Civil Engineering at Leeds.
Published today by the Royal Academy of Engineering and its partners in the National Engineering Policy Centre (NEPC), the ventilation report focuses on changes needed to public buildings and transport systems to reduce the risk of COVID-19 and other infections.
Leading engineers who contributed to the report warn that the importance of ventilation is too often neglected, and that the COVID-19 crisis has revealed flaws in the way in which we design, manage and operate buildings.
Unless they are addressed, these could disrupt management of this and future pandemics, impose high financial and health costs on society and constrain our ability to address other challenges such as climate change.
Ventilation is one of the most important measures and can enable a reduction in the risk of infection without restricting our activities.
The second report, published by the Academy of Medical Sciences, warns that a lethal triple mix of COVID-19, influenza, and the Respiratory Syncytial Virus (RSV), could push an already depleted NHS to breaking point this winter unless action is taken now.
The findings are revealed amid concerns about the NHS's ability to cope with a wave of new virus outbreaks and hospital admissions after remaining lockdown restrictions are lifted next Monday.
Professor Noakes said: "Both reports highlight the importance of the environment in managing the transmission of the virus, especially in winter when we spend more time indoors and it becomes harder to ventilate buildings well.
"As we open up, environmental and behavioural measures to manage the spread of COVID-19 need to continue to be used by the public and businesses. Ventilation is one of the most important measures and can enable a reduction in the risk of infection without restricting our activities.
"Good ventilation is not only important for COVID-19, it affects our health and wellbeing in many other ways. It is critical that strategies to ensure good ventilation are embedded within approaches to attain net-zero to allow us to tackle public health and climate priorities together.
"We have options to use technology to help us manage our environments better for health and for the climate. Using simple monitoring tools such as CO2 meters can help us "see the air" and understand when ventilation is poor or occupancy is too high."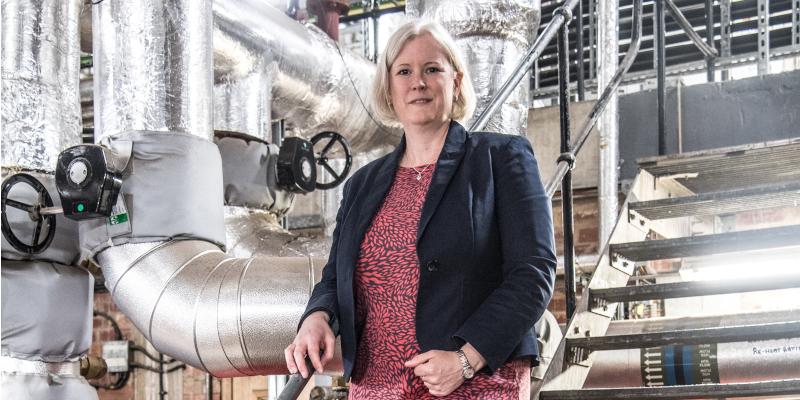 The reports warn that clear, consistent communication and advice on ventilation from government and professional bodies is needed to help building owners and operators to manage infection risks.
Clearly identifiable measures that can be implemented at moderate cost will help to ensure that adequate ventilation is prioritised alongside more visible measures such as surface cleaning and distancing.
The Royal Academy of Engineering report also warns that there is an urgent need to plug skills and knowledge gaps and put in place the training, re-skilling and recruitment needed to fill them.
Even in sectors such as hospitals, which have a clear regulatory framework and an explicit remit for managing the health and safety of vulnerable populations, levels of skill and competence vary.
Building design
Professor Peter Guthrie, Vice President of the Royal Academy of Engineering and Chair of the NEPC infection resilient environments working group, said: "Buildings make an enormous difference to people's health and we have often neglected this in the past, which is bad news in a pandemic, because they are one of the most significant levers that we have to control infection.
"We must take action now to make sure that good practice in ventilation is widely understood and applied across workplaces and public buildings.
"Longer term, this is a real opportunity to transform the way we design and manage our buildings to create good, healthy and sustainable environments for those who use them.
"We must also integrate this with thinking on infection control into our approach to Net Zero, to prevent inadvertently hard-wiring a susceptibility to infection and other health risks into our building stock and management practices."
Further information
"Infection Resilient Environments: Buildings that keep us healthy and safe – initial report" is published by the Royal Academy of Engineering.
It was compiled by a National Engineering Policy Centre working group led by the Royal Academy of Engineering and the Chartered Institution of Building Services Engineers (CIBSE) with key inputs from the Institution of Mechanical Engineers, the Institution of Civil Engineers and the Institution of Chemical Engineers.
Evidentiary hearings were held with representatives of a range of sectors including hospitals, care homes, local government, higher education, hospitality, offices and transport.
This initial report highlights immediate issues ahead of winter and sets the agenda for more strategic, long-lasting change, which will be explored in more depth in the second phase of the project.
"COVID-19: Preparing for the future, looking ahead to winter 2021/22 and beyond" is published by the Academy of Medical Sciences.
The deliberations of the Expert Advisory Group were informed by a Patient and Carer Reference Group with 13 members, whose views and discussions underpinned our guidance on priorities and concerns for winter 2021/22 and beyond.
A 'People's perspective' written by the Patient and Carer Reference Group, focuses on the need for continued public involvement in designing services, mitigations and communications, and the necessity to provide support at a community level to tackle inequalities.
A full list of the Expert Advisory Group and a full list of the members of the Patient and Carer Reference Group is available.
The project was supported by a core grant the Academy received for policy work from the Department for Business, Energy and Industrial Strategy (BEIS), but was carried out independently of Government. In addition, the public, patient and carer engagement programme was supported by the Health Foundation and an award for public and patient engagement from the Department for Business, Energy & Industrial Strategy.
Main picture image: Adobe Stock.
Second picture image credit: ©thisisjude.uk 2020.
For more information, contact Ian Rosser in the Press office at the University of Leeds by email on i.rosser@leeds.ac.uk.