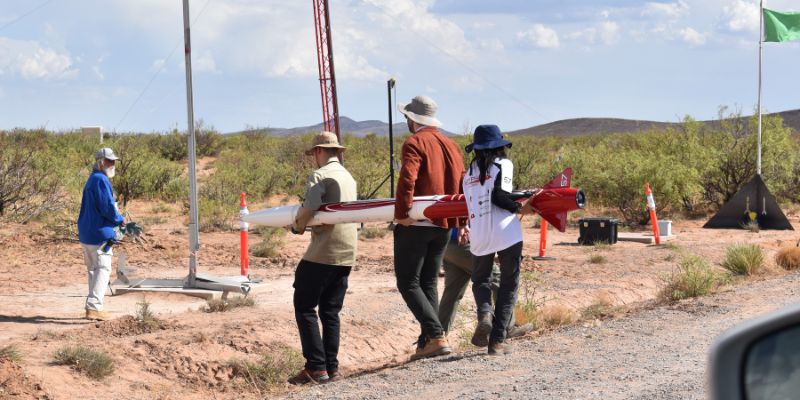 Rocketeers at the University of Leeds have launched a training academy to help engineering students prepare for the so-called "Mars generation" of space travel.
The Leeds University Rocketry Association (LURA) is already aiming high, with a bid to take the student altitude record in 2023, which currently stands at more than 36,000 feet.
LURA's ambitious plans follow success at the world's largest student rocket engineering conference and competition which took place in New Mexico in the United States this Summer.
The team competed against 100 others from around the world and despite having one of the smallest budgets, came fourth in their category with their rocket, Gryphon I.
Theodore Youds founded LURA while studying for a master's in aerospace at the University. He said: "Our mission is to prepare the Mars generation. It revolves around the idea that humans are going to Mars very soon, maybe within the next 10 or 20 years.
"And I believe it's going to be engineering students, technical students, and even non-technical students who are are at university right now who will be leading this endeavour."
Watch the Gryphon I launch
The LURA Academy will act as a training scheme for engineering and physical science students to help build their confidence and experience with practical hands-on design. Working as a team, they will build and fly rockets which can reach as high as two thousand feet.
Alongside this, the Academy is already preparing for its big mission next year when it's hoped that a new rocket – Gryphon II – will allow them to take the student altitude record.
The record is currently held by students at the University of Sheffield. Their rocket reached a height of 36,274ft in the Spaceport America Cup in New Mexico in 2019.
Theodore added: "Gryphon II is going to go faster, higher, better than Gryphon I. It's quite a long development cycle to build a rocket that's going to go several times the speed of sound and tens of thousands of feet up in the air but that's what we're working on at the moment.
"It would be great to beat the record held by our neighbours in Sheffield and if we can do that here in the UK, rather than in America, so much the better."
Dr Greg de Boer, a lecturer in aerospace engineering in the School of Mechanical Engineering, has been supporting LURA. He said: "The programme is a fantastic opportunity for students to be involved in an activity which sees them through the full engineering cycle, from conceptual design all the way to prototyping and field testing.
"This has helped to enhance their learning through the teaching and research which we deliver. The application of the technical and transferable skills which they've gained through being involved with LURA builds on the depth and detail of our engineering-based programmes."
Further information
For more information, please contact Kersti Mitchell in the Press Office at the University of Leeds by email on k.mitchell@leeds.ac.uk.