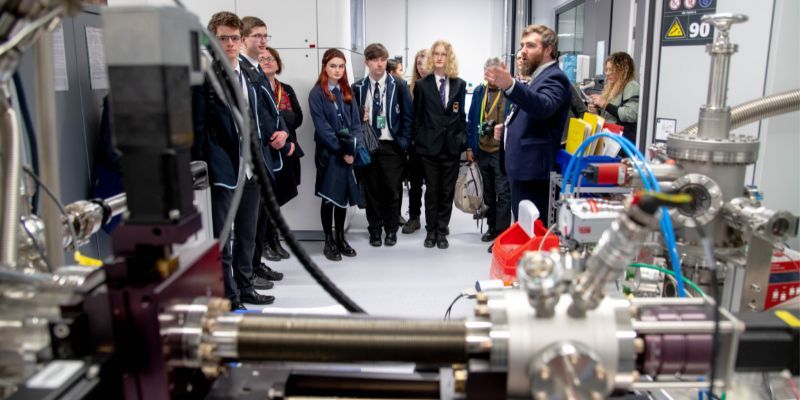 Schoolchildren from across the country have had the chance to work on state-of-the-art nanotechnology, thanks to a workshop programme at the University of Leeds.
The University's Bragg Centre for Materials Research welcomed pupils from eight schools in Derbyshire, Sheffield, Liverpool, Altrincham, Leeds, Featherstone and Dulwich, for the culmination of a pioneering "DNA origami" pilot project.
The students heard from researchers using DNA origami about the potential of careers in materials science, and showed off their own work with DNA. The innovative project was designed to introduce inquisitive young minds to cutting edge science and has received rave reviews from pupils and teachers alike.
Among them was 13-year-old Edward Hesketh from Leeds' Ralph Thoresby school. Edward wrote his own piece of computer code to solve a compatibility programme between two programmes they were using to manipulate DNA and communicated with scientists in California who ended up incorporating Edward's fix into their software.
He said it was "pretty cool" to see his own work have such an impact.
These guys stuck it out, and I have been so impressed by what they have produced.
His schoolmates Freya Graham and Emma Herbert, 15, worked on their own project to use DNA origami to deliver drugs. Freya said: "The workshop's been good, it's been interesting to hear from the other school groups about what they have done, and to hear about the different applications in medicine. I liked the chance to use the microscope as well."
Ralph Thoresby assistant head of science David Mulvanney was with the students on campus. He said: "This programme was originally sold as something for older students, but I took a gamble on opening it up to some of our younger students who weren't getting challenged through the curriculum.
"These guys stuck it out, and I have been so impressed by what they have produced."
He said his students had been able to learn so much about the subject, he now defers to 13-old-year Edward as the expert when there are problems to solve.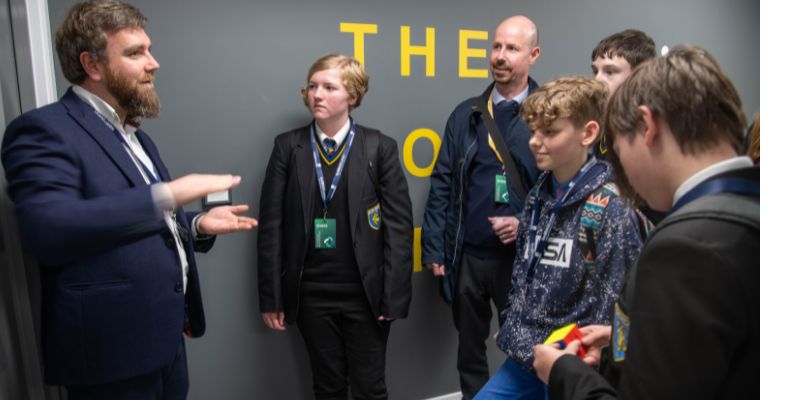 "What's been special about this is the amount of work that has gone into the materials for the students. It's meant they have been able to work independently, rather than relying on teachers, and become the experts themselves," Mr Mulvanney added.
To create DNA origami, scientists fold a long string of DNA – like paper is folded in origami – and fix it in place using another piece of DNA as a staple. The DNA can be then folded again and again into any shape – from simple flat squares and smiley faces to, with the help of computer-aided design, more complex 3D structures including boxes that can open to release drugs when triggered. It has huge potential for things like life-saving cancer treatments.
The workshop, which took place on Friday, 28 April, also gave the school groups chance to see inside the £100 million Sir William Henry Bragg Centre – the biggest investment the University has made on campus – with cutting-edge equipment usually used by PhD level researchers.
Hamdaan Sheikh, 19, was in Year 13 at St John Fisher Catholic Volunteer Academy in Dewsbury when the pilot project kicked off in 2021. Researchers went to the school to show A level students their work, and the help them do their own DNA origami, creating microscopic "smiley faces".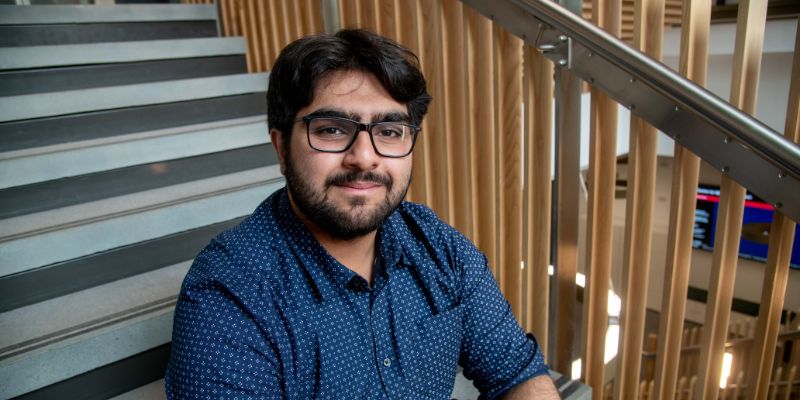 He was so inspired by what he saw, he dropped plans for a medical degree and is now finishing his first year as an undergraduate studying chemical engineering at the University.
He was at the event to talk to current A Level students about his journey.
He said the programme had given him chance to see science properly and put him in the shoes of an academic and a researcher.
"Getting to interact with the academics and talk to people who are who are so deeply invested in this science allowed me to see that I could be one of them. It let me see that no matter what I did, it could be something revolutionary.
"My message to these students would be that what they are doing now is amazing, but I want them to take the skills they have learnt and use them elsewhere. Analytical skills, research skills, and knowing whether a piece of information is good and worthwhile – you can use those skills in any kind of project."
Getting to interact with the academics and talk to people who are who are so deeply invested in in this science allowed me to see that I could be one of them.
Bragg centre manager Dr Andy Lee said it was amazing to students as young as Year 8 taking part:
"Today has been absolutely amazing, it's been wonderful to see the creativity in what the students have come up with. We've had students interacting with our PhD students to learn about their research.
"It's been a really busy and eventful day, and I've been blown away by what the students have created and the engagement they have shown."
The DNA origami project is a collaboration between the Bragg Centre and the Institute for Research in Schools (IRIS) with funding from the Henry Royce Institute.
IRIS director Jo Foster said: "When young people experience science through real research, they begin to truly understand their subjects and, for many, it's opportunities like these that sparks their passion for STEM (science, technology, engineering, and mathematics). IRIS offers free opportunities and support to state schools to take part in projects like DNA origami. We hope more schools are inspired by what we see today and offer these research projects to their students."
DNA Day
Tuesday, 25 April marked "DNA Day" and the 70th anniversary of publication of the DNA double helix. The Bragg Centre is named after scientist Sir William Henry Bragg, who developed X-ray diffraction at the University of Leeds, winning a Nobel prize. That technique was then used by Watson and Crick to decode the DNA double helical structure. The Bragg centre's research work on DNA origami is made possible by that detailed understanding of the DNA structure – meaning the process has "come full circle", according to Dr Lee.
Further information