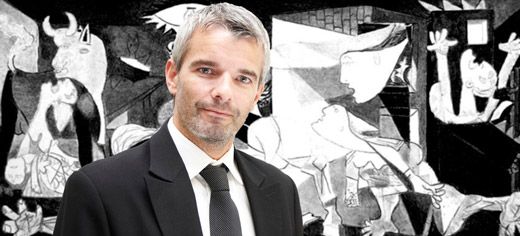 The impact that the 9/11 terrorist attacks on America has had on politics, culture and thought is explored in an ambitious multi-faceted project launching this week.
'Ten Years of Terror' is an online symposia featuring interviews with some of the world's pre-eminent thinkers, including the linguist Noam Chomsky, philosopher Simon Critchley, author Tom McCarthy, and Emeritus Professor of Sociology at the University of Leeds Zygmunt Bauman, in which they discuss how 9/11 affected their work and the wider political, cultural and aesthetic response to the attacks.
The project also encompasses special exhibitions at high-profile venues in September, including the Guggenheim in New York, New York's Pace Hall University and at Leeds City Art Gallery. The project will also be exhibited at The Hague next spring.
Ten Years of Terror is the brainchild of Dr Brad Evans, Lecturer in Political Violence in the School of Politics and International Studies at the University of Leeds.
Ten Years of Terror is part of Histories of Violence, which critically examines the subject's theoretical, empirical and aesthetic dimensions, including the impact of 9/11 and 7/7 terror attacks on understanding of security, war and violence. More information can be found here: http://www.historiesofviolence.com/
Dr Evans said: "The idea for this project stemmed from a personal ambition to generate forms of research which appealed to a wider audience by moving beyond standard disciplinary focus. It also developed from my teaching experiences, which demanded innovative ways of engaging with students.
"What I found particularly rewarding about this project has been the level of support it has received. From the initial backing of the University, who invested in the project at the embryonic stage, to the involvement of internationally-renowned intellectuals, artists and writers, onto gaining wider organisational interest, it has struck a precise and timely chord.
"Launching the site to coincide with the 10th anniversary of the September 11 attacks was undoubtedly an important factor in the project's initial success. Maybe the project's wider appeal stems from the stated ambition to provide an innovative digital forum which is of the highest intellectual and creative calibre.
"Traditional methods of teaching alone no longer appeal to the digital generation. That's not to say that we should simply do away with books and other standard formats, but that through technology it is possible to enhance the learning experience in complimentary and rigorous ways.
"It is also clear that as an academic, gone are the days when you could find refuge in some esoteric ivory tower. Your research and ideas have to engage with the world. That does not mean to say that having 'impact' is simply about influencing policy makers. Truer to the idea of the university in the original sense of the term, it is about encouraging people to think critically, while having the confidence to raise difficult questions that sometimes unsettle the orthodox narratives. Violence is certainly a problem which demands new critical thinking."
Ten Years of Terror is launched on 1/09/11 at the Guardian's Comment Is Free website at: http://www.guardian.co.uk/commentisfree/series/10-years-of-terror
For further information:
Please contact the University of Leeds Press Office on +44 (0)113 343 4031 or email pressoffice@leeds.ac.uk