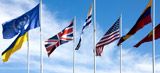 Leeds student Kristina Diprose has been selected as one of ten young people to represent UK youth at UN climate negotiations in South Africa this November.
The talks bring together negotiators and politicians from all over the world to come up with solutions to tackle climate change. Kristina, a PhD student from the School of Geography, will be attending with the support of a national organisation, the UK Youth Climate Coalition.
Kristina has already attended a preliminary meeting in Bonn, where she had a chance to ask questions of UK negotiators and the UN climate talks head, Christiana Figueres. She says of her chance to attend the South Africa negotiations, "I've been an avid climate change campaigner ever since I joined People & Planet as a Leeds undergraduate and learned of the impacts of climate change on human rights in many parts of the world.
Up to now, I've been mostly involved with local actions, like banning bottled water and encouraging ethical banking at the students' union. "This is an amazing opportunity and I'm so excited to be involved. Young people need to make sure that negotiators and world leaders know we care about these talks.
The decisions made in South Africa will affect our generation for decades to come. "The trip is entirely self-funded, and I'm currently raising money to make sure I can attend. This month I will be recycling unwanted clothes and working extra hours. My old employer, Shared Earth Leeds, has been kind enough to donate raffle prizes, and I'm looking forward to organising a big charity event in the autumn."
To find out more about the youth team going to the UN talks, or to sponsor Kristina, go to the UK Youth Climate Coalition website.
For further information:
Please contact the University of Leeds Press Office on +44 (0)113 343 4031 or email pressoffice@leeds.ac.uk