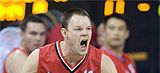 One of the fastest and most brutal Paralympic sports comes to the University of Leeds this week, when Beijing bronze medal holders Canada take on the Great Britain team at wheelchair rugby.
The Canadian Paralympic wheelchair rugby team will play a public exhibition match against their Great Britain rivals at the University on Monday 15 August, during a pre-London 2012 training camp.
During the six-day camp, the visiting athletes will train alongside the GB wheelchair rugby team in the University's flagship sports facilities - The Edge. The training will culminate with the exhibition match, which will be watched by members of the public.
The event is the first of three pre-games training camps to be held at the University of Leeds in the run-up to London 2012.
Rob Wadsworth, the University's Head of Sport said: "This match will be a great opportunity for people to come along and watch world-class athletes play this exciting Paralympic sport. There will be a great atmosphere court-side, and members of University - students and staff alike - are all welcome to come and observe the game free of charge."
Around 60 athletes and officials will be making the trip to Leeds for the first camp, with a second planned for April next year, and a final camp leading up to the games themselves in August 2012. During each camp, the Canadian team - which won bronze at the Beijing Olympics - will stay at the University's new hall of residence, Storm Jameson.
Andy Van Neutegem, performance director for Canadian Wheelchair Rugby, said: "After careful evaluation, the University of Leeds was chosen as it best met the training needs of our team and, in particular, the flexibility and accessibility of the excellent facilities and accommodation. Their sport and supporting facilities are certainly to international standards."
The Paralympic training camps are part of the University of Leeds' extensive Olympic Programme, which has already delivered a number of sporting, cultural and educational activities. The programme has also established partnerships with international Olympic committees including China, Botswana, Malta and now Canada.
Rob Wadsworth continued: "We are delighted to be hosting what we hope will be the first of many Olympic and Paralympic camps, and look forward to welcoming the Canadian team for their first training camp. We'll be working with our colleagues from across the University to ensure all the athletes have a successful stay and their training needs are fully met."
For further information:
Please contact the University of Leeds Press Office on +44 (0)113 343 4031 or email pressoffice@leeds.ac.uk