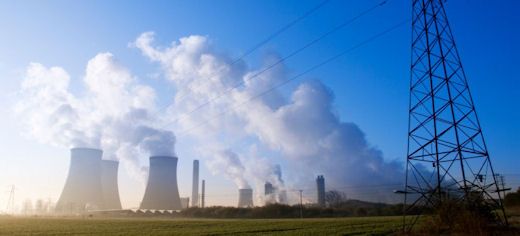 A University of Leeds spin-out company with an innovative idea to tackle climate change was recently shortlisted for the national Shell Springboard award.
C-Capture Ltd has been shortlisted for its novel solvents for the capture of CO2 from gas streams, including the exhausts of power stations, in a process known as Carbon Capture and Storage (CCS).
The novel CCS solvent technology aims to create more efficient ways to capture CO2 from the gas streams of coal-fired power stations and other power generation sites by minimising the energy penalty necessary and using materials that are environmentally sound. By capturing this CO2 it prevents it from entering the atmosphere helping the UK achieve its targets in CO2 emission reductions.
Chris Rayner, Professor of Organic Chemistry at the University of Leeds and founder of C-Capture, said:
"We really believe our technology can make a difference in tackling CO2 emissions and it's incredibly rewarding that such a prestigious programme as Shell Springboard has also recognised its potential by shortlisting us for this award."
Shell Springboard is a Shell-funded UK Social Investment programme, which provides a financial boost to small and medium enterprises with innovative, low-carbon business ideas. This builds on Shell's overall commitment to help the UK meet its future energy needs responsibly.
John MacArthur, Shell VP CO2 Policy, commented:
"Through Springboard, Shell aims to encourage others to innovate as well, helping to support the transition to a lower carbon economy and seizing this new market opportunity. It's our belief that the innovative services and technologies that small businesses provide can make an important contribution to reducing the UK's carbon emissions. I wish all of our finalists the very best for the future."
For further information contact Professor Chris Rayner
For further information:
Please contact the University of Leeds Press Office on +44 (0)113 343 4031 or email pressoffice@leeds.ac.uk
Notes to editors
1. C-Capture Ltd has developed new solvent technology for the capture and release of carbon dioxide from flue gas streams. The technology being developed has a much better toxicological profile than current alternatives and can be produced from renewable sources. The technology has proven to perform as well as, or better, than current alternatives providing a low-cost, efficient alternative for reducing the cost of removing carbon dioxide from flue gas emissions.
For more information, please visit http://www.c-capture.co.uk/
2. The RAE showed the University of Leeds to be the UK's eighth biggest research powerhouse. The University is one of the largest higher education institutions in the UK and a member of the Russell Group of research-intensive universities. The University's vision is to secure a place among the world's top 50 by 2015.
For more information, please visit http://www.leeds.ac.uk/
3. Shell seeks to initiate, establish and support Social Investment programmes that are aligned with its business. Social investment activities are themed around science, education, innovation and business skills.
Shell Springboard is fully funded and managed by Shell. It provides a financial boost to UK based, small to medium sized enterprises with innovative, low carbon business ideas. Since being set up in 2005, Shell Springboard has provided awards totalling over £2 million to 64 companies with no strings attached.

To find out more about Shell Social Investment, please visit:
www.shell.co.uk/socialinvestment