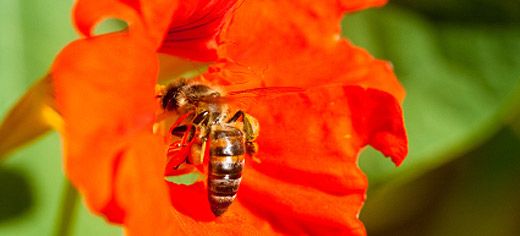 The University of Leeds will visit one of the world's most famous flower shows next week to show how simple changes can make a positive contribution to the planet.
The University's garden, designed by Chelsea gold medal-winning designer Martin Walker, resembles a 'typical' northern garden and brings to life research conducted by academics at two of the University's faculties, the Faculty of Environment and the Faculty of Biological Sciences.
Dr Rebecca Slack, of the University's Faculty of Environment, commented: "Chelsea Flower Show (21 - 26 May) is a fantastic event, every year it captures people's imagination and for a week or so, people who would never usually class themselves as gardeners, are talking about gardening. "What we want to do is capture that enthusiasm and help people relate their garden to the wider environment. It is estimated that gardens take up between 20 - 35 per cent of space in UK cities, so what we do in them has a massive effect on the wider environment."
The team of academics working on the project includes: Dr Gordon Mitchell, Dr Slack, Professor Les Firbank and Professor Bill Kunin with support also given by the Natural Environment Research Council (NERC) which has funded much of the research into ecosystem services.
Dr Slack continued: "There are three themes running though the garden - pollination, water management and carbon management. We chose these themes because they reflect our research, but more importantly they have a very real impact on people's everyday lives and, crucially, they are things which people can really have an impact on.
"On the water front for example, we've just seen the wettest April on record even though some parts of the country are in drought. What people do in their garden affects how plants cope with such unpredictable conditions. Similarly, the fact bees are declining has also been well covered in the media, but we wanted to show that how individuals act in their gardens can really affect the local bee population as well as helping them to have a thriving garden." The design of the University garden will show how easy it is for gardeners to adopt these themes:
Slow water is good water
Rainfall that runs off fast doesn't absorb into the ground to bolster the water table and keep plants going in dry periods. In extreme cases it can cause flash flooding. Gardeners can control water flow by introducing permeable paths, which will allow water to soak in slowly; they can also store water by using water butts. Measures such as green roofs also help slow water flow.
Bees love the natural look
This goes for everything from grass that is a little longer, to flowers which have been left to resemble their wild cousins. Bedding plants sold in garden centres and double flowers (where extra doubles replace the stamen) have been bred to such an extent that they tend to have very little pollen. Longer grass is bee-friendly because clover has the chance to flower, while rotting logs and sandy soil provide ideal nesting sites for solitary bees and other insects.

Compost not carbon
Composting food waste and vegetable peelings is a great way to help turn your garden into a carbon sink. Reducing use of artificial fertilisers, growing vegetables and fruit, and planting green roofs and walls to insulate buildings also helps this process.
Dr Slack continued: "We're delighted with our garden, but we also wanted to extend our campaign beyond Chelsea Flower Show and reach people who aren't visiting the Show. Consequently we've launched a Facebook app called The Messy Garden where people can leave their favourite gardening tip and 'grow' plants and shrubs."

For further details please visit the Facebook page: www.facebook.com/GardeningForChampions or visit the website: http://gardenchampions.leeds.ac.uk/
Notes to editors
Dr Slack is available for interview. Please contact the University of Leeds Press Office on +44 (0)113 343 4031 or email pressoffice@leeds.ac.uk
More information What does the garden look like? The garden represents an average urban garden, the kind found on the fringe of any northern city. A path made of permeable material will allow visitors to walk through the garden. There is a green-roofed (planted with Sedum Grass) pagoda which houses information boards to explain the function of the garden. The path and pagoda divide the garden into three areas: the vegetable and fruit bed; the shady garden common in many north-facing gardens; the rain garden planted for areas of high rainfall or water run-off. A "bee-vision" camera and linked screen will allow visitors to see the garden from the perspective of a pollinating insect. CAD illustrations of the garden and a plant list are available from the press office. The 2008 Research Assessment Exercise showed the University of Leeds to be the UK's eighth biggest research powerhouse. The University is one of the largest higher education institutions in the UK and a member of the Russell Group of research-intensive universities. The University's vision is to secure a place among the world's top 50 by 2015. http://www.leeds.ac.uk/
Professor Les Firbank has studied farming and the environment for over 30 years. He has looked at the effects on wildlife of organic farming, agri-environment schemes and GM crops, and now focuses on how to improve both food production and ecosystem services. He led the work on enclosed farmland for the UK National Ecosystem Assessment, and is an Independent Director of the 'Red Tractor' food assurance scheme. He has long extolled the environmental virtues of untidy gardens! http://www.fbs.leeds.ac.uk/staff/profile.php?tag=Firbank_L
Dr Mark Goddard
is a Research Assistant on the Urban Pollinator Project at the University of Leeds. He has recently completed his PhD that explored the ecological and social drivers of bird and bee diversity in residential landscapes. Mark is particularly interested in how socio-economic factors and human decision-making influence the wildlife-friendly management of private gardens. His research has highlighted the biodiversity benefits of managing groups of gardens collectively - so please get chatting over the garden fence!
Professor Bill Kunin
is an ecologist who specialises in wild plants and their pollinators. He has helped explore the declines in Britain's wildflower and pollination communities, and is currently involved in two insect pollinator initiative projects, one on agricultural landscapes and one on urban pollinators. He has two sets of twins and hence a very messy garden at home.
http://www.fbs.leeds.ac.uk/staff/profile.php?tag=Kunin
Dr Gordon Mitchell
has worked in environmental management for 25 years, with an emphasis on cities and predictive modelling. He has research experience in water management (stormwater pollution, resource demand, marine oil pollution, catchment hydrology), energy, air quality, environmental justice, spatial planning, and environmental assessment. He recently finished rescuing a listed building in the Yorkshire Dales National Park, and is now about to start on the garden - it will be his first.
http://www.geog.leeds.ac.uk/people/g.mitchell/
Dr Rebecca Slack
combines managing water@leeds, the water research centre at the University of Leeds, with research that looks at how the environment influences human health. She is a keen gardener and once worked at garden centre, putting her plant sciences degree to good use! Having recently moved house, her big project for 2012 is redesigning her rather neglected back garden along ecosystem services principles.
http://www.geog.leeds.ac.uk/index.php?id=777

Ms Constanze Vageler
is a business development manager at the University of Leeds. She grew up in a house with a big garden and her earliest memories are of picking home-grown strawberries in the summer and smelling the freshly mowed lawn. She experienced the importance of managing and preserving water when sailing around the world on a yacht as every drop of drinking water was dependent upon the on-board water maker working without a glitch. Turning on the tap when onshore became a novelty!
Mr Martin Walker has spent a lifetime in gardening. Having been encouraged by his grandfather as a child, he embarked on a career with Leeds Parks from 1972-2011. A member of several gardening groups and charities, he judges show competitions and speaks on many gardening subjects. A highlight was guiding Leeds City Council to 'Show Garden' Gold Medals at the RHS Chelsea Flower Show. Recently retired, he continues to expand and share his passion, experience and knowledge of horticulture.
Read the Ecologist's coverage of Leeds' greener garden, http://www.theecologist.org/green_green_living/gardening/1380950/greener_gardening_at_chelsea.html