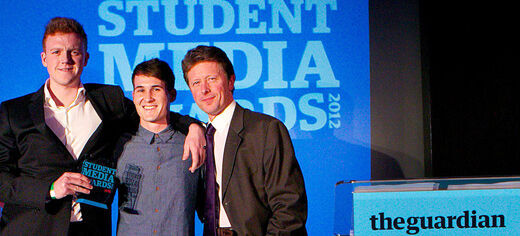 A former University of Leeds student has been recognised as one of the best breakthrough talents at the Guardian Student Media Awards, winning Student Broadcast Journalist of the Year
Spike Morris, who studied in the Institute of Communications Studies, teamed up with a friend from the University of Sussex to make a film about Palestine's bid to join the United Nations as a full member state.
They documented some of the Palestinian people's attitudes and opinions at the time, in the context of the United States' promised veto of the bid.
The film, Veto, saw the pair jointly winning the award at a prestigious ceremony that bought together the best journalists in print, online, broadcast and digital media from universities across the UK.
Current students from the University of Leeds were also shortlisted in a further three categories, with Oliver Duggan as Student Columnist of the Year, and the Leeds Student newspaper as Student Publication of the Year and Student Website of the Year.
The results of the 2012 Guardian Student Media Awards were announced on 7 November, with the winners selected by an esteemed panel of industry leaders including Mark Austin, presenter of ITV's 'News at Ten', Mike Williams, editor of NME, and Alan Rusbridger, chair of the awards and Guardian News and Media's editor-in-chief.
Previous recipients of the awards include Archie Bland, deputy editor, The Independent; Polly Curtis, deputy national editor, the Guardian; Andrew Rawnsley, chief political commentator, The Observer; Rankin, photographer; and Andrew Gowers, former editor of the Financial Times.
Spike's film and website can be viewed at vetodoco.com.
For further details about the awards, visit the Guardian Student Media website.
Photo
From left to right: Joe Lord-Jones (University of Sussex), Spike Morris (University of Leeds) and Charlie Stayt (BBC Breakfast presenter and host of the awards).
For further information:
Please contact the University of Leeds Press Office on +44 (0)113 343 4031 or email pressoffice@leeds.ac.uk