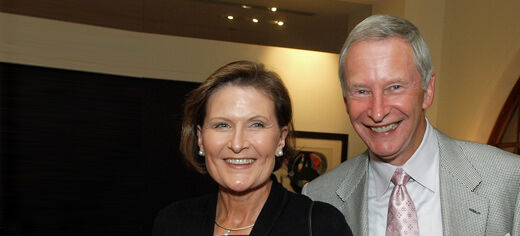 A $4 million gift from a former student will fund a programme of research and study at the University of Leeds. It is one of the biggest philanthropic gifts ever given to the University.
Worth around £2.5m, the donation has been made by Bacteriology and Biochemistry graduate Peter Cheney and his wife Susan. It will establish an endowed fellowship programme, allowing outstanding scholars from around the globe to develop their research at the University.
Peter, a former Co-President of global giant Mars Inc, said he hoped the funding would enable the University to attract the very best scholars, both from the UK and overseas: "I know through my own experience the transformative difference that the University of Leeds can bring to a person's life. Hopefully through these fellowships we can give exceptionally talented people the opportunity for a period of intense and creative research and study."
Vice-Chancellor Professor Michael Arthur described the gift as one of the most visionary acts of philanthropy in the University's history. "Our Brotherton Library, Parkinson Tower, Stanley and Audrey Burton Gallery and Marjorie and Arnold Ziff Building are permanent reminders of how our history has been shaped by individual generosity. Just as the Rhodes Scholarships are uniquely associated with Oxford, so the Cheney Fellowships will become a permanent point of distinction for the University of Leeds and a magnet for talent.
"This scheme will have a major impact, not just on the fellows who benefit from this tremendous opportunity for personal development, but also on our staff and students. We are so grateful to Peter and Susan for their generosity."
The funding will free the fellows from many of the day-to-day commitments of academia or other spheres. Their work will be in areas of research and education, in both the arts or sciences, which are of strategic importance to the University, the fellowships normally lasting between one and two years.
The first fellow, to be recruited to start in September, will work in one of two key fields – Water or Medical Technologies – both significant global challenges and areas of research excellence in the University.
After graduating in 1969, Channel Islander Peter Cheney began his career in the pharmaceutical industry. He joined the UK pet-care business of Mars, Inc. in 1972, where he spent several years working in research and product development.
Over the following years, he held a number of roles in the company, becoming one of Mars's two Co-Presidents in 2000. Since his retirement in 2004, he and Susan, a retired dentist, have divided their time between homes in California and Washington State – as well as travelling widely. They are regular visitors to Leeds.
Their gift was made to the North American Foundation for the University of Leeds, an independent body which generates grants from the contributions of alumni of the University and its supporters in the US.
Further information:
Contact: University of Leeds Communications & Press Office: Tel +44 (0)113 343 4031, email pressoffice@leeds.ac.uk
A photograph of Peter and Susan Cheney is available on request.