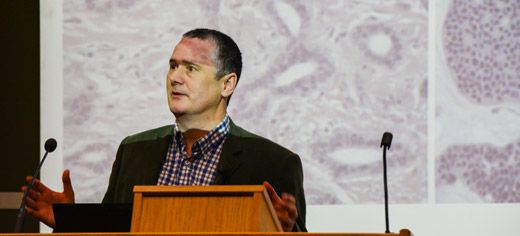 On Saturday, 16 March, the Stratified Medicine Hub and Cancer Research UK sponsored a public talk, "Personalised Medicine and the Future of Cancer Care," as part of the Leeds Festival of Science.
The event was hosted by Professor Tim Bishop, Chairman of the Leeds Cancer Research UK Centre and over 100 members of the public came to the University of Leeds to hear talks by experts in the field. Dr Gemma Satterthwaite from Personalised Healthcare and Biomarkers, AstraZeneca, addressed the pharmaceutical company's perspective on personalised medicine, and two University of Leeds Professors also presented their work; Andy Hanby speaking about breast cancer and the importance of collecting tissue samples, and Julia Newton-Bishop on melanoma research.
Attendees also had the opportunity to view demonstrations and ask questions of our expert panel in which our speakers were joined by Dr Alan Anthoney, senior lecturer and Honorary Consultant in Medical Oncology and Debbie Beirne, Nurse Consultant for Clinical Research.
Based on the excellent feedback we received there's plenty of interest in running further events in the future, so watch this space!