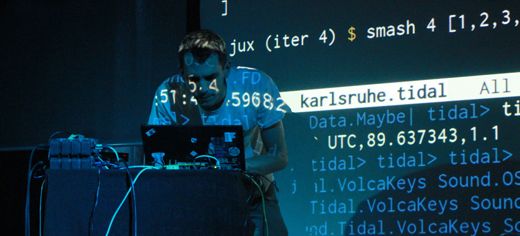 A pioneering digital musician is following in the footsteps of physicist Brian Cox by being chosen to give a public lecture at the British Science Festival in Bradford (7-10 September).
Dr Alex McLean, from the University of Leeds' School of Music, has been selected to give the British Science Festival's inaugural British Science Association Daphne Oram Award Lecture on Monday 7 September
In his talk, Dr McLean will explain how algorithms are changing the way we experience the world, as well as their huge potential for new collaborative ways to make music.
Demonstrating a completely different side to computer programming, Dr McLean will show how live coding brings the worlds of performance and computer programming together, with live demos and videos of "algoraves". The festival will also include an evening event with Dr McLean and colleagues live coding music and visuals.
Dr McLean's talk, Live Coding: Creating Languages for Making Music, takes place on the opening day of the festival at 11am, which is hosted by the University of Bradford.
Tickets are free, but should be booked online via the Festival's box office. His algorave that evening takes place in the city's Brew Haus, 6.30-10.30pm.
Several other leading University of Leeds researchers will be showcasing their work as part of the festival:
Monday 7 September, 5pm–6pm, Peatlands and environmental change
Find out from leading peatland researcher Professor Joseph Holden, Director of water@leeds, how peatlands in Yorkshire and the UK help cool the Earth's climate and provide drinking water and why their protection is crucial to global climate change. Professor Holden is the BSA's new Geography section president.
Tuesday 8 September, 4.30pm-5.30pm, The Air in Saltaire
Research Fellow Dr Kirsty Pringle, from the Institute for Climate and Atmospheric Research at the University of Leeds, will give a talk about the air in Saltaire.
Wednesday 9 September, 10am-11am, Who wants to live forever?
Dr James Stark from the School of Philosophy, Religion and History of Science will ask who wants to live forever in this look at the latest anti-ageing research, the historical development of rejuvenating therapies and the impact they have on society.
Wednesday 9 September, 10.30am-11.30am, The good, the bad and the ugly: alien species in a changing world
As part of a discussion organised by the Royal Society of Biology, Dr Alison Dunn, from Leeds' Faculty of Biological Sciences, will join the panel looking at the the scale and threat of invasive alien species.
Wednesday 9 September, 1pm-2pm, Methane leaks and stinky bottoms
Professor Simon Bottrell, Head of Leeds' School of Earth and Environment and new BSA Geology section president, gives his presidential address looking at techniques to establish whether water has been polluted by fracking.
Thursday 10 September, 12pm-1pm, Submerged servers: harvesting digital heat
Dr Jon Summers, from the Faculty of Engineering, will show how a revolutionary liquid-cooling technology could cut the carbon footprint of the internet.
Research Fellow Dr McLean, who is deputy director of the Interdisciplinary Centre for Scientific Research in Music at Leeds said: "I'm honoured to have won the opportunity to give the first Daphne Oram Award Lecture in Bradford in September.
"Live coding turns computer programmers into performing artists. It also allows us to find new ways to learn and teach computer programming. In the past 15 years the live coding community has grown fast, attracting interest from many people in artistic, creative, scientific, educational, business and mixed contexts. It is transforming the way we think about computer science."
The Association chose just six other top UK-based researchers for their cutting edge research as part of this year's award series of lectures. Alongside Professor Cox, other notable previous winners include space scientist Dr Maggie Aderin-Pocock and psychologist Professor Richard Wiseman.
Ivvet Modinou, Head of Engagement at the BSA, said: "The standard of the nominations we received this year was incredibly high. It is extremely encouraging to see and hear about so much fantastic science happening across the UK, and I'm thrilled that we will be offering these early-career researchers an opportunity to tell the British Science Festival audience about their work this September."
Further information
The image shows Dr McLean live coding. Credit: Rodrigo Velasco
Examples of live coding are viewable (footage of Dr McLean performing, with a live drummer)
https://www.youtube.com/watch?v=IGnLDspYYf4
https://www.youtube.com/watch?v=hvNdp2pxFgo
To arrange interviews, contact Gareth Dant, Press Officer, on 0113 3433996 or g.j.dant@leeds.ac.uk.