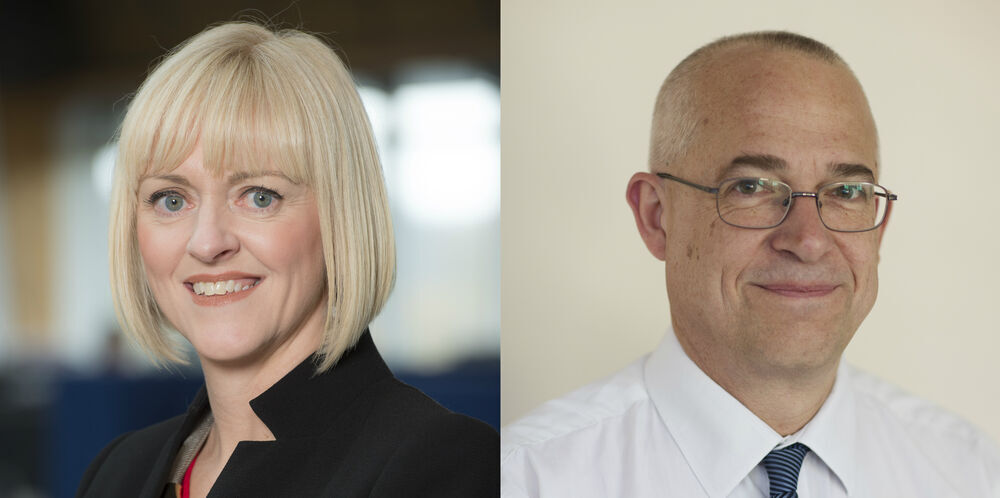 The University of Leeds has appointed two new Deputy Vice-Chancellors.
Professor Lisa Roberts joins as Deputy Vice-Chancellor for Research and Innovation, and Professor Tom Ward as Deputy Vice-Chancellor for Student Education.
The new structure and appointments give equal weight to education and research, reflecting the University's commitment to translate innovative research into cutting-edge education for students, while also tackling wider economic and social challenges.
Professor Roberts will lead on the further development of the University's research and innovation strategy, delivering a step change in the quality, volume and impact of world-leading research carried out at Leeds.
Her brief will include promoting partnerships in a number of key sectors, accelerating collaboration across a wide range of academic disciplines and driving recruitment of world-leading academics.
Professor Ward will lead on the overall education strategy, ensuring the University attracts, excites and retains high-quality students from a wide range of backgrounds.
His brief will include implementing innovative measures to ensure students benefit from an outstanding education and excellent all-round experience, widening participation, promoting teaching excellence and innovation, and further boosting the employability of the University's students.
Professor Roberts is currently Executive Dean, Faculty of Health and Medical Sciences and a Professor of Virology at the University of Surrey, while Professor Ward is currently Pro-Vice Chancellor (Education) and Professor of Mathematics at Durham University.
Welcoming the appointments, University of Leeds Vice-Chancellor Sir Alan Langlands said: "These new appointments are an investment in the University's future – a future that will be defined by our ability to deliver world-leading research and education in powerful combination, so that each reinforces the other.
"Professor Roberts and Professor Ward are energetic, visionary leaders, enabling us to build on our existing strengths in education, research and innovation – the main cornerstones of our strategy for the future. I am delighted that they will be part of the senior team at Leeds."
Professor Roberts said: "I am delighted to be joining the University of Leeds. The University is a research powerhouse with a strong reputation for innovation. I am excited by its ambitious plans and the opportunity to lead growth in the scale and quality of research.
"I look forward to the prospect of working with colleagues across a wide range of disciplines, to encourage new ways of working together to tackle real world challenges and to achieve even greater success and recognition for Leeds in the future."
Professor Ward said: "Higher education is in a period of rapid change, and it has never been more important to retain a clear focus on our role. We serve society through the quality of education we provide to students, and the knowledge we create through research.
"The long-standing commitment to research-based learning at Leeds, and the holistic view it takes of the educational experience makes it a hugely exciting institution.
"I look forward to learning more about the Leeds approach to education, and to working with the dedicated team there. Working together, we will take a coherent approach to the whole student experience, ensuring that it is challenging, enjoyable, and empowering."
Professor Roberts has held a number of posts at the University of Surrey, including Head of the Department of Microbial and Cellular Sciences.
While at Surrey she has initiated a successful "One Health" strategy to drive interdisciplinary collaborations and external partnerships and led the development and launch of a new £45m School of Veterinary Medicine, only the eighth in the UK.
Earlier in her career, she worked as a product development manager for Procter and Gamble, before undertaking her PhD at the BBSRC Institute for Animal Health and the University of Kent.
Professor Ward is a mathematician specialising in ergodic theory and number theory.
He spent his childhood in Ghana and Zambia and went to school in Swaziland before studying mathematics at the University of Warwick.
Prior to taking up his role at Durham University, he was Deputy Vice-Chancellor and Pro-Vice-Chancellor (Academic) at the University of East Anglia.
Professor Roberts and Professor Ward will take up their posts in August.
Further information
Contact the University of Leeds press office on pressoffice@leeds.ac.uk or call 0113 343 4031