Six students and alumni from the University of Leeds won medals against some of the world's best athletes at the Gold Coast 2018 Commonwealth Games.
Eight athletes who studied at the University, most with support from Sports Scholarships, competed across netball, table tennis, triathlon, weightlifting and race walking at the Games in Australia.
Between them they won an impressive one gold, four silvers and one bronze medal.
Medicine student Kim Daybell won a silver medal on Saturday in the para table tennis for Team England. Kim is a University Sports Scholar, whose particular scholarship is funded by alumni donations, providing him with extra support to allow him to compete at an elite level whilst in higher education.
Kim is among over 60 Sports Scholars across the University, each of whom receives a bespoke package of mentorship, physiotherapy, financial support and coaching, to allow them to excel in both their academic and athletic endeavours.
Alumna Natalie Haythornthwaite won a gold medal on Sunday playing for the England Roses netball team, beating host nation and favourites Australia 52-51 in a dramatic final.
Natalie graduated in Linguistics and Phonetics in 2014, and was awarded a Sports Scholarship to enable her to study for her degree whilst playing competitive netball for both the Yorkshire Jets and England.
In the triathlon, a total of seven athletes who train at the University's world-class triathlon facilities competed at the games – including three alumni and one current student.
Brothers Alistair and Jonny Brownlee, who are both graduates of the University, won silver medals in the mixed relay triathlon event. They earned silver alongside team mate Jess Learmonth, who trains with them regularly at The Brownlee Centre and The Edge.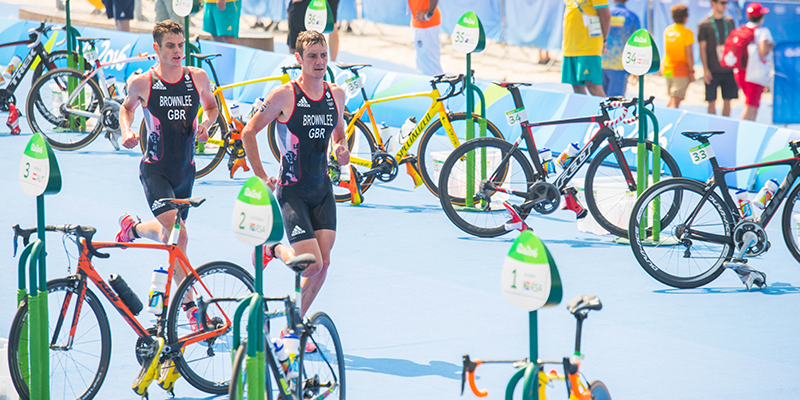 Jonny and Alistair Brownlee pictures at the Olympic Games in Rio in 2016.
The Brownlees were both hampered by recent injuries and came away from the men's individual triathlon event empty handed, with Jonny finishing in seventh and Alistair in 10th position.
In the same event, current Sport Science and Physiology student Tyler Smith finished in 21st position, competing for Bermuda at his first Commonwealth Games. A couple of places in front, alumnus Tom Bishop finished in 19th for Team England.
Stewart Ross, Director of Campus Services at the University of Leeds, who has overall responsibility for sport, said: "These results show the value of our Sports Scholarships and world-class training facilities in bringing athletes through the pipeline to compete against the best of the world whilst also studying for rigorous degrees.
"It has been fantastic to watch our students and alumni competing for their countries, and we are extremely proud that so many of them have won medals after all their hard work."
Alumnus Jack Oliver (Classics, 2013) won silver for Team England in the 77kg weightlifting event at his third Commonwealth Games, beating his previous best finish of fourth place at the Glasgow Games in 2014.
Also in the medals was alumna Bethan Davies (Neuroscience, 2013) who won a bronze medal for Wales in the 20km race walk.
Further information
Banner image shows Kim Daybell competing at the Gold Coast Commonwealth Games. Image credit to Getty Images, with thanks to British Para Table Tennis.
Journalists with questions should contact Simon Moore in the University of Leeds press office on 0113 343 4031 or email pressoffice@leeds.ac.uk