There was a sense of déjà vu when the Duke of Kent visited the Worsley Building, 40 years after he opened the building in 1979.
The Duke toured facilities in the Schools of Dentistry and Medicine to see how the University has been harnessing digital technology to enhance and enrich the student educational experience.
He visited the Simodont dental training room, one of the largest facilities in Europe, where students refine their skills through the use of haptic devices.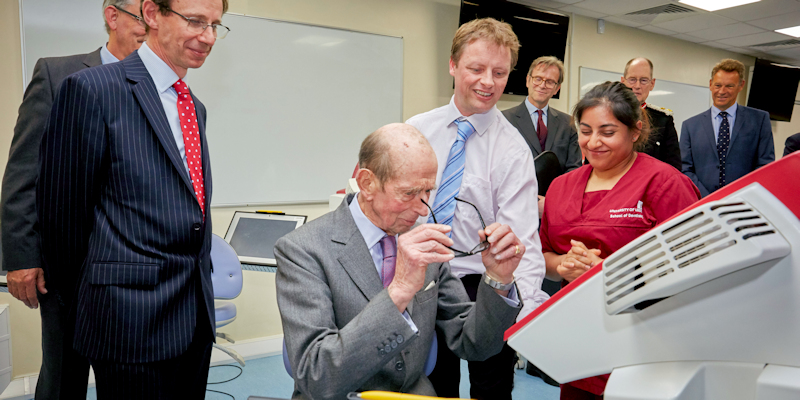 The Duke also saw first-hand how dentistry students still use the "phantom heads" that were a routine part of learning in the 1970s, and met Professor Brian Nattress, who, as a student, was involved in his previous visit.
"It was a real privilege to welcome the Duke of Kent back to the Worsley Building four decades on."
In addition, the tour showcased the teaching of anatomy in the School of Medicine where ultrasound, online learning and 3D imagery complement more traditional laboratory-based learning.
Professor Paul Stewart, Executive Dean of the Faculty of Medicine and Health said: "It was a real privilege to welcome the Duke of Kent back to the Worsley Building four decades on.
"Much has changed in that time and it was a great opportunity to demonstrate how cutting-edge technology is supporting a first-class educational experience for our students, equipping them with contemporary skills to be the healthcare workforce of the future."
The Vice-Chancellor, Sir Alan Langlands, said: "The landmark Worsley Building is central to our work as a leading biomedical and health service research campus, delivering education and research excellence and improving the health and well-being of people here in Leeds and around the world."
Unveiling a plaque to mark the completion of a £40 million refurbishment of the Worsley Building and its facilities, the Duke said that his wife, HRH the Duchess of Kent, had very fond memories of the University from her time as Chancellor from 1966 to 1999.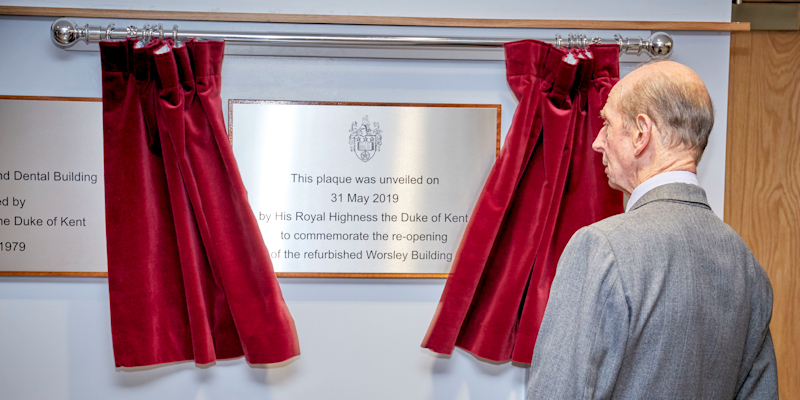 The Worsley Building is named after the Duchess' family.
The Duke of Kent visited on Friday 31 May 2019.